Typhoid, yellow fever and hepatitis A are just the start. Passport Health keeps all recommended or required travel immunizations in-stock and ready for your next trip.
All Passport Health facilities in Canada are registered Yellow Fever Vaccination Centres with the PHAC. This vaccine is required for entry for some countries and must be received at a registered clinic.
Concerned about Delhi Belly? More than 70 percent of travellers will fall ill from contaminated food or water. Whether you are going to India or Italy, there is a risk. Make sure you're protected through proper vaccination including hepatitis A and typhoid. Diarrhea remedies like travellers' diarrhea kits will also help keep you on the go (without having to go).
Passport Health is now offering COVID-19 testing and Fit-To-Fly travel health forms.
Details & Directions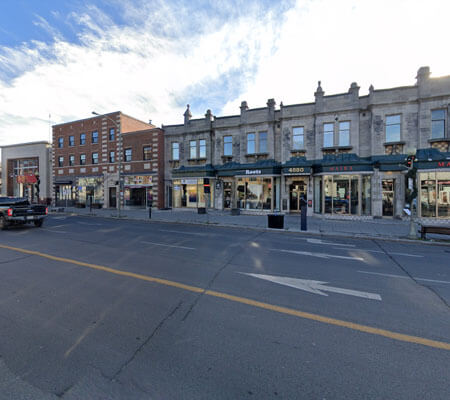 Serving Dawson College, Marianopolis College and the businesses and residents of Westmount, Passport Health offers premiere travel health services.
Schedule an appointment today by booking online or calling .
Customer Reviews
"

Great

"

"Wonderful experience! They make sure they cover as much information as possible on health requirements but also provide you with safety information for where you'll be and different helpful facts about the places you will visit. Also, very friendly service!"
"

Amazing Serice!

"

"Yesterday I went to Passport Health on Sherbrooke in Montreal, and the service was amazing! Our nurse Lou was so kind, helpful and knowledgeable. She answered all of our questions about travel vaccinations and did a great job at administering them. I am someone that is really afraid of needles, but i was very comfortable in her care!"
"

Great!

"

"My friend and I went in for a consultation before our trip from Canada to Southeast Asia. Lou, our nurse, was amazing! She is so friendly and gave us great advice. We ended up getting one shot and she gave us recommendations for other medications and how to go about getting them at our best convenience and at the best price. I would definitely go back here and would recommend others to do the same."
"

Very Reassuring

"

"As a first time traveler, my concerns were put to rest. Nurse Lou was excellent, reassuring, not pushy at all, answered all my questions with patience and kindness. I left feeling much better than arriving!"