Please note: Due to increased travel demand, appointments are limited.
Schedule your appointment as soon as possible to ensure travel protection.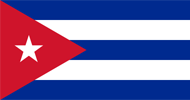 Travel Vaccines and Advice for Cuba
Cuba is an excotic travel destination that is slowly opening up for more tourists.
Strong influences from Spanish and African roots make it culturally diverse. Exotic rhythms like salsa and rumba can be found everywhere in Cuba, as many dances and music originated there.
Cuba has remained relatively untouched by outside influence, making it a unique destination.
Do I Need Vaccines for Cuba?
Yes, some vaccines are recommended or required for Cuba. The PHAC and WHO recommend the following vaccinations for Cuba: hepatitis A, hepatitis B, typhoid, cholera, yellow fever, rabies, meningitis, polio, measles, mumps and rubella (MMR), Tdap (tetanus, diphtheria and pertussis), chickenpox, shingles, pneumonia and influenza.
See the bullets below to learn more about some of these key immunizations:
See the tables below for more information:
Recommended Travel Vaccinations for Cuba

VACCINE
HOW DISEASE SPREADS
DETAILS

Hepatitis A
Food & Water
Recommended for most travellers
Hepatitis B
Blood & Body Fluids
Recommended for travellers
to most regions.
Typhoid
Food & Water
Recommended for travellers
to most regions.
Cholera
Food & Water
Though rare, cholera is present in Cuba. Vaccination may be recommended for long-term travellers, aid works and those visitng rural areas.
Yellow Fever
Mosquito
Required if travelling from a country with risk of yellow fever transmission.
Rabies
Saliva of Infected Animals
High risk country. Vaccine recommended for long-term travellers and those who may come in contact with animals.
Routine Vaccinations for Cuba

VACCINE
HOW DISEASE SPREADS
DETAILS

Measles Mumps Rubella (MMR)
Various Vectors
Given to anyone unvaccinated and/or born after 1957. One time adult booster recommended.
TDAP (Tetanus, Diphtheria & Pertussis)
Wounds & Airborne
Only one adult booster of pertussis required.
Chickenpox
Direct Contact & Airborne
Given to those unvaccinated that did not have chickenpox.
Shingles
Direct Contact
Vaccine can still be given if you have had shingles.
Pneumonia
Airborne
Two vaccines given seperately. All 65+ or immunocompromised should receive both.
Influenza
Airborne
Vaccine components change annually.
Meningitis
Airborne & Direct Contact
Given to anyone unvaccinated or at an increased risk, especially students.
Polio
Food & Water
Considered a routine vaccination for most travel itineraries. Single adult booster recommended.
Dengue is one of the few mosquito-borne diseases present in Cuba. Unlike many other Caribbean nations, Cuba was able to avoid a major Zika outbreak. Mosquito repellents and netting are recommended for Cuba.
Rabies is present in the country as well. Consider vaccination, especially if going to rural areas or staying for more than two weeks.
See our vaccinations page to learn more about these infections and vaccines. Ready to protect yourself? Book your travel health appointment today by calling or schedule online now.
Customer Reviews
Passport Health – Travel Vaccines for Cuba
Overall rating: 5 stars – 5 reviews
"

Great service

"

"My husband and two children went to the clinic to prepare for our fast approaching trip to Cuba. We received very knowledgeable service about what vaccinations we should receive, time frame to receive them, and costs upfront. There was no pressure and the decisions were ours to make comfortably for what we felt was best for our family. We feel the clinic prepared us with lots of knowledge and the proper vaccination to allow us to have a safe tropical vacation."
"

Great first visit!

"

"Yesterday morning I had an appointment at Passport to discuss the travel vaccinations that I would need for travelling to Cuba this fall. The nurse was amazing! So informative and so kind. She answered every question that I had capably. I am always a little bit nervous about getting needles but she was great. She made me very comfortable. I will be returning in six months for the remainder of my shots. Great experience!"
"

Amazing Service

"

"My wife and I contacted Passport Health Oakville to be sure we were protected for our Cuba vacation. We received amazing service from the nurse there. She educated us on what was required and ensured all vaccinations where completed. We have recommended Passport Health to a group of 20 friends we are travelling with next winter."
"

Super Helpful

"

"As a person that hates needles. I went from just getting my Hep A shot to leaving with 2 extra shots, as the nurse explained what i could contract from visiting cuba. Very informative, nice, funny. Will go back to finish up my shots"
"

Thank you

"

"Thank you for being so helpful with information on precautions to take for my family while in Cuba. Thank you for booking us in last minute and being open on Saturdays! You were very helpful when 3 other clinics were not. Thank you."
Do I Need a Visa or Passport for Cuba?
Those visiting Cuba for a maximum of 30 days for tourism purposes do not need a visa. If you are entering Cuba for business purposes a visa is then required. Those who have permanent residency in Canada also do not require a visa to enter Cuba for tourism purposes so long as they can produce a legitimate PR card and a valid passport.
Cuba Entry Requirements

Do I Need A…
For My Trip to Cuba?

Passport
Tourist Visa
Business Visa
Vaccinations
Sources: Embassy of Cuba and Canadian Travel and Tourism
Visit the Canadian Travel and Tourism website for more information on entry and exit requirements.
What is the Climate Like in Cuba?
The climate in Cuba is sub-tropical. The average year-round temperature is approximately 25°C and there's plenty of sunshine.
The hottest time of the year is summer, from June to August. Summer is also the most festive time of the year with carnivals and event held in many cities throughout the country.
Cuba has a rainy season from May to October. Occasional bursts of rainfall can be expected in the afternoons. Cuba remains a popular summer destination, as the rainfalls bring relief in the heat.
December, January, and February are the coolest months of the year. During the winter months, occasional cold fronts can decrease the temperatures to the teens for short periods of time.
How Safe is Cuba?
Cuba is a relatively safe country for travellers. The roads are good condition, but driving at night should be avoided, as there are no streetlights. Crimes are very uncommon in there. There are virtually no firearms or illicit drugs.
But, still practice common sense, since pickpocketing and opportunistic theft are popular as in every tourist resort.
Strong military and police presence can be expected. The biggest threat to traveller's safety is attending demonstrations and gatherings, as even peaceful demonstrations can turn confrontational without warning.
What Should I Pack for Cuba?
While more developed than many other Caribbean nations, it is still important to bring key items with you to Cuba.
Cash – Most transactions are carried out in cash. Currency can be changed in most national exchange offices. Make sure to bring enough cash to last during your vacation.
Swimsuit – Get ready for a warm weather and hot sun! Bring your own swimsuit, to make sure you enjoy your holidays to the fullest.
Sunscreen – The endless hours by the pool might start to sting if you don't protect your skin. Bring your own sunscreen, as outside of Havana and Varaderoas it might be hard to find.
First-aid kit – Cuba's pharmacies can only offer a small selection of medications. Pack your own medicine kit equipped with bandages, pain killers, digestion medicine and any prescriptions.
Insect repellent – Tropical insects can carry various diseases. To avoid any health threats caused by the insects, it is important to protect yourself from them. It is best to bring your own repellent, as the Cuban stores and pharmacies may have a limited selection.
What Should I See in Cuba
There are many gripping sights and attractions peculiar to Cuba. The number of old American cars on the streets leave an impression as the time in Cuba had stopped somewhere in the 1950's.
When visiting as unique destination as Cuba, it is important to bring souvenirs back home. The most exclusive souvenirs are Cuban cigars. Tourists are allowed to take up to $100USD worth of cigars with them.
Canadian Embassy in Cuba
Once in Cuba, the information for the Canadian Embassy is:
Canadian Embassy in Cuba
Calle 30 No. 518 (esq. 7ma)
Miramar (Playa)
Ciudad de la Habana
Cuba
Tel.: (+53-7) 204-2516 / (+53-7) 204-7097
Stay safe abroad with Passport Health. Call or book online now and start travelling safely today!
On This Page:
Do I Need Vaccines for Cuba?
Do I Need a Visa or Passport for Cuba?
What is the Climate Like in Cuba?
How Safe is Cuba?
What Should I Pack To Cuba?
What Should I See in Cuba?
Canadian Embassy to Cuba