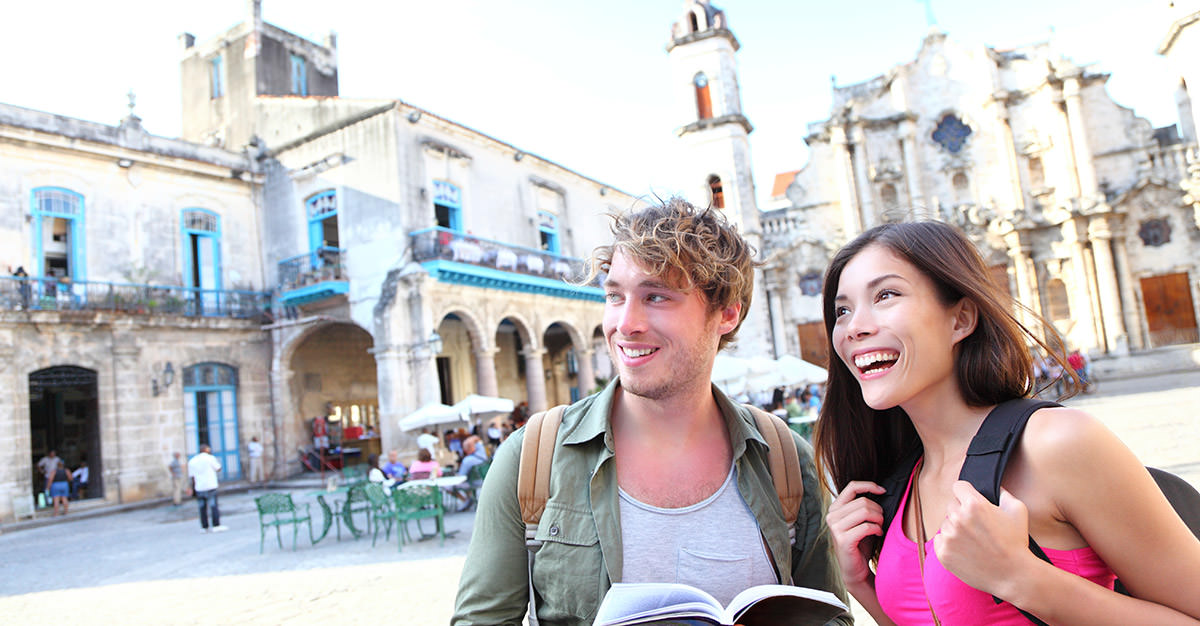 With 270+ travel clinics in North America, Passport Health is your local leading provider of travel vaccinations and medications. Prepare your health for travel, visit us before you go.
Your travel experience in Cuba will be like none other you've experienced.
Perhaps you're going for one of the many all-inclusive resorts – Canadians flock to the famous ones in Varadero, Holguín, and beyond every year. In fact, Cuba is Canada's fifth most travelled tourist destination, with around 800,000 travellers visiting each year.
Though known for the white sandy beaches that line the coast of the largest island in the Caribbean, Cuba is so much more than just resorts.
In the cities, especially the capital of Havana, you will find fine Spanish architecture and colourful vintage American cars from the 1940s and 50s. The old-timey cars come as a result of the long-time Communist party rule in the country and isolation from its neighbour, the United States. Cuba's most famous politician, Fidel Castro, headed the revolution that led to torn relations with the United States during the Cold War. Now, after more than five decades, Cuba has remained mostly uninfluenced by Western culture. This could change soon. In 2015, American President Barack Obama announced restored diplomatic relations with Cuba. Known as the "Cuban Thaw" the US embargo on commercial and business interests could soon be lifted and American tourists and influence will slowly start to make its way into the Caribbean nation.
Many Canadians visiting Cuba nowadays see the country at a turning point – a frozen-in-time nation whose people and culture could be greatly impacted by the recent diplomatic shift.
What Vaccines Do I Need For Cuba?
Yes, some vaccines are recommended or required for Cuba. The PHAC and WHO recommend the following vaccines for Cuba: typhoid, cholera, hepatitis A, hepatitis B, rabies, measles, mumps and rubella (MMR) and influenza.
---
Cuba has also reported cases of cholera in recent years. The last confirmed Cholera case was a Canadian traveller who returned from the country in January 2015. Further cases have been reported as recently as August 2015 in the province of Holguín. Travellers can take an oral vaccination called Dukoral which is effective against up to 85% of cases of this intestinal infection.
Dengue fever has also been found in Cuba. Since there is no vaccination against this mosquito-borne disease, proactive measures taken to protect yourself from bites are recommended. Another viral disease spread by mosquito is chikungunya. There is currently an outbreak of the disease in Cuba and like Dengue Fever, the best protection is through bite prevention, especially around sunrise and sunset.
For more details on any of the above vaccinations, visit the detailed Passport Health specialty vaccination pages or make an appointment with your local clinic by calling or booking online today.
What Is The Climate Like In Cuba?
Cuba has a tropical climate with temperatures that remain fairly consistent throughout the year. There is only about a four degree range between the average temperature in January (23º Celsius) and July (27º Celsius).
Hurricane season in Cuba lasts from June until the end of November, with September and October being the most destructive months. November until April is the dry season, and is considered the best time of year to visit the island nation.
Is Cuba Safe For Travel?
Pickpocketing and theft does occur in Cuba, though much less frequently than in many Caribbean countries. Canadians have reported crimes primarily around Havana and on the beaches of Playa del Este and Varadero. You should also keep a close eye on your bags at the airport, as luggage is frequently opened and items are either removed or added. There are drug sniffer dogs at the airport, so ensure you are only carrying goods you packed.
Scammers sometimes take advantage of the fact that Cuba uses two official currencies, the Cuban convertible peso (CUC) and the national peso (MN). Travellers frequently pay in CUC, and merchants may try to rip off foreigners by providing change in national pesos, which are worth substantially less.
If you ever report a crime to the local police, you should receive a document called Comprobante de Denuncia which is a formal police report.
Canadian travellers should do their best to not break the law while in Cuba, as punishment can be firm. Drug trafficking and sexual assault can result in long prison sentences, and drinking and driving is against the law. Canadians are frequently arrested and detained in Cuba as a result of traffic accidents. The onus is on the driver to prove themselves innocent and even the most minor of accidents can take up to a year to go to trial. At this time you are not allowed to leave the country. Most roads outside the cities are not lit at night, providing hazardous conditions for driving.
Cuba's Casas Particulares
Want to learn more about Cuba and its history? Check out this interactive timeline!
Perhaps you've come across the term casa particular when researching off-resort accommodation in Cuba. Casa Particulares are private accommodations where travellers can live with an individual or family in their home. The room rentals have been an important source of income for many Cubans since 1997 when the government first allowed this new form of lodging.
Each casa particular will have its own standard of health and safety, though most are generally clean.
If you plan to stay in a Casa Particulares or another private residence while you're doing business in Cuba you must check in with the Cuban government office in Canada prior to departure.
What Should I Pack For Cuba?
Here are some key items you should not forget when packing your bag for Cuba:
Any prescription medication– Medication can be hard to find when you travel, but this is particularly true of Cuba, where herbal medicine is often the option of choice. Ensure you have any necessary prescription or travel medication before leaving home.


Sunscreen– Likewise, travellers have reported that it is difficult to find quality sunscreen while in Cuba. Anything you do find will likely be very expensive.


Travel insurance– This is essential. Ensure your travel insurance policy covers medical treatment in Cuba, since everything must be paid for before you leave the country. There have been reports of travellers having their insurance policy declined if it is affiliated with an American company. Since phone calls are very expensive in Cuba, make sure the policy you choose has a manned 24-hour emergency line so you do not need to be calling again and again.


A fleece jacket and warm clothes– It's not all beach all the time, and Cuba's evenings can get chilly. Bring your jacket along if you'll be riding one of the ViAzul buses that cart travellers across the island. The drivers often set the air conditioning to freezing.


Baby diapers and food– If you're travelling to Cuba with your young children, be aware that baby food and disposable diapers are only available at select spots in Havana, and rarely available in other parts of the island. The same goes for any medication your child may need – bringing it from home is best.
Where Is The Canadian Embassy In Cuba?
All Canadians visiting Cuba should register online with the Embassy of Canada to Cuba before departure. This will inform the office of your travel plans within the country and will allow them to reach out to you in the case of an emergency or evacuation. If you plan to purchase a local SIM card you can also enter your phone number to receive SMS updates from the office.
The Embassy of Canada to Cuba
Calle 30 No. 518 (esq. 7ma)
Miramar (Playa)
Havana, Cuba
Telephone: (+53-7) 204-2516 / (+53-7) 204-7097
Fax: (+53-7) 204-2044
havan@international.gc.ca
Hours of Operation:
Monday to Thursday: 08:30 – 17:00
Friday: 08:30 – 14:00
Closed to the public daily from 12:00 – 13:00
Visit the Embassy of Canada to Cuba website prior to your departure to confirm correct contact details.
The Government of Canada also operates a 24 hour Emergency Operations Centre. The collect call number to reach the centre while abroad is +1-613-996-8885.
What Are The Entry And Exit Requirements For Cuba?
Canadians require a visa when entering Cuba as a tourist, for business, or as a student. To apply for a tourist card or visa, your passport must be valid for up to one month past your intended date of departure. To enter the country you must have evidence of an onward or outward ticket and must meet the country's minimum financial needs, which is 50 Cuban convertible pesos per day (about $70 CAD).
A tourist card is generally given by tour operators or airlines and can also be organized at a Cuban government office in Canada or at certain airports. You must carry this card with you at all times when in the country.
Canadian-born tourists can stay in Cuba for up to six months if they apply for an extension before the 90-day mark. There have been reports of Canadian tourists who were born outside of Canada being treated differently, despite travelling on a Canadian passport. In these cases tourists were told by immigration they could only stay for 30 days.
Entry requirements to Cuba may change at any time, so it's important to check in with the Embassy of Cuba in Canada or one of its Canadian consulates to receive the most up-to-date information.
If you have any questions about travelling to Cuba or are wondering what shots you may need for your trip, schedule an appointment with your local Passport Health travel medicine clinic today by calling or booking online.
Customer Reviews
Passport Health

Travelers to Cuba
Overall rating:

5

stars –

1

review
"

Amazing Service

"

"My wife and I contacted Passport Health Oakville to be sure we were protected for our Cuba vacation. We received amazing service from Mary Ellen. She educated us on what was required and ensured all vaccinations where completed. We have recommended Passport Health to a group of 20 friends we are travelling with next winter."