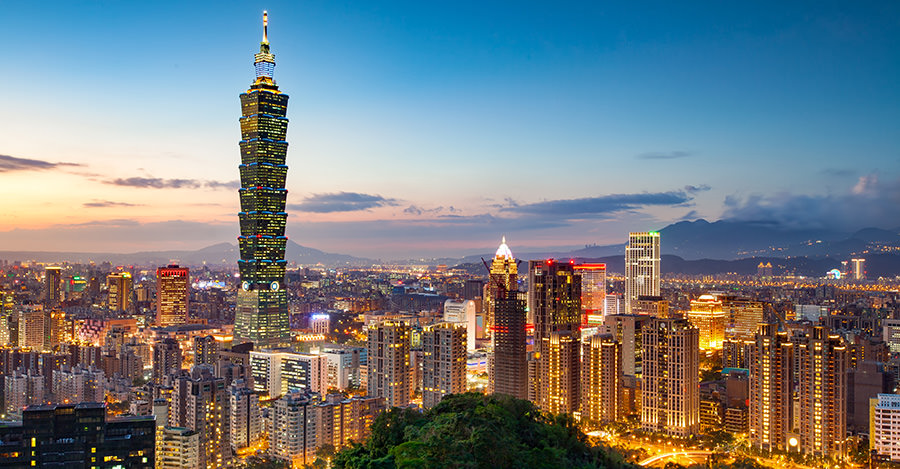 Do I Need Vaccines for Taiwan?
Do I Need a Visa for Taiwan?
What is the Climate Like in Taiwan?
How Safe is Taiwan?
Visit Pagodas and Pavilions in Kaohsiung Port
What Should I Pack for Taiwan?
Canadian Embassy in Taiwan
A small island off the coast of China, Taiwan is a destination known for its tropical temperatures and gorgeous landscapes. It boasts cultural attractions in its many beautiful cities as well as many stunning views in its many forests and national parks. This small but versatile island has something to offer to every type of traveller.
Do I Need Vaccines for Taiwan?
Yes, some vaccines are recommended or required for Taiwan. The PHAC and WHO recommend the following vaccines for Taiwan: hepatitis A, hepatitis B, rabies, Japanese encephalitis, and influenza.
---
Dengue and chikungunya are both present in Taiwan. The mosquito-borne infections pose a threat to travellers of all kinds. Make sure you bring repellent and netting for your trip.
See our vaccinations page to learn more about these infections and vaccines. Ready to protect yourself? Book your travel health appointment today by calling or schedule online now.
Do I Need a Visa for Taiwan?
Canadian citizens using Canadian passports do not require a visa to enter Taiwan for tourism or business stays less than ninety days.
Is A …
A Taiwan Entry Requirement?

Passport
Yes
Passport Validity
Duration of stay
Blank Passport Pages
One page per entry stamp
Visa
No
Vaccinations
Recommended
Sources: Canadian Travel and Tourism and Embassy of Taiwan
Visit the Canadian Travel and Tourism website for more information on entry and exit requirements.
What is the Climate Like in Taiwan?
Taiwan's climate varies between subtropical and tropical. But, the whole country is likely to have high temperatures and a humid climate for much of the year. Summers can be excessively hot and humid, with heavy rainfall and even typhoons. November to April has milder weather and milder temperatures. This is the most popular time for tourism.
Taipei – In the capital city of Taipei, located in the northeast, rain is a common occurrence. Even in the winter months Taipei often receives abundant rainfall. In winter, the temperatures usually will not dip below 10. Summer temps can be in the 30's.


Tainan – A city located in the south of the island, Tainan experiences temperatures like Taipei. But, Tainan receives much less rainfall outside of monsoon season. This means that its winters and springs are much drier.


Yushan – The city of Yushan is located in central Taiwan, in the mountains. Due to the altitude, Yushan has much colder temperatures than sea-level tropical cities. Temperatures often dip below freezing in the winters. Summers rarely reach higher than 15 degrees.
How Safe is Taiwan?
Taiwan is a country with minimal street crime as well as minimal violent crime. It's always smart to be aware of your surroundings and be cautious with your belongings. But, very few visitors to Taiwan will be the victims of crime.
The most dangerous events in Taiwan are typhoons that occur in the humid summer months. Earthquakes can also cause hazardous situations. Pay attention to any local natural disaster warnings.
Visit Pagodas and Pavilions in Kaohsiung Port
Most visitors will visit Taipei, the capital city of Taiwan. But few travel out to Kaohsiung, a vibrant city located on the southwestern coast of the island. Kaohsiung is Taiwan's largest port city, and it offers all the attractions of a busy, bustling city with cultural and historical jewels.
Some of the most well-known attractions in Kaohsiung are the Dragon and Tiger Pagodas. The largest Confucian temple in Taiwan is also nearby.
If you want to experience the natural beauty of Taiwan, only an hour and a half drive from Kaohsiung is the Maolin National Scenic Area. This region has stunning forests, gorges, and waterfalls.
What Should I Pack for Taiwan?
Many American brands of goods and clothing are available in Taiwan, but it's still a good idea to be prepared. When going to Taiwan, it's always important to pack the essentials, such as:
Rain Gear – With the unpredictable weather in the country, especially during the summer, a good umbrella and raincoat are a must.


Light Layers – The climate in Taiwan tends to be very warm, so be sure to bring clothing that can keep you cool. But, the temperature can drop at nights, so a few outer layers are a good idea. If you'll be in the mountains in winter, you'll probably want some heavy layers too.


Mosquito Repellent – Because Taiwan is a tropical island, mosquitoes are common. These insects often carry diseases of various types. Make sure you're protected with repellents.


Hand Sanitizer and Tissues – You may find that some public restrooms in Taiwan are missing some basic necessities, such as hand soap or toilet paper. Be prepared for this by bringing a bottle of Purell and a pack of tissues everywhere you go.
Canadian Embassy in Taiwan
Once in Taiwan, the information for consular services is:
Trade Office of Canada in Taiwan
6F, Hua-Hsin (Citibank building),
No. 1 SongZhi Road,
Xinyi District,
Taipei 11047, Taiwan
Tel.: 886 (2) 8723-3000
Canada maintains an unofficial relationship with Taiwan. The Trade Office of Canada provides many of the same services as an embassy would.
Stay safe abroad with Passport Health. Call or book online now and start travelling safely today!