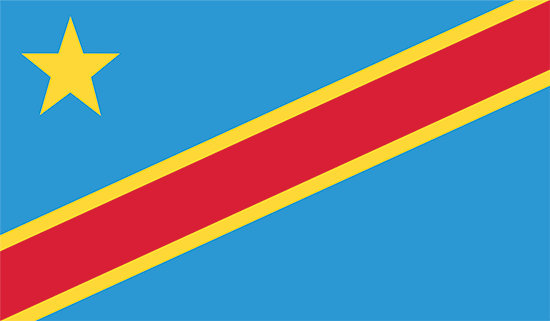 Travel Vaccines and Advice for the Republic of the Congo
Not to be confused with its Democratic counterpart, the Republic of the Congo borders the country of Gabon to the east and shares coastline with the Democratic Republic of the Congo to the west.
Brazzaville is a burgeoning metropolis in the southern region of the country. From its architecture, vibrant nightlife and fine dining options, the capital provides a nice stop-over between activities.
The majority of the country is covered in dense and lush rainforests. Travellers can visit any one of the five reserves and national parks spread throughout the country and encounter exotic flora and fauna.
Whether travellers wish to spend their time in the larger urban cities, or hiking through the dispersed national parks, the Republic of Congo offers an experience rich in natural charm.
Do I Need Vaccines for the Republic of the Congo?
Yes, some vaccines are recommended or required for the Republic of the Congo. The PHAC and WHO recommend the following vaccinations for the Republic of the Congo: hepatitis A, hepatitis B, typhoid, cholera, yellow fever, rabies, meningitis, polio, measles, mumps and rubella (MMR), Tdap (tetanus, diphtheria and pertussis), chickenpox, shingles, pneumonia and influenza.
See the bullets below to learn more about some of these key immunizations:
See the tables below for more information:
Recommended Travel Vaccinations for the Republic of the Congo

VACCINE
HOW DISEASE SPREADS
DETAILS

Hepatitis A
Food & Water
Recommended for most travellers
Hepatitis B
Blood & Body Fluids
Accelerated schedule available
Typhoid
Food & Water
Shot lasts 2 years. Oral vaccine lasts 5 years, must be able to swallow pills. Oral doses must be kept in refrigerator.
Cholera
Food & Water
A risk in some regions. Especially recommended for those visiting rural areas.
Yellow Fever
Mosquito
Required for all travellers over the age of 9 months.
Rabies
Saliva of Infected Animals
High risk country. Vaccine recommended for long-term travellers and those who may come in contact with animals.
Routine Vaccinations for the Republic of the Congo

VACCINE
HOW DISEASE SPREADS
DETAILS

Measles Mumps Rubella (MMR)
Various Vectors
Given to anyone unvaccinated and/or born after 1957. One time adult booster recommended.
TDAP (Tetanus, Diphtheria & Pertussis)
Wounds & Airborne
Only one adult booster of pertussis required.
Chickenpox
Direct Contact & Airborne
Given to those unvaccinated that did not have chickenpox.
Shingles
Direct Contact
Vaccine can still be given if you have had shingles.
Pneumonia
Airborne
Two vaccines given seperately. All 65+ or immunocompromised should receive both.
Influenza
Airborne
Vaccine components change annually.
Meningitis
Airborne & Direct Contact
Given to anyone unvaccinated or at an increased risk, especially students.
Polio
Food & Water
Considered a routine vaccination for most travel itineraries. Single adult booster recommended.
There is a risk of contracting malaria in the Congo. Antimalarials are recommended for all travellers to the region.
There is medical care in larger Congolese cities and towns, but the extent of treatment is limited. For those staying in rural areas, there may be a need to travel far for medical attention. In cases of more serious medical emergencies it may be necessary to be transported to Western Europe.
See our vaccinations page to learn more about these infections and vaccines. Ready to protect yourself? Book your travel health appointment today by calling or schedule online now.
Customer Reviews
Passport Health – Travel Vaccines for the Republic of the Congo
Overall rating: 5 stars – 3 reviews
"

Easy Visit

"

"The nurse was extremely helpful and patient with all my questions about the Republic of the Congo. Very knowledgeable and personable in her interactions. Thanks."
"

Peace of Mind

"

"Our nurse was very knowledgeable – she also allowed me to express concerns about some of the aspects of travelling to the Republic of the Congo. I'm so grateful for her help."
"

Fantastic Experience

"

"I was able to make an appointment for the next day. There was no waiting once I got to the clinic. The nurse was extremely knowledgeable, well prepared (had a booklet with information prepared based on my specific travel plans in Africa), and friendly. Had a relaxing and enjoyable time, and felt confident with the information I received."
Do I Need a Visa or Passport for the Republic of the Congo?
A passport which is valid for at least 6 months beyond the expected date of departure is required to enter the country. A visa is required for all tourist, transit, and business purposes.
Republic of the Congo Entry Requirements

Do I Need A…
For My Trip to the Republic of the Congo?

Passport
Tourist Visa
Business Visa
Vaccinations
Sources: Embassy of the Republic of the Congo and Canadian Travel and Tourism
Proof of yellow fever vaccination is also required for entry to the Republic of the Congo.
Visit the Canadian Travel and Tourism website for more information on entry and exit requirements.
What is the Climate Like in the Republic of the Congo?
The Republic of the Congo tends to have a tropical climate. From June to October, the climate tends to be hot and dry, while the rainy season comes March through June. The recommended time to visit the Congo is June through September, when it's drier.
Ouesso – This northern city has a tropical climate with rains during the summer and warm winters. During November through May, temperature tends to be warmest with highs around 29 degrees Celsius. Throughout the rest of the year, the city stays in the mid-20s.
Brazzaville – Located in southern region of the Congo, this city has a more tropical savanna climate. Temperatures in Brazzaville tend to be warmest during the months of March and April. Temperatures can reach to 33 degrees Celsius during this time. The majority of the year, temperatures are in the mid-20's. Heavy rains can be expected during November, as the city cools down.
How Safe is the Republic of the Congo?
Exercise caution during times of political turmoil. Travellers should avoid any type of political demonstration.
Keep your bags and belongings close to your body, and avoid travelling at night. Petty theft like purse snatching and pickpocketing are common, especially in tourist areas.
Driving throughout the country is also risky since it is common for traffic laws to not be followed. It is best to avoid any sort of travel at night. If travelling by taxi, make sure to hail only those authorized by the government. These can be indentified by their colors (green and white in Brazzaville, and blue and white in Pointe-Noire).
The Canadian Government has many more safety travel tips for visiting the Republic of Congo, if needed.
What Should I Pack for the Republic of the Congo?
Here are some essential items to consider for your trip to Republic of the Congo:
French-to-English Dictionary – French is the official language. Packing a dictionary may prove handy.
Cash – The Republic of Congo is a cash economy, and credit cards are only accepted in hotels and fine dining restaurants. There are functional ATM machines in larger cities like Pointe-Noire and Brazzaville.
Lightweight and Sun-Protective Clothing – Heat, humidity and sun are abundant in the Congo. Avoid wearing synthetic fabrics as they can become uncomfortable in the heat. Long pants and long-sleeved tops will protect from the sun and mosquitoes.
Insect Repellent – Mosquitoes feast at night. Be sure to apply repellent whether you're planning to go out on the town, or staying close to your lodging especially during the country's wet season.
Rain Gear – Tropical climate also means plenty of rain. Make sure to pack either a raincoat or umbrella to shield you from wet weather.
Hiking Equipment – The Republic of Congo is making a name for itself in ecotourism. Bring appropriate gear if you are interested in hiking, climbing or walking through its lush landscapes.
Canadian Embassy to the Republic of the Congo
Canadian consular services can help travellers with many issues they may face including passport services. There are no consular services in Lithuana. For any consular needs, contact the Canadian Embassy of the Democratic Republic of the Congo:
Embassy of Canada in Democratic Republic of Congo
17, avenue Pumbu,
Commune de Gombe,
Kinshasa, Congo (Kinshasa)
Telephone: 243 996 021 500
Stay safe abroad with Passport Health. Call or book online now and start travelling safely today!
On This Page:
Do I Need Vaccines for the Republic of the Congo?
Do I Need a Visa or Passport for the Republic of the Congo?
What is the Climate Like in the Republic of the Congo?
How Safe is the Republic of the Congo?
What Should I Pack To the Republic of the Congo?
Canadian Embassy to the Republic of the Congo