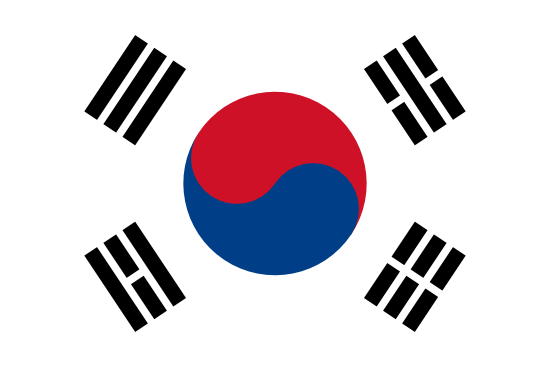 Travel Vaccines and Advice for South Korea
South Korea is a bustling country of history. The country boasts over 50 million people, beautiful mountain regions and even yellow dust winds from the Gobi Desert in the spring and autumn.
Its capital, Seoul, has five grand palaces which include museums, ponds, scenic overlooks, carved bridges and gates, and beautiful courtyards in their grounds. The country is a can't miss for any world traveller.
Do I Need Vaccines for South Korea?
Yes, some vaccines are recommended or required for South Korea. The PHAC and WHO recommend the following vaccinations for South Korea: COVID-19, hepatitis A, hepatitis B, typhoid, Japanese encephalitis, rabies, meningitis, polio, measles, mumps and rubella (MMR), Tdap (tetanus, diphtheria and pertussis), chickenpox, shingles, pneumonia and influenza.
See the bullets below to learn more about some of these key immunizations:
See the tables below for more information:
Recommended Travel Vaccinations for South Korea

VACCINE
HOW DISEASE SPREADS
DETAILS

COVID-19
Airborne
Recommended for all travellers
Hepatitis A
Food & Water
Recommended for most travellers
Hepatitis B
Blood & Body Fluids
Accelerated schedule available
Typhoid
Food & Water
Shot lasts 2 years. Oral vaccine lasts 5 years, must be able to swallow pills. Oral doses must be kept in refrigerator.
Japanese Encephalitis
Mosquito
Recommended depending on itinerary and activities. May be given to short- and extended-stay travellers, recurrent travellers and travel to rural areas. Present throughout country. Most cases from May to October.
Rabies
Saliva of Infected Animals
Moderate risk country. Vaccine recommended for certain travellers based on destination, activities and length of stay.
Routine Vaccinations for South Korea

VACCINE
HOW DISEASE SPREADS
DETAILS

Measles Mumps Rubella (MMR)
Various Vectors
Given to anyone unvaccinated and/or born after 1957. One time adult booster recommended.
TDAP (Tetanus, Diphtheria & Pertussis)
Wounds & Airborne
Only one adult booster of pertussis required.
Chickenpox
Direct Contact & Airborne
Given to those unvaccinated that did not have chickenpox.
Shingles
Direct Contact
Vaccine can still be given if you have had shingles.
Pneumonia
Airborne
Two vaccines given separately. All 65+ or immunocompromised should receive both.
Influenza
Airborne
Vaccine components change annually.
Meningitis
Airborne & Direct Contact
Given to anyone unvaccinated or at an increased risk, especially students.
Polio
Food & Water
Considered a routine vaccination for most travel itineraries. Single adult booster recommended.
The PHAC also recommends travellers be up-to-date on all routine vaccines before any travel, including: measles, mumps and rubella (MMR), Tdap (tetanus, diphtheria and pertussis), chickenpox, polio and a flu shot.
Travellers' diarrhea is a common issue among travellers. While some infections that cause the symptom can are vaccine-preventable, it can be hard to avoid. Be sure to bring a travellers' diarrhea kit.
Visit our vaccinations page to learn more. Travel safely with Passport Health and schedule your appointment today by calling or book online now.
What Other Diseases are in South Korea?
As a developed country, South Korea does not have many diseases that cannot be prevented through vaccination. Be sure to consider the following before your next trip:
Malaria – Antimalarial medication may be required for your trip. These pills do not protect against mosquito bites, but do prevent malaria. Talk to a Passport Health travel specialist to learn more and see if this option is right for you.
Tick-borne Encephalitis – Spread through tick bites or unpasteurized dairy products, this disease can ruin a trip. Travellers doing outdoor activities are at higher risk of catching the virus. Take extra precautions from April to November. The peak number of reported cases in early and late summer.
H5N1 Avian Influenza (Bird Flu) – Bird flu is a respiratory disease often spread by infected birds to humans. There have been no human cases of avian influenza reported in South Korea, but there is some risk in the region. The effect of the bird flu on humans can range from flu-like symptoms to death.
Do I Need a Visa to Travel to South Korea?
A Canadian citizen staying in South Korea for under 90 days does not need a visa for visitation, tourism, or business. If you are applying for an English teacher to Korea visa you must wait for the visa to be issued before travelling to the country. If you do not, the application will be considered nullified.
South Korea Entry Requirements

Do I Need A…
For My Trip to South Korea?

Passport
Tourist Visa
Business Visa
Vaccinations
Sources: Embassy of South Korea and Canadian Travel and Tourism
Visit the Canadian Travel and Tourism website for more information on entry and exit requirements.
What is the Climate Like in South Korea?
South Korea's climate is temperate with varying seasons. The country has long, cold winters, short hot summers, and short spring and autumn seasons.
Winters bring regular snowfall, with average temperatures around -6 degrees Celsius. Rainfall is common in the summer and temperatures tend to stay around 21-24 degrees. Spring and fall usually stay around 15 degrees.
The late summer brings the wet season, called "changma", from July to August. Severe storms and flooding can occur during this time. Mosquitoes and other insects are more common as well. Typhoon season is from May to November.
While rain storms are not common in spring and fall, yellow dust winds are common. This dust originates from the Gobi Desert and hangs around in the air causing limited visibility for those caught in it. Protection from the dust is recommended.
How Safe is South Korea?
As a developed nation, South Korea is generally safe. But, there are some items to consider before going there.
Tensions with North Korea are usually high. Incidents have been known to occur along the DMZ. But, these are generally isolated to the region.
If you plan on driving in South Korea, be sure to research traffic laws. The traffic fatality rate is higher than some other countries. Drivers are automatically presumed to be at fault in accidents involving pedestrians.
Typhoon season is from May to November and monsoon season from June to August. While these rarely pose threats to travellers, it is good to be prepared.
Petty crime does occur in South Korea. When travelling, be sure to take normal precautions like not walking alone at night and keeping an eye on your surroundings.
Pirated and counterfeit goods may be available in South Korea. But, these items are not legal there or in the United States. It may seem normal to buy them if they are well circulated but purchasing or selling them is still illegal.
The Five Palaces of Seoul
If you want to get an impressive sense of South Korea and Seoul's history and culture, checking out each of the five palaces. Three out of the five are larger and more well-known than the other two. But, each has its merits, and all share a distinct beauty.
Gyeongbokgung – Built in 1395, Gyeongbokgung is the oldest and the largest palace. Visitors can enjoy changing of the guard ceremonies, visit ornamental gardens, museums, a lake and island overlook and more. Gyeongbokgung was once burnt down in 1592 and left in ruins for 300 years. It has been restored to much of its former glory through reconstruction. Its name means "Palace Greatly Blessed by Heaven".
Changdeokgung – Built in 1405, the it's name translates to "Palace of Virtue". This castle has been destroyed and repaired many times over its long history. It can only be seen through a guided tour. Changdeokgung has a grand entrance with a large gate followed by a stone bridge with carved guardian animals. Inside you will find a many buildings made for a variety of purposes. There are also pavilions, ponds, brooks and gardens. Special monthly Moonlight Tours are available from April to June.
Changgyeonggung – Built in 1483, Changgyeonggung is the "Palace of Flourishing Gladness". At one point the grounds were changed to be a zoo with a botanical garden. But, that was done under Japanese rule, and since then those elements have been removed. Changgyeonggung now features two ponds in the back and its original style. It is also a short walk away from Changdeokgung.
Deoksugung – Though it is called the "Palace of Virtuous Longevity", Deoksugung wasn't a palace until 1592 after palaces were destroyed during Japanese invasion. Deoksugung has the most Western-style buildings including an art museum and forested gardens. Though it is three times smaller than it once was, its unique mix of architectural styles make it worth a visit.
Gyeonghuigung – This palace is small in comparison to the others, but still worthwhile. It is the "Palace of Serene Harmony" and was built in 1623 as a "secondary palace". The palace was actually leveled for a middle school during Japanese occupation. Gyeonghuigung contains the Seoul Museum of History making it a must-see.
What Should I Pack for South Korea?
Think ahead on what to pack by perusing these suggestions:
Appropriate items for the weather – South Korea can be warm, wet, or very cold. Be sure to pack for the time of year and the activities you wish to do. Consider items such as sunscreen, dehumidifiers, and clothing that can easily be layered.
Protection for more hazardous weather – South Korea has its wet/monsoon season (changma) from July to August, typhoon season from May to November, and yellow dust winds during the Spring and Autumn seasons. Many Koreans wear surgical masks or similar attire to protect their lungs from the potentially damaging yellow dust. Water-protective gear is good to consider during the heavy rain of the Summer.
First aid kit/travellers' diarrhea kit – It is always useful to have important first aid kit items while travelling, such as bandages and antibacterial wipes. the PHAC also advises to bring a travellers' diarrhea kit to help deal with the effects of the illness should it be necessary.
Bug repellent – With the possibility of malaria and tick-borne encephalitis it is especially important to ward against mosquitoes and ticks.
Copies of your passport and travel documents – In case of lost luggage or theft, bring copies of important documents.
Adapters for Electronics – South Korea uses a standard voltage of 220 V while 12V is used in America. Many of your electrical devices (hair dryers, chargers, etc) may not be compatible. Bringing adapters for these items is a must.
Canadian Embassy in South Korea
Canadian consular services can help travellers with many issues they may face including passport services. Once in South Korea, the information for the Canadian Embassy is:
Embassy of Canada to South Korea
21 Jeongdong-gil (Jeong-dong),
Jung-gu, Seoul (04518),
Republic of Korea
Tel.: +82 2 3783 6000
Stay safe abroad with Passport Health. Call or book online now and start travelling safely today!
Customer Reviews
Passport Health – Travel Vaccines for South Korea
Overall rating: 5 stars – 4 reviews
"

Great Service

"

"Excellent consultation, answered all of my questions about travelling to South Korea and then some. My appointment were on time did not have to wait 1-hour to speak with doctor. All shots were available right there. This was an excellent choice, and made a big difference. Thank you!"
"

Professional and Thorough

"

"My entire family had an appointment with a nurse to prepare for a trip to South Korea. She was on time, professional, and gave complete information. The needles were easy and she was great with kids! Would recommend Passport Health!"
"

Simple Vaccinations

"

"This place was able to give me the recommended vaccinations for my trip to South Korea. I am greatly appreciative. The nurse I dealt with was superb."
"

Excellent Service

"

"I had a great consultation at Passport Health and felt incredible comfortable with my nurse. She gave me a lot of insightful information on my upcoming travels to South Korea and helped me choose the best options, keeping my budget in mind. She had even been in contact with me prior to my visit with some information to consider. I was very impressed by this. At the end of the consultation I was also given a great book of necessary safety information for my travelled countries that I was going to have to compile on my own! Thanks for saving me the extra work. It is super helpful!"
On This Page:
Do I Need Vaccines for South Korea?
What Other Diseases are in South Korea?
Do I Need a Visa to Travel to South Korea?
What is the Climate Like in South Korea?
How Safe is South Korea?
The Five Palaces of Seoul
What Should I Pack for South Korea?
Canadian Embassy in South Korea