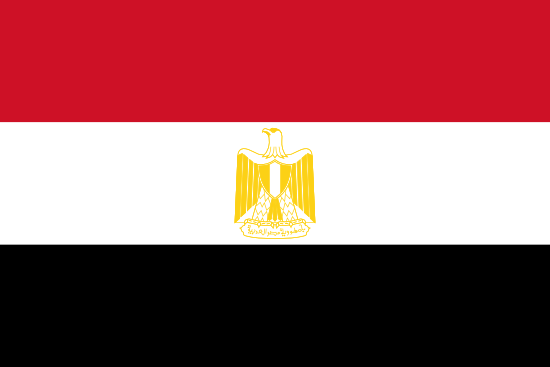 Travel Vaccines and Advice for Egypt
Egypt's 3,000 year history is rich and complex, filled with more than just mummies and pyramids. This land has ties to people and places that existed milleniums ago.
There are many sights to see in Egypt. The pyramids of Giza, the oldest of the original seven wonders of the world, remain still largely intact. The life-giving Nile River. The legendary tomb of King Tut.
But, as many sights as there are in Egypt, recent conflict in and around the country has increased the risks of travel there.
Do I Need Vaccines for Egypt?
Yes, some vaccines are recommended or required for Egypt. The PHAC and WHO recommend the following vaccinations for Egypt: hepatitis A, hepatitis B, typhoid, yellow fever, rabies, meningitis, polio, measles, mumps and rubella (MMR), Tdap (tetanus, diphtheria and pertussis), chickenpox, shingles, pneumonia and influenza.
See the bullets below to learn more about some of these key immunizations:
See the tables below for more information:
Recommended Travel Vaccinations for Egypt

VACCINE
HOW DISEASE SPREADS
DETAILS

Hepatitis A
Food & Water
Recommended for most travellers
Hepatitis B
Blood & Body Fluids
Accelerated schedule available
Typhoid
Food & Water
Shot lasts 2 years. Oral vaccine lasts 5 years, must be able to swallow pills. Oral doses must be kept in refrigerator.
Yellow Fever
Mosquito
Required if travelling from a country with risk of yellow fever transmission.
Rabies
Saliva of Infected Animals
High risk country. Vaccine recommended for long-term travellers and those who may come in contact with animals.
Routine Vaccinations for Egypt

VACCINE
HOW DISEASE SPREADS
DETAILS

Measles Mumps Rubella (MMR)
Various Vectors
Given to anyone unvaccinated and/or born after 1957. One time adult booster recommended.
TDAP (Tetanus, Diphtheria & Pertussis)
Wounds & Airborne
Only one adult booster of pertussis required.
Chickenpox
Direct Contact & Airborne
Given to those unvaccinated that did not have chickenpox.
Shingles
Direct Contact
Vaccine can still be given if you have had shingles.
Pneumonia
Airborne
Two vaccines given seperately. All 65+ or immunocompromised should receive both.
Influenza
Airborne
Vaccine components change annually.
Meningitis
Airborne & Direct Contact
Given to anyone unvaccinated or at an increased risk, especially students.
Polio
Food & Water
Required if arriving from a country with polio transmission. Considered a routine vaccination for most travel itineraries. Single adult booster recommended.
Decisions should be made based on travel plans and whether there is an increased personal risk for contracting certain diseases.
Customer Reviews
Passport Health – Travel Vaccines for Egypt
Overall rating: 5 stars – 3 reviews
"

Wonderful Visit

"

"The nursing staff on duty were very knowledgeable. She answered our questions smoothly and respectfully. She did not pressure us in any way, in some cases there were alternative considerations. She put us at ease and reviewed the options for Egypt a couple of times."
"

Friendly and Efficient

"

"Relaxed but professional. Very knowledgeable about Egypt. Would recommend this location to all."
"

Excellent friendly service

"

"I would recommend anyone traveling to Egypt and not sure about what to expect health wise to go in for a consultation with the friendly knowledgeable. I appreciated the up front information on costs and follow-up too."
Do I Need a Visa or Passport for Egypt?
All Canadian citizens travelling to Egypt must obtain a visa prior to travelling there. They may be purchased on arrival at the airport but this can result in lengthy delays or even being refused entry. Your passport must be valid for at least 6 months past the expected departure date. When leaving Egypt, you must show proof of an entry stamp in your passport.
Egypt Entry Requirements

Do I Need A…
For My Trip to Egypt?

Passport
Tourist Visa
Business Visa
Vaccinations
Sources: Embassy of Egypt and Canadian Travel and Tourism
Visit the Canadian Travel and Tourism website for more information on entry and exit requirements.
What is the Climate Like in Egypt?
Egypt only has two seasons – a hot summer and a moderate winter. In general, Egyptian days are warm or hot and nights are cool or even cold. While the majority of Egypt is desert, there are four unique physical regions with different climates.
The Nile Region
Nile Delta – The ancient city Alexandria is located in the Nile Delta. This area was created by the world's longest river and is the most expansive oasis in the world. The delta begins north of Cairo and extends farther north to the Mediterranean Sea. This region has a hot desert climate. But, the most northern part closest to the sea is the wettest region in the country. It has higher humidity and more moderate temperatures, reaching no higher than 32 degrees.
Nile Valley – This region includes the two major Egyptian cities Luxor and Aswan. The Nile Valley is hot and dry, with very little precipitation. The summer months get especially hot, with daytime temperatures reaching highs of up to 41 degrees at the peak of the summer. Nighttime temperatures dip down to around 21 degrees at the lowest points. The winter months are much more moderate with less fluctuation from night to day.
Western Desert
The Pyramids of Giza are located in the northeast corner of this region.
This region is one of the driest areas in the Sahara Desert. It spans from the Mediterranean Sea south to the Sudanese Border, and from the Libyan border east to the Nile River Valley. The area rarely sees any rain. Hot, dry sandstorms, called khamsins, are common in the spring months and can be dangerous.
Temperatures vary greatly. In summer months, temperatures can get up to 44 degrees during the day and 7 degrees at night. In winter months, temperatures fluctuate less, but the desert can get to 50 degrees during the day and as low as 30 degrees at night.
Eastern Desert
The Eastern Desert is mountainous. The topography increases east of the Nile to become dry, rocky hills, the Red Sea Mountains, at elevations around 1,900 meters or higher. This is a dry, desolate area that is isolated from the rest of the country. There is not much in this part of the country because it is not suitable for agriculture or other sustained settlements.
Sinai Peninsula
This is a triangular peninsula that connects Asia with Africa. It is also known as the Sinai Desert because of its arid climate. The rest of Egypt is to the West, Israel and the Gaza Strip to the east. The Mediterranean Sea is to the north and the Red Sea is to the south.
The peninsula has two distinctly different climates. The northern part of the peninsula, closer to the Mediterranean, is dry and intensely hot during the summer and sees more rain during the winter. The southern part, closer to the Red Sea, is at higher elevation and is more prone to clouds, especially near the tops of the hills. The temperatures fluctuate a little more, getting cooler at night. Humidity is higher near the coasts on the peninsula.
Is Egypt Safe?
Non-essential travel to Egypt is not recommended. The Canadian Government has issued travel warnings to Egypt.
Travellers should avoid going to the Western Desert toward the Libyan border and the Sinai Peninsula due to an unpredictable security situation.
When travelling to coastal resorts, exercise a high degree of caution.
Travellers should use reputable Egyptian travel agencies if they still decide to make the trip. Those agencies are informed about the security issues and will know how to best advise.
Egyptian Rules, Customs and Laws
Public Behavior
Intimate behavior and any sort of public displays of affection including cuddling, kissing and even hand-holding are seen as inappropriate.
When visiting a home, it is customary to bring a small gift and remove shoes before entering.
Egyptians have unique functions for the two hands. The left hand is to be used for "unclean" functions, like putting on shoes or wiping in the bathroom. It's is seen as unhygienic to put food into the mouth or into a communal food bowl with that hand. The right hand should be used for greetings and eating.
Conversation
Egyptians are passionate about certain subjects and conversations about those subjects, including Israel, Islam and Palestine, should be treated carefully. There is potential for serious offense if careful consideration is not taken, especially when expressing opinions about religion.
Dress
Dress should be modest. Shorts are considered acceptable only near the coastal resorts, and shirts for both men and women should cover the shoulders. Immodest clothing encourages disapproval from the Egyptians as well as gropers.
Be conscious of dress when visiting mosques or other sacred places. Travellers should be especially modest, with women covered from wrist to ankle and men covered from below the shoulder to below the knee. Travellers should also remove their shoes or wear overshoes.
Suggestions for Women travelling in Egypt:
Wear loose, opaque clothes that cover all immodest areas (chest, thighs, upper arms)
When travelling alone on public transportation, sit with other women or, when offered, sit in carriages reserved for women
When travelling with a man, wear a wedding ring. It is more respectable to appear to be married than "just friends"
Appear confident and travel with purpose
Avoid eye-contact with Egyptian men and appear standoffish rather than overly friendly
When swimming in pools or open-air springs, wear a t-shirt and leggings
If hassling or groping does occur, call out and make a scene
What Should I take to Egypt?
Travel Documents – Make sure to have copies of all important travel documents, including your passport, visa, travel insurance, etc.
Protection from the Sun – Be ready to prevent sunburns. Don't forget sunscreen of SPF 30 or higher, a hat and sunglasses.
Light, Breathable Cotton Clothing – Bring clothing that is easy to wash. Whether in Egypt's coastal regions or arid desert areas, light clothing will help with comfort in the heat, even in winter months.
Jacket – This will help protect against potential summer windstorms and also provide backup for when indoors get chilly from heavy air conditioning.
Comfortable Shoes – Many of Egypt's most exciting sites require at least some walking and sightseeing. In general, it is best to go with comfortable shoes.
Health and Hygiene – Pack a basic medical kit filled with items that may not be readily available in parts of Egypt. Kits should include things like: bandages, antibacterial hand gel, pain relievers, anti-diarrhea drugs and re-hydration salts.
Egyptian Travel Adapter – To charge your phone, you will need a travel adapter made for Egypt.
Canadian Embassy in Egypt
The Embassy in Cairo is available for all emergency assistance during their normal business hours.
Embassy of Canada in Cairo
Nile City Towers, 2005 (A) Corniche El Nile
South Tower, 18th floor,
Cairo, Egypt 11221
Tel.: +20 2 2461-2200
If you have any questions about travelling to Egypt or are wondering what shots you may need for your trip, schedule an appointment by calling or book online now!
On This Page:
Do I Need Vaccines for Egypt?
Do I Need a Visa or Passport for Egypt?
What Is the Climate Like in Egypt?
Is Egypt Safe?
Egyptian Rules, Customs and Laws
Suggestions for Women travelling in Egypt:
What Should I Take To Egypt?
Canadian Embassy in Egypt