This vaccine is common among travellers to Africa and South America. It protects against a potentially deadly mosquito-borne disease and is required for entry to some nations. All Passport Health clinics are Registered Yellow Fever Vaccination Centres with PHAC. Get vaccinated today!
Some infections are rarely found in North America or isolated to specific regions. Passport Health carries a wide variety of routine and specialty vaccines for every circumstance. Immunizations against infections like measles, mumps, Japanese encephalitis and rabies are in-stock at our Downtown Vancouver travel clinic.
At Passport Health, we aim to serve everyone. We offer customizable options for groups and businesses such as onsite travel and flu shots, biometric screenings and much more.
Details & Directions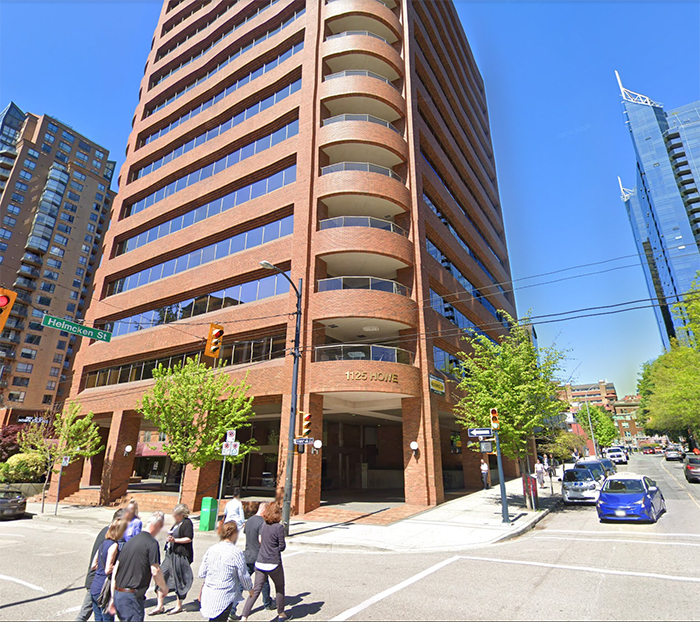 Conveniently located at Howe Street and Helmcken Street, Passport Health's Downtown Vancouver clinic is uniquely situated to help you prepare for any trip as quickly, and conveniently, as possible. See below for additional information.
Schedule an appointment today by booking online or calling .
Customer Reviews
"

Travelers choice

"

"Great assistance and advice."
"

Easy Vaccine

"

"I was supposed to be here at 2:15 pm but the sky train was delayed due to some maintenance making it a sore afternoon but finally got here by 2:20 pm. I had a short consultation then a Hepatitis A vaccine lighter than the tap of a feather by the wonderful practitioner RN. I was out and about in less than 20 minutes."
"

Great, easy experience

"

"My experience was great. The staff was kind and well informed about what I needed for my travel and made the whole experience enjoyable snd informative."
"

Very informative

"

"Very helpful friendly staff. knowledgeable and efficient nurse."
"

Excellent experience

"

"Randee helped me with all the vaccinations and medications I'll need for my upcoming trip to Africa. She is knowledgeable and friendly and really put me at ease. Highly recommend."
"

Godsend

"

"I really needed an important vaccine at short notice and they were there for me."
"

Very Helpful

"

"We had a great experience at Passport Health in downtown Vancouver. Our nurse was very knowledgeable and thorough and we felt like we walked out feeling very well prepared for our upcoming holiday."
"

Excellent service

"

"I visited the Passport Health Clinic at 1125 Howe St. I had excellent service by Michelle. She took the time to explain all the various vaccines that I would need and laid out the various options in a clear way."
"

Simple Vaccinations

"

"This place was able to give me the recommended vaccinations for my trip to South Korea. I am greatly appreciative. The nurse I dealt with, Miranda, was superb."
"

Skilled and knowledgeable staff

"

"Great visit all around. In the past, I have been quite uneasy when it comes to blood draws and vaccinations. The nurses were very skilled with both the injections and at distracting me from them. Pricing and information was presented clearly and nothing felt like a high pressure sale."

Submitted by:

Christopher
"

I'm so happy

"

"I am terrified of needles. I have rarely been able to get them without considerable force and trauma. I had to get the yellow fever vaccine in order to go and see my grandmother and was petrified I wouldn't be able to get it and I wouldn't see her. I had tried to get it at other clinics but I wasn't able to and left in tears and completely wound up. However, with these lovely ladies: I had a consultation first and explained the whole situation. She was so kind and understanding and assured me she would be there to help me and it wouldn't be some random person. She also informed me that I needed Typhoid again as mine had expired which I hadn't known!! And then gave me an oral vaccine for that which I was tremendously grateful for. Anyways, this morning I went in to get the jab, really really nervous but these two wonderful ladies put me in a RECLINING chair and just chatted to me and did exactly hat I needed them to and were patient, kind and understanding and I basically got the vaccine no problem. And then they gave me a lollipop. I am so grateful and happy and relieved. They made the experience which is literally ALWAYS negative for me absolutely fine. Often nurses and pharmacists don't really know how to handle a severe needle phobe like myself and it makes it hard on both parties. But I would go back to these guys anyday. Thank you for helping me overcome my fear a little more, and for allowing me to go see my granny next month :)"
"

Efficient

"

"I liked the convenience and simplicity of getting the vaccinations I needed for my trip !"