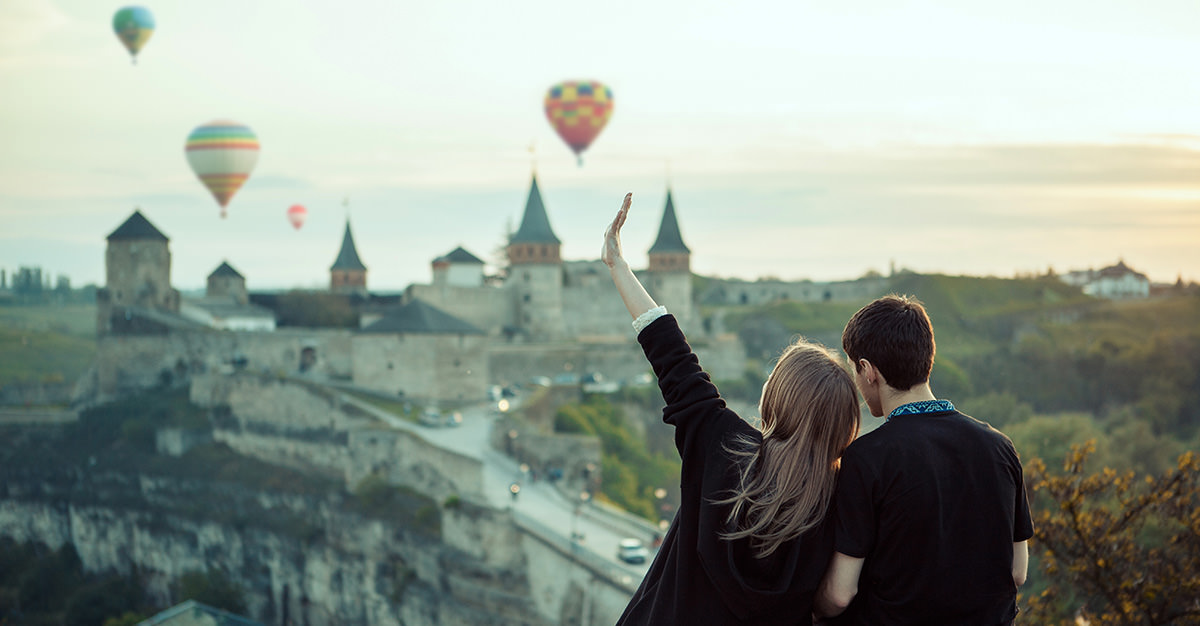 Do I Need Vaccines For Ukraine?
Do I Need a Visa For Ukraine?
What Is The Climate Like In Ukraine?
How Safe Is Ukraine?
Travelling Within Ukraine
What Should I Pack for Ukraine?
Canadian Embassy in Ukraine
Ukraine is a small country nestled among Europe's mountains and forests. It blends a perfect mixture of green trees, rolling mountains and clean beaches. Ukraine is an ideal destination for anyone seeking fun and new experiences.
Kiev rests along the Dnieper River. Scattered across the city are religious monuments with classic architecture and underground catacombs. If this rich history isn't what you crave in the Ukraine, Kiev offers many other opportunities for fun. The city is also home to recreational activities like waterparks and the Kiev Zoo.
Ukraine is also a popular spot among snowboarders and skiers. Bukovel is a large, popular ski resort in the country. This resort hosts skiing, snowboarding, mountain biking, hiking and more. The Carpathian National Nature Park is also nearby. Other popular, nearby ski resorts include Drahobrat and more.
Whether it's a breath of history or a trip down a mountain, Ukraine offers a little bit of everything.
Do I Need Vaccines For Ukraine?
Yes, some vaccines are recommended or required for Ukraine. The PHAC and WHO recommend the following vaccines for Ukraine: hepatitis A, hepatitis B, rabies, polio, and influenza.
---
Sporadic cases of polio have been found in Ukraine. Make sure you're vaccinated before your trip. Routine vaccinations are recommended for all travellers.
See our vaccinations page to learn more about these infections and vaccines. Ready to protect yourself? Book your travel health appointment today by calling or schedule online now.
Do I Need a Visa For Ukraine?
A passport which is valid for at least 6 months from the expected departure date is required to enter the country. A tourist and business visa is not required for up to 90 days per 6-month period. If you intend to stay in the Ukraine longer than 90 days, you may be required to purchase medical insurance issued by a state-owned company upon arrival.
Is A …
A Ukraine Entry Requirement?

Passport
Yes
Passport Validity
At time of entry
Blank Passport Pages
One page per entry stamp
Visa
No
Vaccinations
Recommended
Sources: Canadian Travel and Tourism and Ukrainian Government
Proof of health insurance and sufficient funds for your trip may be required.
Visit the Canadian Travel and Tourism website for more information on entry and exit requirements.
What Is The Climate Like In Ukraine?
Ukraine experiences all four seasons. Weather varies by what time of the year it is.
Winters hover around freezing and can bring heavy snowfall. Summers heat can reach the low-30's at peak times. Rains are common throughout the year with snowfall in winter.
How Safe Is Ukraine?
There have been some politically and ideologically motivated terrorist attacks in the Ukraine. The State Department and other organizations reccomend taking extra precautions while in country. Avoid public demonstrations and avoid taking a public opinion on politics, especially in relation to Russia.
Avoid the Crimea area during your trip. Military operations are underway on an ongoing basis.
Crime also occurs in Ukraine, the most common being robberies, pickpocketing and mugging. Crimes are common near nightspots, on public transportation. Corridors, elevators and stairwells provide cover for these activities.
Tourists may be targeted if they display wealth or expensive things. The local police are known for being corrupt. Be careful when interacting with law enforcement and always request to see a badge. Note, law enforcement and some emergency responders may not speak English.
Travelling Within Ukraine
While Ukraine is a charming, colorful country, there are some locations to avoid. The Crimean is currently occupied by the Russian Federation. Take extra precautions in this region.
There is conflict in parts of eastern Ukraine. Avoid travel to Donetsk and Luhansk oblasts as Russian-supported separatists control the area. In these regions, travellers may face gunmen posing as self-named authorities. These individuals specialize in kidnaping and extortion.
The Ukrainian government has also struggled to provide support to these areas. There are reports of water, power, food and medicine shortages. This has lead to looting in some areas. If you plan to travel across Ukraine, avoid from these locations.
What Should I Pack for Ukraine?
Ukraine offers a very unique experience to travellers. Make sure you're prepared with these handy, must-pack items.
Warm Clothing – Depending on when you visit Ukraine, the weather can be a bit cold. Even in the warmer months, the evenings might get chilly, especially if you are close to the mountains. Packing a few jackets and sweaters will help you stay as warm and comfortable as possible.


Camera – Ukraine is a highly picturesque destination in Europe. Whether it's unique architecture or adventures, you may want to take pictures. Never photograph military installations or personnel. You may be detained for doing so.


Ski or Snowboard Gear – Consider bringing your own equipment with you to Ukraine. Local equipment may be less safe and you will feel more comfortable on your own gear.


Toilet Paper – Some public don't always have toilet paper. Pack some and keeping a little on your person. Also, consider bringing a traveller's diarrhea kit to avoid any unwanted problems.
Canadian Embassy in Ukraine
Canadian consular services can help travellers with many issues they may face including passport services. Once in Ukraine, the information for the Canadian Embassy is:
Canadian Embassy in Ukraine
13A Kostelna Street,
Kyiv 01901, Ukraine
Tel.: 380 (44) 590-3100
Stay safe abroad with Passport Health. Call or book online now and start travelling safely today!