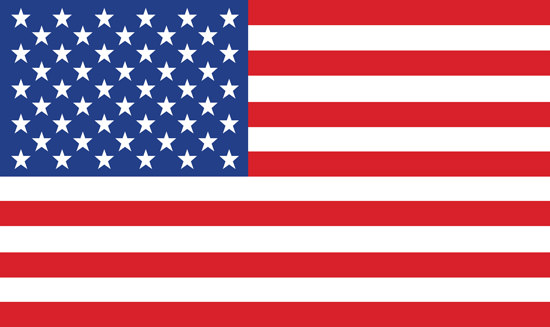 Travel Vaccines and Advice for the United States
Due to its history of being the "melting pot" of the world, the United States is a large country that is rich in diverse cultures, lifestyles, and populations. Due to its size and varying geographical features, every region in the United States has its own unique culture and traditions. This can make travelling to the United States exciting, for you are likely to experience a variety of cultures while there.
The majority of the United States population, identify themselves as Christian, with about 70% of the population. Other common religions include Jewish, Muslim, and non-religious populations.
There is no official language of the United States, though the national language is English. Spanish is also a common language spoken.
The capital city of the United States is Washington D.C. with other major cities including Chicago, New York, and Los Angeles.
Do I Need Vaccines for United States?
Yes, some vaccines are recommended or required for United States. The PHAC and WHO recommend the following vaccinations for United States: COVID-19, hepatitis A, hepatitis B, rabies, meningitis, polio, measles, mumps and rubella (MMR), Tdap (tetanus, diphtheria and pertussis), chickenpox, shingles, pneumonia and influenza.
See the bullets below to learn more about some of these key immunizations:
See the tables below for more information:
Recommended Travel Vaccinations for United States

VACCINE
HOW DISEASE SPREADS
DETAILS

COVID-19
Airborne
Recommended for all travellers
Hepatitis A
Food & Water
Recommended for most travellers
Hepatitis B
Blood & Body Fluids
Accelerated schedule available
Rabies
Saliva of Infected Animals
Vaccine recommended for long-term travellers and those who may come in contact with animals.
Routine Vaccinations for United States

VACCINE
HOW DISEASE SPREADS
DETAILS

Measles Mumps Rubella (MMR)
Various Vectors
Given to anyone unvaccinated and/or born after 1957. One time adult booster recommended.
TDAP (Tetanus, Diphtheria & Pertussis)
Wounds & Airborne
Only one adult booster of pertussis required.
Chickenpox
Direct Contact & Airborne
Given to those unvaccinated that did not have chickenpox.
Shingles
Direct Contact
Vaccine can still be given if you have had shingles.
Pneumonia
Airborne
Two vaccines given separately. All 65+ or immunocompromised should receive both.
Influenza
Airborne
Vaccine components change annually.
Meningitis
Airborne & Direct Contact
Given to anyone unvaccinated or at an increased risk, especially students.
Polio
Food & Water
Considered a routine vaccination for most travel itineraries. Single adult booster recommended.
All medical facilities must treat emergencies, whether you're able to pay or not for the cost.
To find out more about these vaccines, see our vaccinations page. Ready to travel safely? Book your appointment either call or start booking online now.
Do I Need a Passport or Visa for the United States?
In most circumstances, Canadian citizens do not need a visitor or business visa for the United States. Contact the embassy to learn more.
United States Entry Requirements

Do I Need A…
For My Trip to Tokelau?

Passport
Tourist Visa
Business Visa
Vaccinations
Sources: Embassy of the United States and Government of Canada
What Is the Climate Like in United States?
The climate in the United States varies based on the state and region.
The Southwest region has a dry, desert climate with hot days and cold nights. Temperatures can range from near zero to 40.
The Gulf Coast has a humid subtropical climate with mild winters and hot summers. Temperatures can range from the zero to 35.
The Southern Plains has a temperate climate with cold winters and hot summers. Due to this, the temperature can change due to what season it is. Temperatures can get as high as 35 in the summer and as cold as -5 in the winter.
The Northern Great Plains hosts a humid continental climate. This climate hosts four distinct seasons with temperatures and precipitation varying. In the summer, it can get as hot as the 30 and the winter can see temperatures in the negative teens.
The Pacific Northwest has an oceanic climate. The weather is wet and cool in most seasons, but becomes drier in the summer. Temperatures usually range from 10 to 20.
How Safe Is United States?
Theft and pick-pocketing are common in urban areas in the United States. Never leave your valuables alone or out of sight in heavily populated areas.
Credit card fraud can also be common, especially during holiday periods. Make sure your card is always in sight and make sure to check into your bank account regularly.
Violent crime can occur in disadvantaged areas due to gang violence. The chance of a tourist being involved in violent crimes such as this is low.
National Parks in the United States
Due to its diverse landscapes and many different climates, the United States is home to a variety of natural wonders. It is home to 58 National Parks and each of them offer something new and beautiful for travellers.
One of the most popular national parks in the United States is Yellowstone National Park. This national park located in Idaho, Wyoming, and Montana, spans over 7,500 square kilometres. The park hosts natural wonders such as Old Faithful (a geyser), wildlife such as bison and wolves, and the Rocky Mountains.
If you travel to Yellowstone National Park, you should be educated on how to stay safe, especially when you encounter a bear. Bring bear spray and study how to approach the situation.
The entrance fee to the park is $30 a vehicle and the pass is good for seven days.
What Should I Take to the United States?
Though your packing list will probably vary depending on what region you're travelling to, here are some essential items to consider for your trip to the United States:
Bring layers so you can be comfortable in a variety of temperatures.
Good walking shoes for visiting tourist areas
Backpack, purse or other carrier for any layered clothing
Canadian Embassy to the United States
When travelling it is very helpful to find out exactly where the Canadian embassy or consulates are located. Keep the address written down in case you have a legal problem, you lose your passport, or you want to report a crime. Be sure to keep a copy of your passport with you in case you lose the original.
Canadian Embassy in the United States
501 Pennsylvania Avenue, N.W.,
Washington, D.C., U.S.A., 20001
Telephone: 1-844-880-6519
Email: ccs.scc@international.gc.ca
If you have any questions about travelling through the United States or are wondering what shots you may need for your trip, schedule an appointment with your local Passport Health travel medicine clinic. Call us at or book online now and protect yourself today.
Customer Reviews
Passport Health –

Travel Vaccines for the United States