Are you going to a South America and wondering if you need a yellow fever vaccine? We can help! Our clients are provided with the International Certificate of Vaccination (yellow card) and all our clinics are CDC-approved yellow fever providers. Also, our travel health experts use up-to-date information provided by Health Canada, the Centers for Disease Control and World Health Organization to help you know whether you need the vaccine and administer it to you.
Looking for a solution to travellers' diarrhea? The infections that cause the sometimes embarrassing symptom are very common, especially in some of the most popular travel destinations like Mexico and Cuba. Be prepared before you go with Dukoral or a Passport Health Travellers' Diarrhea kit.
Passport Health is now offering COVID-19 testing and Fit-To-Fly travel health forms.
Details & Directions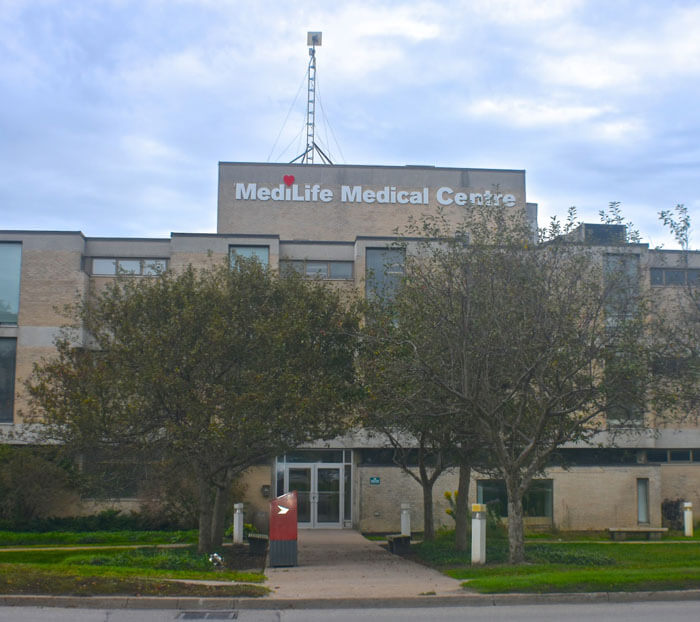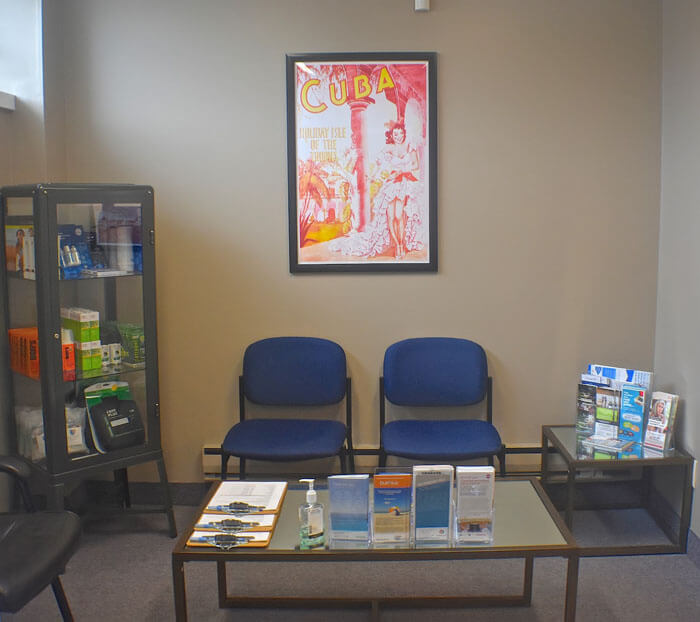 Passport Health Travel Clinic Barrie is located 5 minutes from Barrie's expansive beach-lined waterfront overlooking Kempenfelt Bay waterfront. Our clinic is located in the same building as the Wellington Street Walk-In Clinic, just past the No Frills Plaza and a short distance from the beautiful Sunnidale Park. There is plenty of free parking at the front and rear of the building,we are also situated on the bus route. A small Cafe, Collette's Kitchen located on the first floor for your convenience.
Customer Reviews
"

Travel Immunizations

"

"We were taken on time, everything was explained thoroughly, a decision was made and the shots were given. An appt. for the next shots was made and we were out the door, ready for our busy day. We were treated in a courteous, professional manner and every question was answered to our satisfaction. It was a very positive experience."

Submitted by:

Pat & Frank
"

Experience

"

"Friendly, efficient, professional -and informative!!"
"

Best Travel Clinic

"

"I have been to 4 travel clinics in the past and this is the best one I have been to. We saw Sharmei Coronel and she was so helpful and knowledgable. She was very interested in our trip and it was a fun experience. Thank you Sharmei for your kindness and help."
"

Great First Experience

"

"First time ever using a vaccination clinic. Was impressed to be able to get an appointment for the day after I called. Nurse at clinic was both friendly and professional. She provided the information we needed to know before proceeding with the injections. We left with a booklet not only covering the vaccines but even travel tips were included specific to our vacation destination. Most impressive!"
"

Great Experience

"

"Great experience. Chantal was knowledgeable and clearly experienced."
"

My Experience

"

"I had a really great experience at Passport Health in Barrie, ON. I was able to book my appointment and have my appointment in an extremely timely manner. The worker was thorough with her explanations, and gentle with the shots. I usually do not like needles all that much, but because of building a solid rapport in just the 15 minute consultation leading to the shots, I felt very comfortable and at ease. I will definitely be returning! Thank you!"
"

Best Barrie Travel Clinic

"

"Great, fast service. Someone answered the phone the first time I called (unlike other barrie travel clinics) and I was able to book an appointment only a week ahead!! Friendly, knowledgeable staff. Will definitely be back."
"

I wish I had come earlier

"

"I did not hear about Passport Health until recently, for sure I would have avoided a number of ailments from past travel had I known about PH. I was really impressed with the knowledge of Sharmei."
"

Great First Experience

"

"First time ever using a vaccination clinic. Was impressed to be able to get an appointment for the day after I called. Nurse at clinic was both friendly and professional. She provided the information we needed to know before proceeding with the injections. We left with a booklet not only covering the vaccines but even travel tips were included specific to our vacation destination. Most impressive!"
"

Excellent Nurse

"

"Our nurse, Lisa Rocha, was excellent. She took the time to answer all our questions, gave great advice and was very patient with our indecision. She was very gentle, and didn't rush us, even when we went over our allotted time and the next patient had already arrived. Appointments for boosters were booked before we left and a package of useful information for our destinations was provided. I would highly recommend the clinic."
"

Good experience

"

"I was attended to promptly, efficiently and professionally. Lisa was well prepared and knew why I was there and attended to all documentation required. Lisa is always friendly and accommodating and great to chat with. Good experience!"
"

Prompt & Effective Service

"

"I travelled an hour to the Barrie clinic because it's in a smaller community and I could an appointment right away. It's easy to access – right off the highway and lots of free surface parking. The practitioner saw me right on time, conducted a thorough assessment and gave me great advice. She also thought outside the box to address a particular unique need I had. Thanks Lisa! I would absolutely recommend."
"

Trip vaccinations

"

"I met with Lisa today to discuss and receive the proper vaccinations for my trip to Thailand this summer, and I had a really good experience. I liked that I was able to fill out my medical history report online ahead of time, so when I arrived at my appointment, Lisa already knew where I was going, why, and for how long. She gave me great information about where I will be going and went through the info packet with me. She was also very thorough in describing the health risks of my destination and the vaccines that she recommend I take before going. Lisa was knowledgeable, kind, and generally easy to talk to. She answered all of my questions and gave me great advice. It was a quick appointment and I will definitely be going back there if I need any more shots before my next trip!"
"

Excellent (and very prompt) service!

"

""Last minute business trip popped up and I had to update my vaccinations within 48 hrs. The staff at Passport Health were super quick and got me in the very next day. Consultation was thorough, helpful and I really appreciated them seeing me on such short notice – definitely will recommend this Travel Clinic!"
"

Well organized

"

"Lisa knew her medication and was able to communicate clearly how and when to take the vaccinations."
"

Excellent service

"

"Lisa was outstanding! She was very helpful and patient with my wife and I. She had many valuable pieces of advice to help us. I will recommend her to my friends who intend to travel in the future."
"

Excellent

"

"Great experience. Professional and thorough."
"

Impressive

"

"Sandra directed me through my required travel meds very knowledgeably taking into consideration other concerns that needed to be addressed. I would not hesitate about returning to Passport Health if the occasion happens for me to venture again. Thank you Sandra"