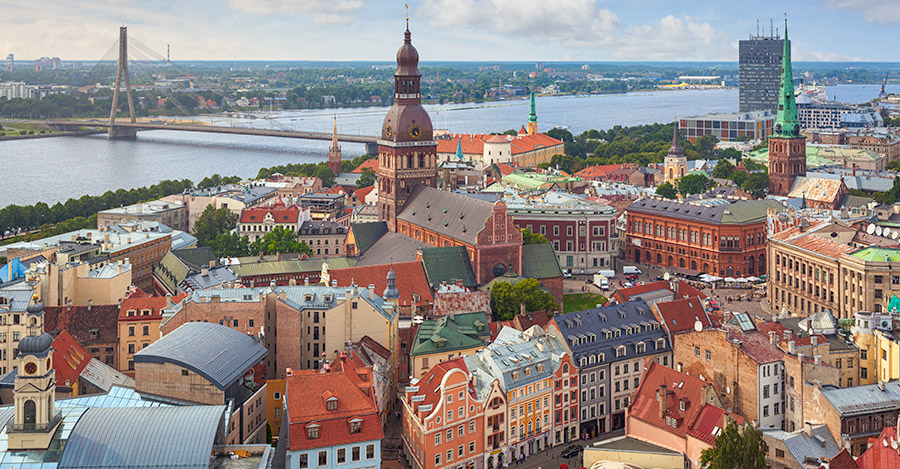 Do I Need Vaccines for Latvia?
Do I Need a Visa for Latvia?
What Is the Climate Like in Latvia?
How Safe Is Latvia?
Skrunda-1
What Should I Take to Latvia?
Canadian Embassy in Latvia
Latvia is in Northern Europe and is a country in the Baltic Region. Estonia, Lithuania, Russia, and Belarus border Latvia. There is a maritime border located to the west. Its capital is Riga.
Latvia is a mix of the old and new, offers travellers a chance to get in touch with nature, and has beautiful skylines. While Latvia is a small country, there is a lot to experience. It's a place where the people of Latvia celebrate their culture through festivals.
Whether you love history, architecture, or the beach, travellers will love Latvia.
Do I Need Vaccines for Latvia?
Yes, some vaccines are recommended or required for Latvia. The PHAC and WHO recommend the following vaccines for Latvia: hepatitis A, hepatitis B, rabies, and influenza.
---
See our vaccinations page to learn more about these infections and vaccines. Ready to protect yourself? Book your travel health appointment today by calling or schedule online now.
Do I Need a Visa for Latvia?
A tourist visa is not required for stays up to 90 days and a business visa is not required for up to 14 days. A passport which is valid for at least 3 months from the date of departure from the Schengen area is required to enter the country.
Is A …
A Latvia Entry Requirement?

Passport
Yes
Passport Validity
At least six months
Blank Passport Pages
One page per entry stamp
Visa
No
Vaccinations
May be required
Sources: Canadian Travel and Tourism and Embassy of Latvia
You may be required to show proof of sufficient funds and an onward airline ticket.
Visit the Canadian Travel and Tourism website for more information on entry and exit requirements.
What Is the Climate Like in Latvia?
Latvia is in a temperate climate zone where travellers can enjoy all four seasons. People will encounter sub-zero temperatures and snow in the winter. Rains are common in the spring. Warm summers are a great time to visit and autumn colors are amazing.
Winter — Temperatures are usually negative, but rarely below 20. Skiing is the ideal sport to do because of the flat terrain, but the mountains are not that high. The sea freezes over during the cold winters.


Spring — Temperatures are in the 30's most of the season. The rivers tend to overflow in the springtime. This is the perfect time for people to go boating because of the high water levels.


Summer — The best time to go is when it is usually in the 60's. Thunderstorms may occur later in the summertime.


Autumn — Temps are in the 40's this time of year. The first snowfall can occur in October or November. Travellers will see the red, orange, gold colors of the leaves across the country of Latvia.
How Safe Is Latvia?
Crime tends to be nonviolent, but assault and robberies have happened. Foreigners and same sex couples have been harassed in Latvia. Be aware that purse snatching, pickpocketing, and mugging have occurred.
As a traveller in Latvia you should also not make it habit to walk alone at night as well as using ATMs at night.
Skrunda-1
There are many cool and unique places to go to Latvia. Skrunda-1 is one of them. It's a secret, abandoned city of Soviet ruins. Located in Lidumnieki, this place use to be a Soviet military installation. Skrunda-1 has been abandoned for years. But, it holds so much history in its ruins that travellers can see for themselves.
This secret city came into being in 1963, and it was made for military purposes during the Cold War. It was used to lookout for missiles that were coming from Western Europe.
Skrunda-1 was abandoned in 1998 and more than 60 buildings are still standing. Travellers can see some of the walls filled with propaganda art. The government is making sure the site is being preserved.
What Should I Take to Latvia?
When you travel to Latvia, there are some essential things you need to take on your trip.
Travel Documents — You need a passport that has been valid for six months. A visa is not required if you plan to stay in Latvia less than 90 days within a six month period.


Money — Euros are currently used in Latvia. You can exchange money at a bank or exchange office. Some ATMs allow money exchange as well. Credit and debit cards can be used at ATMs. Visa and MasterCard are accepted.


Health and Safety — Bring prescription medicines, medical supplies, and over the counter medicines. You should also pack supplies to prevent injury or illness, and a first aid kit.
Canadian Embassy in Latvia
Canadian consular services can help travellers with many issues they may face including passport services. Once in Latvia, the information for the Canadian Embassy is:
Canadian Embassy Riga
20/22 Baznicas Street,
6th Floor,
Riga LV-1010, Latvia
Phone: 371-6781-3945
Ready to start your next journey? Call us at or book online now!