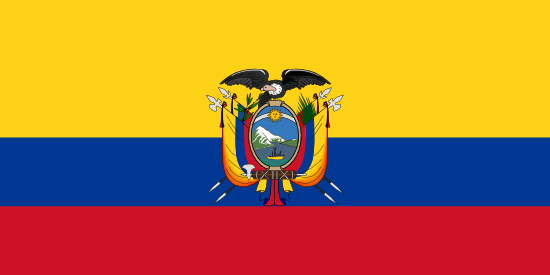 Travel Vaccines and Advice for Ecuador
Ecuador is a country of rich traditions. It is known for its hiking trails and nature, including the famous Galapagos Islands.
The capital city of Ecuador is Quito. Other large cities include Guayaquil, Cuenca, and Santo Domingo.
The country's varying regions and attractions make it a must visit for many travellers.
Do I Need Vaccines for Ecuador?
Yes, some vaccines are recommended or required for Ecuador. The PHAC and WHO recommend the following vaccinations for Ecuador: hepatitis A, hepatitis B, typhoid, yellow fever, rabies, meningitis, polio, measles, mumps and rubella (MMR), Tdap (tetanus, diphtheria and pertussis), chickenpox, shingles, pneumonia and influenza.
See the bullets below to learn more about some of these key immunizations:
See the tables below for more information:
Recommended Travel Vaccinations for Ecuador

VACCINE
HOW DISEASE SPREADS
DETAILS

Hepatitis A
Food & Water
Recommended for most travellers
Hepatitis B
Blood & Body Fluids
Recommended for travellers
to most regions.
Typhoid
Food & Water
Recommended for travellers
to most regions.
Yellow Fever
Mosquito
Recommended for travel to regions under 2,200 metres elevation, excludes Guayaquil, Quito and the Galapagos Islands
Rabies
Saliva of Infected Animals
Moderate risk country. Vaccine recommended for certain travellers based on destination, activities and length of stay.
Routine Vaccinations for Ecuador

VACCINE
HOW DISEASE SPREADS
DETAILS

Measles Mumps Rubella (MMR)
Various Vectors
Given to anyone unvaccinated and/or born after 1957. One time adult booster recommended.
TDAP (Tetanus, Diphtheria & Pertussis)
Wounds & Airborne
Only one adult booster of pertussis required.
Chickenpox
Direct Contact & Airborne
Given to those unvaccinated that did not have chickenpox.
Shingles
Direct Contact
Vaccine can still be given if you have had shingles.
Pneumonia
Airborne
Two vaccines given seperately. All 65+ or immunocompromised should receive both.
Influenza
Airborne
Vaccine components change annually.
Meningitis
Airborne & Direct Contact
Given to anyone unvaccinated or at an increased risk, especially students.
Polio
Food & Water
Considered a routine vaccination for most travel itineraries. Single adult booster recommended.
Ecuador is home to a few different mosquito-borne diseases. Malaria, dengue, Zika and yellow fever can all be found in the country. Be sure to bring repellents and netting with you. Passport Health clinics carry the yellow fever vaccine and can often prescribe antimalarials for your trip. Contact your local Passport Health clinic to learn more.
See our vaccinations page to learn more about these infections and vaccines. Ready to protect yourself? Book your travel health appointment today by calling or schedule online now.
Does Ecuador Have COVID-19 Travel Restrictions?
Flights to Ecuador are available, but Guayaquil airport is closed.
Travellers arriving to the country must have completed health and immigration forms and show a negative PCR test for COVID-19 conducted within 72 hours of arrival. Individuals without these will be tested on arrival. All arriving travellers must follow a 14-day quarantine.
While there is not yet a vaccine to prevent COVID-19, vaccines do guard against typhoid and yellow fever, two infections common in Ecuador, as well as medication to prevent travellers' diarrhea are readily available. Call us at or schedule an appointment online to learn more about protecting your health while travelling in Ecuador.
Customer Reviews
Passport Health – Travel Vaccines for Ecuador
Overall rating: 5 stars – 5 reviews
"

Great service

"

"I was given a very thorough and help full explanation of what I needed for my upcoming trip to Ecuador. I am now worry free."
"

Peace of mind

"

"I was impressed with how prepared our consultant was before we got there. It was also great to get a personalized booklet with all the recommendations and other information about my son's trip to Ecuador."
"

Easy, Peasy

"

"Decided to do a last minute trip to Ecuador and decided to see what I needed to travel. My sister referred me to Passport Health and it was very easy to get an appointment the next day and they were very thorough in what they recommended to me for my trip. All can be done in a one shop stop manner. The nurse was amazing and did not rush me the entire appointment and was able to answer all of my questions. Would definitely recommend them to others."
"

Great Experience!

"

"My daughter and I are planning on going to Ecuador and required our vaccinations along with our Malaria and yellow fever and our nurse was very professional and was great delivering our shots, especially for my daughter who has trouble with needles. Our Nurse walked us through everything we needed to know for any other medications we require and was very clear on what we should expect in regards to side effects if any. I would recommend the clinic to my friends and family."
"

A Pleasant Experience

"

"The nurse outlined in detail the health issues involved in travel to Ecuador. She outlined the prescribed medications and administered the shots required. She was very thorough and articulate. I would definitely recommend the Passport services to travellers."
Do I Need a Passport or Visa for Ecuador?
Canadians must present a passport which is valid for at least 6 months beyond the expected date of departure from the country. A tourist or business visa is not required for stays less than 90 days. You are required to leave Ecuador before the departure date which is listed on your entry stamp; failure to do so may result in deportation.
Ecuador Entry Requirements

Do I Need A…
For My Trip to Ecuador?

Passport
Tourist Visa
Business Visa
Vaccinations
Sources: Embassy of Ecuador and Canadian Travel and Tourism
Proof of yellow fever vaccination may be required based on your travel itinerary.
Visit the Canadian Travel and Tourism website for more information on entry and exit requirements.
What Is the Climate Like in Ecuador?
Ecuador's climate changes depending on the region. The western regions are warm with temperatures as high as 25 degrees. The hot and rainy seasons are between January and April.
Other regions of Ecuador experience a subtropical highland climate. It is usually dry from June to September and wet from October to May. Average temperature stay around 15 to 17 degrees.
How Safe Is Ecuador?
Travellers are not permitted to go to northern Ecuador without prior permission due to kidnappings. These areas include Carchi, northern Esmeraldas, and Sucumbíos.
Robbery is common in Ecuador, especially in hotel rooms, on beaches and on hiking trails. Use hotel safes, don't wear valuable items, and always be alert.
Always travel in groups, be alert, and be aware of where your drinks are at all times. Drugging is common.
Pickpocketing and petty theft are common in tourist areas. Be aware of your surroundings and avoid situations that could lead to theft.
The Galapagos Islands In Ecuador
One of the most famous places in the world for biodiversity are the Galapagos Islands. These islands were studied by Charles Darwin and helped him come up with the theory of evolution.
Although known for their biodiversity, the islands are part of volcanic group of islands and have little vegetation. But, that's what makes the wildlife so unique. The Galapagos National Park is officially a UNESCO World Heritage Site.
Travellers can access the island by plane or by boat. Most travellers go to the islands from December to January and June to August.
Animals on the Galapagos Islands include: bottlenosed dolphins, the Galapagos turtles, and Darwin's finches.
What Should I Take To Ecuador?
Here are some essential items to consider for your trip to Ecuador:
Mosquito repellent to prevent mosquito-borne diseases like Zika, yellow fever and dengue.
Raincoat and rain gear is a must, especially if you're travelling during the rainy season.
Medications can be hard to find in Ecuador. Make sure you bring everything you need with you.
Sunscreen and sunglasses to protect against the sun.
Clothes for layering as the temperature may change from day to night.
Canadian Embassy in Ecuador
If you find yourself in need of help while travelling in Ecuador, there is a Canadian Embassy in the capital city of Quito.
Embassy of Canada in Quito, Ecuador
Av. Amazonas 4153 and Unión Nacional de Periodistas
Eurocenter Building, 3rd Floor
Telephone: (011 593 2) 2455-499
Ready to start your next journey? Call us at or book online now!
On This Page:
Do I Need Vaccines for Ecuador?
Do I Need a Passport or Visa for Ecuador?
What Is the Climate Like in Ecuador?
How Safe Is Ecuador?
The Galapagos Islands In Ecuador
What Should I Take To Ecuador?
Canadian Embassy in Ecuador