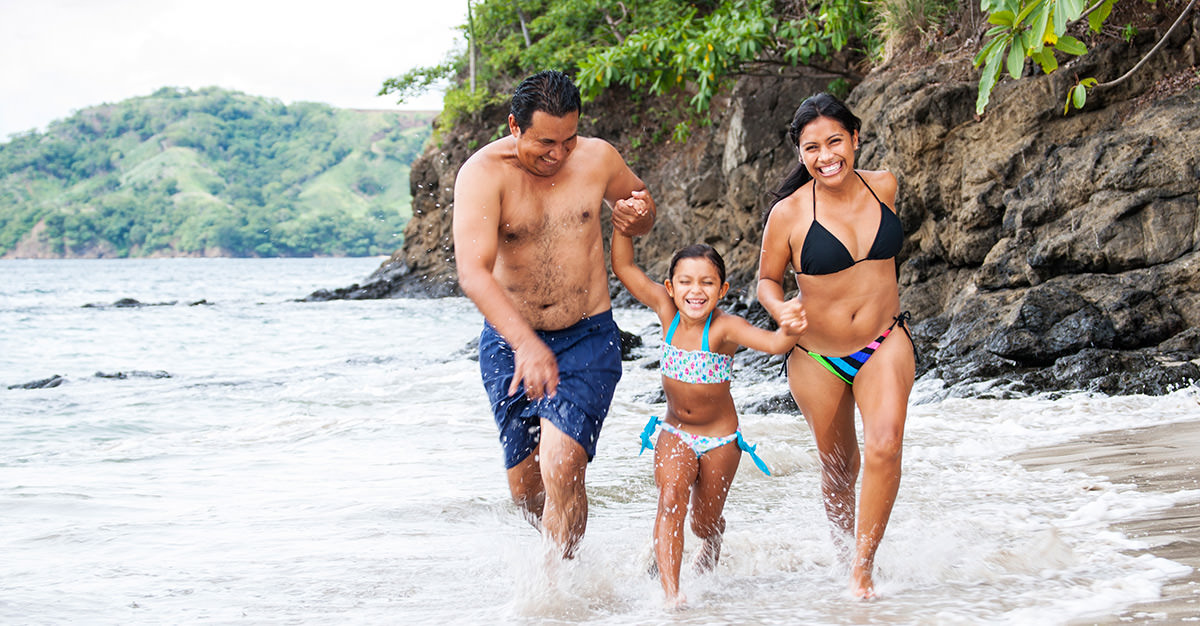 With 270+ travel clinics in North America, Passport Health is your local leading provider of travel vaccinations and medications. Prepare your health for travel, visit us before you go.
Tourism is one of the fastest growing industries in this Central American country.
Costa Rica is known for its ecotourism and adventure activities, and the country has taken proactive measures to ensure its tourism sector is sustainable. There are a number of well-known national parks and ecologically protected areas in the country, making it a desirable hotspot for flora and fauna enthusiasts. When you're done with the outdoor adventures, Costa Rica has two coastlines worth of beaches on which you can relax.
The capital of San José also has a number of sights worth seeing, including the Teatro Nacional de Costa Rica (National Theatre) where you can still buy performance tickets and the Museo Nacional de Costa Rica. Both offer glimpses into the country's Spanish colonial architecture and culture.
Do I Need Vaccines for Costa Rica?
Yes, some vaccines are recommended or required for Costa Rica. The PHAC and WHO recommend the following vaccines for Costa Rica: typhoid, cholera, hepatitis A, hepatitis B, rabies, measles, mumps and rubella (MMR) and influenza.
---
To learn more about these vaccines and others that may be recommended based on your medical history or itinerary, see our full vaccinations page. A Passport Health travel specialist will guide you through what vaccines are right for you and when is best to receive them. Schedule your appointment before you go either online or by phone at .
What Mosquito-Borne Illnesses Are In Costa Rica?
Travellers should take precautionary measures against mosquito bites. Central American mosquitoes can carry a variety of diseases, including Chikungunya and Dengue fever. There is a low risk of malaria in Costa Rica, though neighbouring countries of Panama and Nicaragua do carry a risk of the disease.
Mosquito-borne illnesses are an evolving threat with information changing almost daily. Check back on this page or speak with a Passport Health travel specialist about what is currently happening in Costa Rica or wherever you may be traveling. Passport Health nurses are ready to help you, simply schedule your appointment by calling or online.
What Is the Climate Like in Costa Rica?
Due to Costa Rica's position close to the equator, it experiences no real seasons. Here are a few variations travellers should know about:
San José– The capital city is best visited in December and January when there is little rain and moderate temperatures. San José is at an elevation of nearly 1,200 metres, which regulates temperatures to between 17° Celsius and 30° Celsius.


Quepos– December to March are the most pleasant months to visit Quepos, a popular travel destination on Costa Rica's western coast. Winter and spring often bring scattered rain showers and cooler temperatures. The average temperature throughout the year ranges from 24° Celsius to 26° Celsius.


Monteverde– This is a mountainous city in the northwest of Costa Rica. As a result of its 1,400 metre altitude, the city is misty and humid, with temperatures averaging 18° Celsius. Since this is a popular ecotourism destination, you will want to be closely checking weather conditions with your tour company.
Hurricane season in Costa Rica runs from June to November, the time of year when it is also the rainy season. Flooding and mudslides can occur and may affect travel plans.
Is Costa Rica Safe To Travel To?
Petty crime is common in Costa Rica, especially since foreigners are assumed to be wealthy. Avoid carrying items such as smartphones and jewelry, and carry minimal amounts of money. Crime hotspots include tourist areas, including bus stations, airports, and resorts.
If you've been a victim of crime, report the incident to the Oficina del Organismo de Investigación Judicial (Judicial Investigation Department Office). Passport theft is increasingly common, especially during tourism peak periods. By reporting the theft of your documents, you will protect yourself if they are later misused by the perpetrator.
Violent crime, assault, and kidnappings do occur among foreigners. In these instances do not resist the criminals. To protect yourself, use only official taxis, which are orange at the airport and red with a yellow triangle elsewhere.
Illegal drugs are frequently smuggled through and into Costa Rica. There are heavy penalties and potential jail time for anyone, including foreigners, caught using or trafficking drugs. Never transport a package for a stranger and watch your bags at all times, especially at transit ports.
It is illegal to take photos of official buildings. If you're unsure if this applies to a place you want to photograph, ask first. Do the same before taking photos of women and children, as this is not always a welcome practice.
While watersports can be a fun part of a visit to Costa Rica, riptides are prevalent in the area and have caused many drownings. Ensure water activities are done with a reputable company.
The Government of Canada has more Costa Rica security and safety information on its website.
What Should I Take To Costa Rica?
In addition to the basics, Canadians should consider packing the following important items:
A copy of a recent bank statement– Travellers to Costa Rica must prove financial stability. The Costa Rican government deems this to mean you have at least $100 USD in your bank account for each month in the country. Bring a print out of your bank statement as proof at the border.


Copies of your important documents– Passport theft is a common occurrence for Canadian travellers. If you must carry identification, have it be a scan of your passport. Make several copies of the original, and have a scan of your Costa Rican entry stamp.


Casual clothing– While your travel wear may already be more relaxed than your at-home wardrobe, casual clothing will be key for your time in Costa Rica. With the exception of San José, Costa Rica is very laid back style-wise, and you'll stand out more if you look too fancy.


Dry bags– These are key if planning to partake in water adventures or simply to protect your electronics and valuable documents from the Costa Rican humidity. If you don't want to buy speciality gear, Ziploc bags should do the trick.


Backpack or suitcase cover– This is important for when you arrive at the airport. Even if it's not raining in your trip origin location, it could very well be drizzling when you get to Costa Rica. Luggage carrier trams are often not covered, and a backpack or suitcase cover will ensure your luggage isn't waterlogged when it gets to you.
Canadian Embassy in Costa Rica
All Canadians visiting Costa Rica should register online with the Embassy of Canada to Costa Rica before departure. This will inform the office of your travel plans within the country and will allow them to reach out to you in the case of an emergency or evacuation. If you plan to purchase a local SIM card you can also enter your phone number to receive SMS updates from the office.
The Embassy of Canada to Costa Rica
Behind the "Contraloría" in the
Oficentro Ejecutivo La Sabana
Building 5, Third floor
San José, Costa Rica
Telephone: (506) 2242-4400
Fax: (506) 2242-4410
sjcra@international.gc.ca
Hours of Operation:
Monday to Thursday: 08:00 – 12:00 and 12:30 – 16:00
Friday: 07:30 – 13:00
Visit the Embassy of Canada to Costa Rica website prior to your departure to confirm correct contact details for the Canadian Embassy in Costa Rica.
The Government of Canada also operates a 24 hour Emergency Operations Centre. The collect call number to reach the centre while abroad is +1-613-996-8885.
Entry and Exit Requirements for Costa Rica
A tourist visa is not required for Canadian travellers to Costa Rica so long as stays are 90 days or less. To enter the country, travellers need a Canadian passport valid for six months beyond the intended departure date and a return or onward ticket out of Costa Rica. Travellers must demonstrate they have sufficient funds to be in the country. Print a copy of your latest bank statement. Travellers are considered to have sufficient funds if they have at least $100 USD in their bank account for each month in the country.
Overstaying your welcome in Costa Rica is not recommended, and anyone who stays past 90 days without getting an extension can be deported from the country. Travellers who are deported will not be allowed to return for a decade.
There is a departure tax of $29 USD which can be paid at the airport using cash or credit card. This tax may be included in your airline ticket or tour company fare, so check before you leave.
If you have any questions about travelling to Costa Rica or are wondering what shots you may need for your trip, schedule an appointment with your local Passport Health travel medicine clinic today by calling or using our online scheduler.
Customer Reviews
Passport Health

Travelers to Costa Rica
Overall rating:

5

stars –

7

reviews
"

Great Clinic

"

"I visited this clinic for an upcoming trip to Costa Rica. The nurse took the time to explain all of the vaccines, as well as other issues to keep me healthy and safe. She spent over an hour with me going over everything from food safety, to personal safety. I have never had someone take so much time to make sure I would be ok."
"

Travel Medicine Specialist

"

"Kate was excellent and very professional, as she explained in detail my travel portfolio that was prepared for me on my upcoming trip to Costa Rica."

Submitted by:

Christopher
"

Advice for travel to Costa Rica and China

"

"My wife and I received excellent advice about our medical needs for travel, first, to Costa Rica and, afterwards, to China. Also, we received the injections we needed–at a time when it's a just about impossible to get them from your Primary Provider."
"

Great Visit

"

"Sonia thoroughly educated us on the vaccines we were receiving and what health related issues we might face during our upcoming trip to Costa Rica."
"

Excellent Clinic

"

"The nurse was very thorough and informed me of the vaccines that I needed and had a travel guide prepared to make me aware of any precautions that I should take during my time in Costa Rica."
"

Good experience

"

"Was a wonderful and informative experience. Felt so prepared for are trip to Costa Rica."
"

Great nurse

"

"We had the most wonderful nurse today. She was super knowledgeable and answered all our questions plus gave additional valuable advise about traveling to Costa Rica."