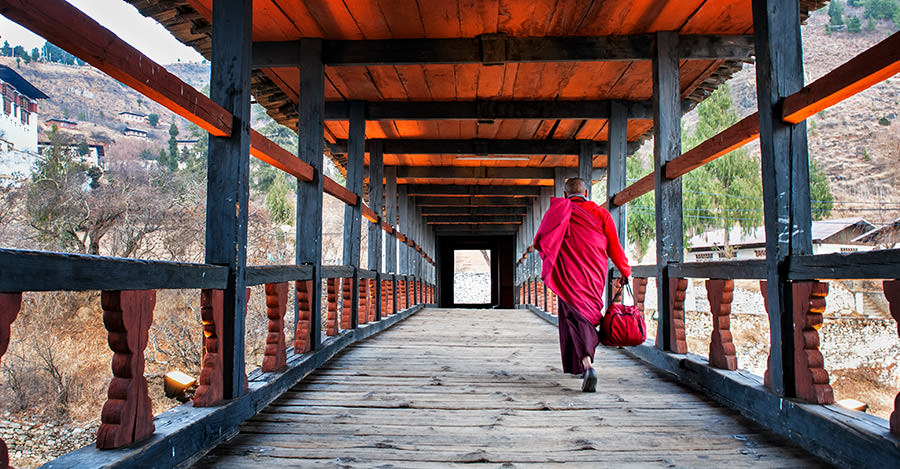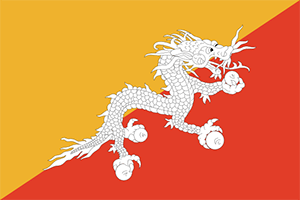 Do I Need Vaccines for Bhutan?
Do I Need a Visa for Bhutan?
What is the Climate Like in Bhutan?
How Safe Is Bhutan?
Visiting Paro Taktsang
What Should I Take to Bhutan?
Canadian Embassy to Bhutan
Bhutan is a country that combines traditional Buddhist traditions with sustainability and development. The Bhutanese have restricted tourism, requiring travellers to pay hefty tariffs each day and make plans with local tour operators. But, this means that visiting the country provides a very genuine look at the culture.
The country is known for its environmental protection effort. This has lead to gorgeous national parks, forests, and snowy mountains to visit. In the cities, there are also dance festivals, textiles, and handcrafts to admire.
A visit to Bhutan will be an experience unlike any other.
Do I Need Vaccines for Bhutan?
Yes, some vaccines are recommended or required for Bhutan. The PHAC and WHO recommend the following vaccines for Bhutan: typhoid, hepatitis A, hepatitis B, rabies, Japanese encephalitis, and influenza.
---
Japanese encephalitis is a serious risk in Bhutan. Even one bite can end a trip. Be sure to receive a vaccine before your trip. Dengue is also present in Bhutan. Mosquito repellents and netting can help protect against both infections.
See our vaccinations page to learn more about these infections and vaccines. Ready to protect yourself? Book your travel health appointment today by calling or schedule online now.
Do I Need a Visa for Bhutan?
A passport which is valid for 6 months beyond the expected departure date is required to enter the country. Before arriving in Bhutan, Canadians must obtain a visa clearance. All travel plans and visa clearances must be arranged through an authorized travel agent and confirmed prior to departure. A visa is required for business purposes as well.
Is A …
A Bhutan Entry Requirement?

Passport
Yes
Passport Validity
At least six months from date of arrival
Blank Passport Pages
One page for entry stamp
Visa
Yes
Vaccinations
Some vaccines are recommended
Sources: Bhutan Embassy and Canadian Travel and Tourism
Visit the Canadian Travel and Tourism website for more information on entry and exit requirements.
What is the Climate Like in Bhutan?
The climate in Bhutan varies based on altitude. In the north, there are mountains rising up to 7,000 m where the weather can be cold, like the arctic. In central Bhutan, there are warm summers and cool, dry winters. In southern Bhutan, the weather is hot and humid during the summer, but cool during the winter. The summer monsoons occur from late-June to late-September. They bring heavy rains to the southern border of Bhutan.
How Safe Is Bhutan?
There is very little crime in Bhutan. Petty crime, such as pick-pocketing, does occur, but is rare. Burglaries, thefts, and assaults related to skin color, ethnicity, and religion have increased in recent years. Travellers should take reasonable precautions when visiting large cities. Avoid walking alone or travelling at night.
Visiting Paro Taktsang
Paro Taktsang is a Himalayan Buddhist temple complex in the cliffside of the upper Paro valley. To reach the monastery requires climbing about 1,000 steps, but the view up the cliff is gorgeous. The monastery is made of white buildings and golden roofs. The interior of the temple has a gold-plated dome and and the hall of Thousand Buddhas has a large tiger statue. There are also eight caves, four of which are easy to access. It is a gorgeous and educational place to visit.
What Should I Take to Bhutan?
It's important to make sure you have everything you may need for your trip to Bhutan. Be sure to include these items:
Hiking Shoes – Bhutan is known for having amazing hiking. Bring appropriate shoes to enjoy it without hurting your feet.


Cash – Carry cash or traveller's checks. Though use of credit cards is becoming more common in Bhutan, cash is always accepted.


Plug Adaptors – Power adapters and voltage vary by country. Make sure you bring the right options for Bhutan.
Canadian Embassy to Bhutan
Canada currently does not have a residential government office in Bhutan. The High Commission in New Delhi, India provides consular services to Canadians travelling to Bhutan.
Canadian High Commission in New Delhi, India
7/8 Shantipath
Chanakyapuri
New Delhi 110 021
India
(+91) 11 4178 2000
Ready to start your next journey? Call us at or book online now!