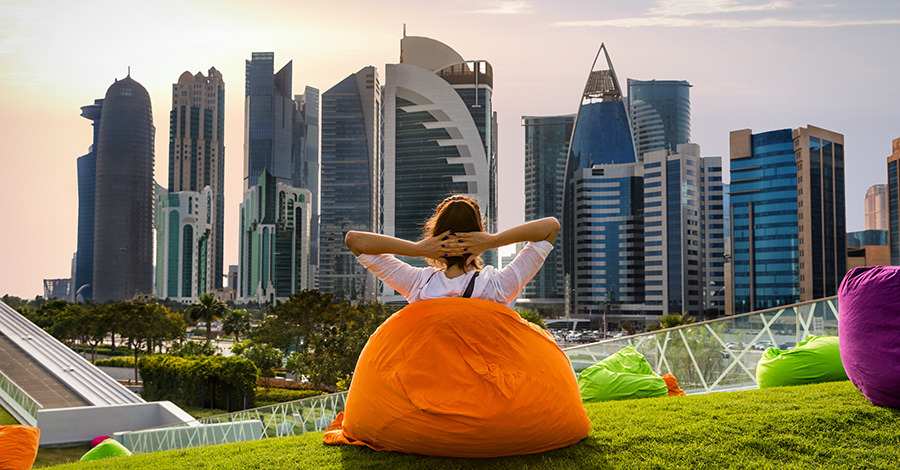 Do I Need Vaccines For Qatar?
Do I Need a Passport or Visa for Qatar?
What Is the Climate Like In Qatar?
How Safe Is Qatar?
Respecting Religion in Qatar
What Should I Pack for Qatar?
Canadian Embassy in Qatar
Resting in the desert, right along the Persian Gulf, is the country of Qatar. Qatar offers travellers an artistic, unforgettable glimpse into Middle Eastern and Islamic traditions.
A popular destination in Qatar is Al Wakrah, a city resting right along the Persian Gulf. This is the perfect destination for travellers wishing to soak up some sun on the beach. Al Wakrah's family beach gives adults and kids the chance to hop into the beautiful waters of the Persian Gulf. The city is also home to the Al Wakrah Souq, a large marketplace with over 100 shops. With all the delicious restaurants in the souq, Al Wakrah promises exciting nightlife.
Al Khor is another stop in Qatar that tourists like to visit. In the town is the popular Al Khor Park. The park also has a zoo, a children's play area and a field.
With a rich culture and history, Qatar is the perfect destination for all travellers.
Do I Need Vaccines For Qatar?
Yes, some vaccines are recommended or required for Qatar. The PHAC and WHO recommend the following vaccines for Qatar: typhoid, hepatitis A, hepatitis B, rabies, and influenza.
---
Dengue is present in Qatar. Make sure you bring insect repellents or netting for protection.
Visit our vaccinations page to learn more. Travel safely with Passport Health and schedule your appointment today by calling or book online now.
Do I Need a Passport or Visa for Qatar?
A passport which is valid for 6 months from the expected date of departure is required to enter the country. A visa, which is valid for 30 days, is required to enter the country. This visa may be obtained upon arrival.
Is A …
A Qatar Entry Requirement?

Passport
Yes
Passport Validity
At least 6 months validity
Blank Passport Pages
Minimum of two pages
Tourist Visa
Yes
Vaccinations
Recommended
Sources: Qatar government and Canadian Travel and Tourism
Exit permits may be required based on the nature of your trip.
Visit the Canadian Travel and Tourism website for more information on entry and exit requirements.
What Is the Climate Like In Qatar?
Qatar has a very arid desert climate. Summers in Qatar are hot and humid. The average high from June to August is in the high 30's. Temperatures are lowest in the winter, around January. Qatar only experiences about 2.8 inches of rainfall yearly. Since the country is small, these temperatures are consistent throughout most regions.
How Safe Is Qatar?
Qatar is a safe country to visit. Crime rates in Qatar are low. There are minimal incidents of violence and theft. There is also a large police presence throughout Qatar.
Travellers should be aware that terrorist groups are active in the Middle East. There is a risk of assassination, kidnapping, bombings and hijackings in the region.
While Qatar sees less terrorist activity, it is important to be mindful if you are visiting. Watch local broadcasts and messages from the consulate. Practice personal safety at all times. Avoid large demonstrations and events often visited by or marketed to Westerners.
Respecting Religion in Qatar
Religion is a very sensitive topic in Qatar. This exposure to religion will likely spark conversation and discussion.
It is important to remember that Qatar is an Islamic country that takes religion seriously. Proselytizing, or attempt to convert someone to a different religion is illegal. But, even attempting to share a differing faith may be considered proselytizing. Consequences for proselytizing include deportation and imprisonment.
Visitors should also dress modestly in accords with Islamic traditions. Show the proper respect for the religious beliefs and culture of those in Qatar.
What Should I Pack for Qatar?
In addition to all travel documents and medications recommended by a Passport Health Travel Medicine Specialist, here are some items to consider packing:
Sunscreen – Qatar is a country that experiences much blistering, intense sunlight. Make sure your sunscreen is at least SPF 50 and has long-wearing protection.


Sunglasses – Since the sun in Qatar can be relentless, it is important to have enough protection. While sunscreen can shield your skin, you will still need something to shield your eyes.


Modest Clothing – Revealing clothing should be avoided altogether in this traditional country. Women should bring long skirts or pants and sleeved shirts. Some religious sites might also require you to wear a headscarf to cover your hair. Men should also dress more modestly, so avoid shorts unless you're at the beach and pack pants instead.
Canadian Embassy in Qatar
Canadian consular services can help travellers with many issues they may face including passport services. Once in Qatar, the information for the Canadian Embassy is:
Embassy of Canada to the State of Qatar
Tornado Tower,
Corner of Majlis Al Taawon Street and Al Funduq Steet,
P.O. Box 24876
Doha, State of Qatar
Tel.: (974) 4419 9000
Stay safe abroad with Passport Health. Call or book online now and start travelling safely today!