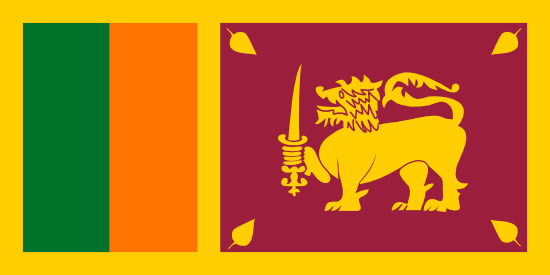 Travel Vaccines and Advice for Sri Lanka
Sri Lanka is a gorgeous tropical island full of exotic flora and fauna. Its mountainous inner country has stunning vistas and panoramic views.
Its popularity in tourism is due to its versatility. For the outdoor adventurer, Sri Lanka offers endless natural beauty. For the cultural tourist, there are delicious local dishes and historical sites to explore.
Do I Need Vaccines for Sri Lanka?
Yes, some vaccines are recommended or required for Sri Lanka. The PHAC and WHO recommend the following vaccinations for Sri Lanka: COVID-19, hepatitis A, hepatitis B, typhoid, yellow fever, Japanese encephalitis, rabies, meningitis, polio, measles, mumps and rubella (MMR), Tdap (tetanus, diphtheria and pertussis), chickenpox, shingles, pneumonia and influenza.
See the bullets below to learn more about some of these key immunizations:
See the tables below for more information:
Recommended Travel Vaccinations for Sri Lanka

VACCINE
HOW DISEASE SPREADS
DETAILS

COVID-19
Airborne
Recommended for all travellers
Hepatitis A
Food & Water
Recommended for most travellers
Hepatitis B
Blood & Body Fluids
Accelerated schedule available
Typhoid
Food & Water
Shot lasts 2 years. Oral vaccine lasts 5 years, must be able to swallow pills. Oral doses must be kept in refrigerator.
Yellow Fever
Mosquito
Required if travelling from a country with risk of yellow fever transmission.
Japanese Encephalitis
Mosquito
Recommended depending on itinerary and activities. May be given to short- and extended-stay travellers, recurrent travellers and travel to rural areas. Throughout country, except mountainous regions. Peaks with monsoon rains.
Rabies
Saliva of Infected Animals
High risk country. Vaccine recommended for long-term travellers and those who may come in contact with animals.
Polio
Food & Water
Required if arriving from a region with polio transmission. Considered a routine vaccination for most travel itineraries. Single adult booster recommended.
Routine Vaccinations for Sri Lanka

VACCINE
HOW DISEASE SPREADS
DETAILS

Measles Mumps Rubella (MMR)
Various Vectors
Given to anyone unvaccinated and/or born after 1957. One time adult booster recommended.
TDAP (Tetanus, Diphtheria & Pertussis)
Wounds & Airborne
Only one adult booster of pertussis required.
Chickenpox
Direct Contact & Airborne
Given to those unvaccinated that did not have chickenpox.
Shingles
Direct Contact
Vaccine can still be given if you have had shingles.
Pneumonia
Airborne
Two vaccines given separately. All 65+ or immunocompromised should receive both.
Influenza
Airborne
Vaccine components change annually.
Meningitis
Airborne & Direct Contact
Given to anyone unvaccinated or at an increased risk, especially students.
Sri Lanka may also need vaccinations for entry. Travellers who have recently visited countries with yellow fever or cholera will need to have proof of immunizations.
Mosquito-borne diseases, such as dengue fever and chikungunya, are present in Sri Lanka. Travellers should do their best to avoid mosquito bites to prevent these diseases.
In the capital city of Colombo, there are six hospitals, including four with emergency trauma care. But, outside of Colombo, medical care can be more difficult to get. You should bring any necessary special medication with you.
See our vaccinations page to learn more about these infections and vaccines. Ready to protect yourself? Book your travel health appointment today by calling or schedule online now.
Do I Need a Visa for Sri Lanka?
Yes, a passport and visa are required for visiting Sri Lanka. A visa, or Electronic Travel Authorization, must be obtained before arrival. These are generally granted for up to 30 days.
Sri Lanka Entry Requirements

Do I Need A…
For My Trip to Sri Lanka?

Passport
Tourist Visa
Business Visa
Vaccinations
Sources: Embassy of Sri Lanka and Canadian Travel and Tourism
You should have a return ticket and proof of sufficient funds to cover your expenses in Sri Lanka. You will also need a passport with both six months' validity from your expected departure date from Sri Lanka, and one blank page for the entry stamp.
Visit the Canadian Travel and Tourism website for more information on entry and exit requirements.
What is the Climate Like in Sri Lanka?
Sri Lanka is a tropical country that generally has a warm and humid climate. The coastal areas are often warmer and more humid. Temperatures in the upland middle of the country can be a bit cooler, though still fairly warm.
Sri Lanka experiences monsoon seasons, but different regions are affected at different times. The northern and eastern regions of the country experience monsoons from October to January. The southern and western areas are affected from May to September.
The best time to travel to the country is during a dry season in the area you plan to visit. Because monsoon seasons differ in different areas, Sri Lanka can be visited year-round depending on where you plan to stay.
How Safe is Sri Lanka?
Travelling to Sri Lanka entails some safety risks. Crime in the country is common. Although most violent crime is not directed at foreigners, reports of assault and harassment are increasing. Travel in pairs or groups whenever possible to reduce the likelihood of harassment. Petty crime is also common, and travellers should always be aware of their belongings.
Protests and demonstrations are common in Sri Lanka, especially in Colombo. While most protests began peacefully, violence is possible. The best course is to avoid demonstrations and other large gatherings of people.
The northern areas of Sri Lanka have a military presence and un-exploded landmines. When travelling in the north, stay on main, heavily traveled roads. Do not wander through forests or fields, and avoid any areas roped off for clearing landmines.
Meeting Elephants in Udawalawe National Park
A few hours' drive upcountry from the southern coast lies the Udawalawe National Park. This sanctuary for wild animals was established in 1972. This park is a haven for dozens of different species, including the Sri Lankan elephant.
The Sri Lankan elephant, one of three subspecies of the Asian elephant, is an endangered elephant native to Sri Lanka. Visitors to the Udawalawe National Park have a chance to see this rare and beautiful animal up close. If you visit the park's Elephant Orphanage, you may even be able to assist with feeding or bathing one.
Many tour operators offer half-day or full-day safaris. Accommodation are available within the park itself for easy access.
What Should I Pack for Sri Lanka?
For the best experience in Sri Lanka, you should pack the following:
Lightweight, light-colored cotton clothing is best to avoid mosquitoes and heat. If you're visiting temples, you should also bring modest attire.
Warm layers for travel into the colder highlands in the middle of the country.
Mosquito repellent for extra protection against bugs, which can be hard to find in much of Sri Lanka.
Sunscreen to guard your skin against the strong sun.
Canadian Embassy in Sri Lanka
Before travelling to Sri Lanka, all Canadians are advised to enroll in the Smart traveller Enrollment Program to share your travel plans with the relevant embassy and to receive updates about any emergencies that may interfere with your travel plans.
The Canadian Embassy in Sri Lanka is located in Colombo, the country's capital. Its address and contact information are as follows:
Canadian Embassy Colombo
33-A 5th Lane,
Colombo 03, Sri Lanka
Tel.: 94 (11) 532-6232
Ready to start your next journey? Call us at or book online now!
Customer Reviews
Passport Health – Travel Vaccines for Sri Lanka
Overall rating: 5 stars – 3 reviews
"

An Excellent Clinic

"

"We had attended a different travel clinic for past travels. Our experience with Passport Health far and away surpassed the other clinic. Passport Health provided us with very detailed information not only about immunizations and other medications recommended, but also other helpful tips and information to help us while we are in Sri Lanka. The nurse was helpful and friendly and cost was very reasonable. I would highly recommend Passport Health of all travellers."
"

One-on-one Care

"

"Passport Health provided me with the information I required for my upcoming trip to Sri Lanka. The nurse consultant who worked with me was thorough in assessing my background, the potential medical issues at my destination and the options for dealing with these issues. She also dealt directly with the pharmacy to organize the required medications. I would not hesitate to use Passport again."
"

informative & trustworthy

"

"I am confident I am well protected for my trip to Sri Lanka. The nurse viewed my itinerary and helped me to select the best course of action to take while respecting budgetary concerns."
On This Page:
Do I Need Vaccines for Sri Lanka?
Do I Need a Visa for Sri Lanka?
What is the Climate Like in Sri Lanka?
How Safe is Sri Lanka?
Meeting Elephants in Udawalawe National Park
What Should I Pack for Sri Lanka?
Canadian Embassy in Sri Lanka