Only registered Yellow Fever Vaccination Centers can provide travellers with a "yellow card" that can be mandatory when entering some countries. Passport Health is a center that can provide yellow fever vaccines. Travellers have the greatest risk of contracting yellow fever when going to Africa and South America.
Every trip is unique, but so is your consultation. We customize the information we provide to your needs and destination. Not everyone needs everything, we'll help you decide what's best for your specific travel and medical situation.
Passport Health is now offering COVID-19 testing and Fit-To-Fly travel health forms.
Details & Directions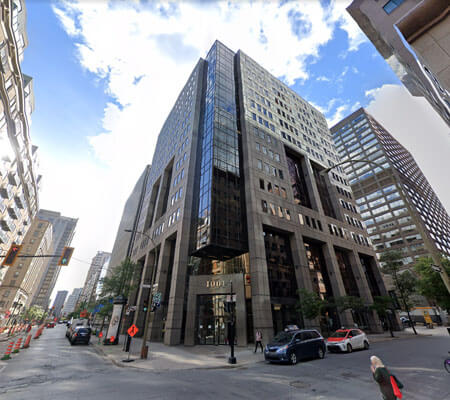 Right across from the Belgian consulate and just a few blocks from Square Dorchester, Passport Health's Downtown Montreal clinic is ready to help you with any travel needs.
Schedule your appointment today by calling or booking online now.
Customer Reviews
"

Vaccination check

"

"My wife and I needed a check of vaccination needs before flying to Rio , then to Dubai: we were advised in a comprehensive manner and opted for 1 or 2 vaccinations to be performed on site"
"

Great experience

"

"Very informative, excellent service, would definitely recommend."
"

Pricey but worth it

"

"Quick, efficient, knowledgeable, warm and welcoming. There are cheaper ways to get these things done (vaccinations for travel) but this service is great for busy people. There are equally expensive, equally efficient ways to get this done but with no personality or concern."
"

Great experience

"

"Fast, professional. Downside: more expensive than other clinics. Open on weekends and evenings a big plus."
"

Excellent service

"

"Impeccable facilities and excellent service. The nurse was very sweet and took the time to explain everything and recommend the vaccines I would be needing for my trip."
"

Great service!

"

"Since I'm going to China, I've decided to book an appointment at Passport Health to see what vaccines I needed. I had Llewellyn as a nurse and she took great care of me. I didn't know much about what I needed to go to China and she really took the time to explain all the vaccines/meds and give me tips. I also met other staff members and they were all really warm. The clinic is really clean and modern."