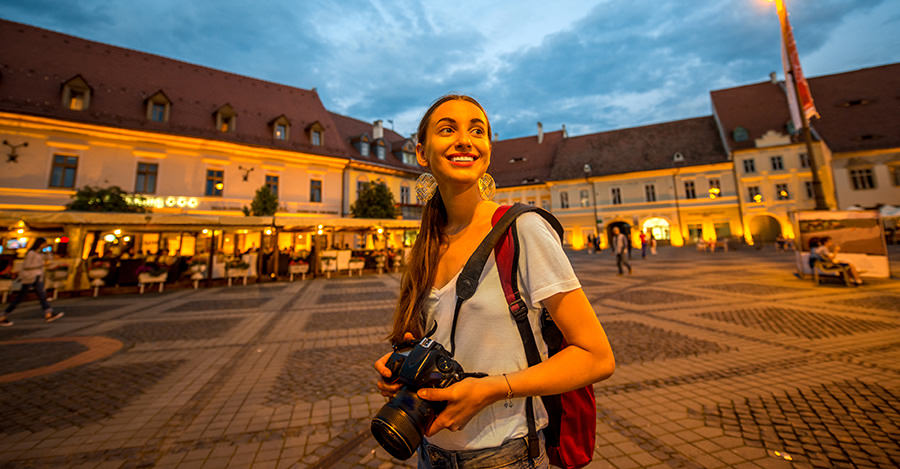 Do I Need Vaccines For Romania?
Do I Need a Passport or Visa for Romania?
What Is The Climate Like In Romania?
How Safe Is Romania?
Keeping Your Footing in Romania's Mountains
What Should I Pack for Romania?
Canadian Embassy in Romania
From woods to mountains, Romania offers travellers the chance to explore stunning landscapes. With all its old architecture and museums, this country also allows travellers to learn about its rich history.
The culture of Romania is evident through locations like the Stavropoleos Monastery and the Romanian Athenaeum. If a traveller wants to take a break from history, Bucharest is also a hip, thriving location city.
If the city life is too much for some visitors, they can head to Sinaia instead. This town in the central region of the Bucegi Mountains. There are various opportunities for hiking or skiing along the nearby mountains.
Romania serves as an ideal location for anyone seeking a diverse experience. The country holds a rich history, beautiful landscapes and endless sights. If you're looking for a vacation with endless possibilities, then you're looking to visit Romania.
Do I Need Vaccines For Romania?
Yes, some vaccines are recommended or required for Romania. The PHAC and WHO recommend the following vaccines for Romania: hepatitis A, hepatitis B, rabies, and influenza.
---
Tuberculosis is a present in Romania. While there is no vaccine against it, a post-exposure test is available.
See our vaccinations page to learn more about these infections and vaccines. Ready to protect yourself? Book your travel health appointment today by calling or schedule online now.
Do I Need a Passport or Visa for Romania?
A passport which is valid for 3 months beyond the expected date of departure is required to enter the country. A tourist and business visa is not required for stays up to 90 days per 6- month period.
Is A …
A Romania Entry Requirement?

Passport
Yes
Passport Validity
At least six months
Blank Passport Pages
One page per entry stamp
Visa
No
Vaccinations
May be required
Sources: Canadian Travel and Tourism and Government of Romania
Visit the Canadian Travel and Tourism website for more information on entry and exit requirements.
What Is The Climate Like In Romania?
The climate in Romania varies by season. The country experiences all four seasons, including winter. The winters in Romania can be bitter cold and filled with snow, while the summer often burn hot. Rainfall is moderate throughout the country. Temperatures are consistent throughout the country, but vary based on location. Here is what to expect in a few tourist destinations:
Bucharest – Summers in the capital city can see temperatures in the high 20's in July. January has lows in the -10's. Snow is common in the winter. But, precipitation is low throughout the year. Bucharest sees 530 millimeters of precipitation yearly.


Brașov – The region of Brașov sees much colder temperatures than other parts of Romania. Highs in the summer only reach about 5 degrees Celsius, and lows in the winter can plummet down to -20.
How Safe Is Romania?
Crime is not uncommon in Romania. The most common incidents include pickpocketing, robbery, scams and credit card fraud. Organized crime is present in the country. Be watchful at train stations and in subways.
Always travel with a companion, especially overnight. Do not leave personal belongings unattended or out in the open. Use ATMs inside banks, be wary in internet cafes and try to use cash instead of credit cards.
Keeping Your Footing in Romania's Mountains
From the Piatra Mare Mountains, to the Bucegi Mountains and more, Romania is lined by high peaks. These mountains are the ideal setting for skiing, snowboarding and even hiking. Whether the aim is to scale mountain or fly down them in the snow, Romania attracts travellers all year long.
While these extreme sports might seem exciting, they are also highly dangerous. Embarking on a hike beyond your physical capability or unprepared can lead to dehydration or worse. Snowboarding or skiing can lead to injury. Always know your physical capabilities. Do not try any sports or activities that you do not feel comfortable with. Always makes sure someone knows where you are and when you should be returning.
What Should I Pack for Romania?
In addition to all travel documents and medications recommended by a Passport Health Travel Medicine Specialist, here are some items to consider packing:
Jacket – It will be cold in the winter and in early spring and late autumn. You can also experience a chill in the summer if you choose to hike near up the mountains. To ensure your comfort, pack warm sweaters and jackets. If it's the warmer time of the year, at least bring one sweater.


Comfortable Shoes – There are many sightseeing and hiking opportunities in Romania. Packing a pair of shoes that you're comfortable walking in will help keep your feet happy. Also consider a pair of hiking boots if you plan to specifically go hiking.


Umbrella – Travel bloggers insist on bringing an umbrella to Romania as well. Some areas in the country can be quite rainy, and there is also the possibility of sudden downpours. Having an umbrella will keep you dry and keep the rain from dampening any of your plans.
Canadian Embassy in Romania
Canadian consular services can help travellers with many issues they may face including passport services. Once in Romania, the information for the Canadian Embassy is:
Embassy of Canada to Romania
1-3, Tuberozelor St.
011411, Bucharest , sector 1
Romania
Telephone: +40-21-307-5000
Ready to start your next journey? Call us at or book online now!