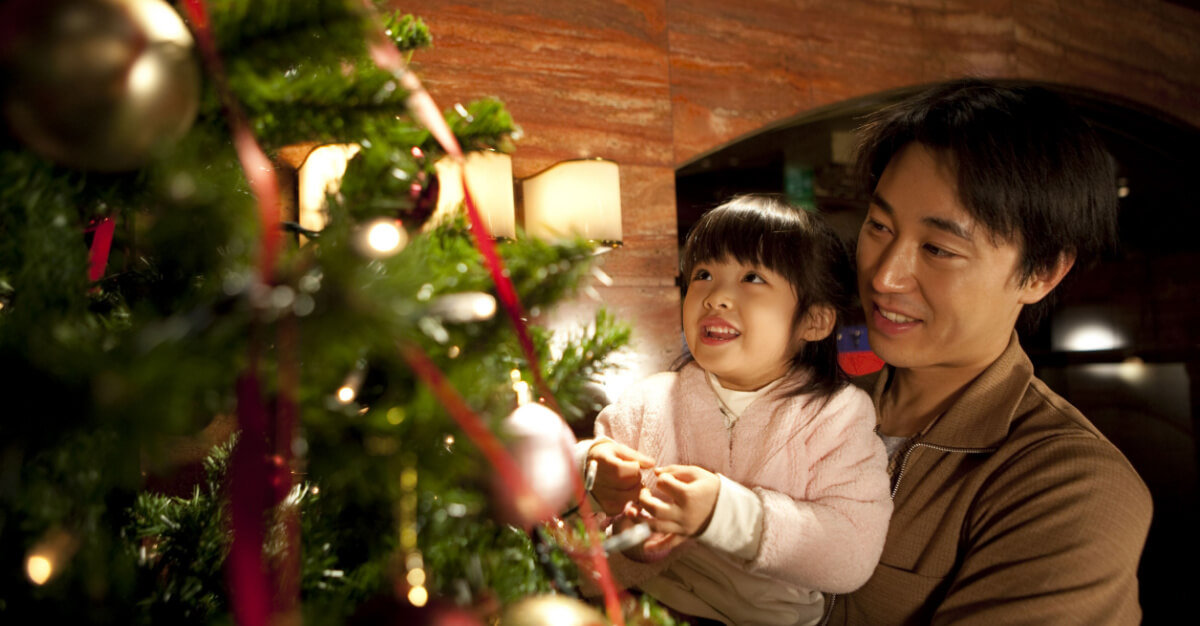 Christmas around the world can have many meanings. In the U.S. Christmastime means festive lights, Christmas trees, holiday feasts, gifts, and shopping. Historically Japan does not celebrate Christmas with lights, Christmas trees, decorations, gifts, or feasts as the U.S. does. This difference in culture can be rooted in history. The U.S. is a nation rooted in Christianity, while Japan was not founded in Christianity.
Although Christmas is celebrated differently in Japan, millions of people still observe it. In Japan, Christmas is often promoted for commercial reasons by many companies rather than for the holiday spirit. Unlike Western culture where Christmas is a family-oriented holiday, in Japan, it is more commonly celebrated by couples who spend romantic time together.
So if Japan doesn't celebrate with a Christmas feast, what do they eat? It is a common sight in Japan for a bucket of KFC to be the main course on Christmas Day. Every Christmas season, an estimated 3.6 million Japanese families treat themselves to fried chicken from the American fast-food chain, in what has become a nationwide tradition.
A bucket of KFC chicken has been the go-to dinner for Japan since the 1970s when KFC launched its "Kentucky for Christmas" campaign. But it's not just breasts and thighs – the meals have morphed into special family meal-sized boxes filled with chicken, cake, and wine.
KFC has become such a tradition in Japan that ordering your Christmas dinner has to be done in advance. Getting the KFC special Christmas dinner often requires ordering it weeks in advance, and those who didn't will wait in line, sometimes for hours.
Chanmery is another popular Japanese tradition for children. While the wine, also known as sparkling sake or champagne, comes with the KFC meal, Chanmery is a children's party drink. The name Chanmery is a combination of champagne and Merry Christmas, and it tastes like carbonated grape juice.
Another Christmas dinner staple in Japan is the Christmas cake. The Christmas cake is similar to a strawberry shortcake, and it is served after Christmas dinner. Christmas cakes can be found all over Japan during the Christmas season. These cakes are thought to resemble the Japanese flag, as they are predominantly white with red strawberries on top.
Wagashi takes the place of gingerbread men and shortbread cookies in Japanese culture. These confectionary treats can be molded into many shapes and colored to fit the holiday spirit. It is common to find these treats in snowman, Santa, or reindeer shapes.
Around the world, Christmas is celebrated in different ways every year. Holiday traditions get translated into other cultures as they move around the world. Christmas in Japan remains a time to get together with family and celebrate, with a bucket of KFC at the table.
Before traveling Internationally for the holidays, make sure you are prepared with Passport Health. Call 937-306-7541 or book online to schedule your appointment today.
Written for Passport Health by Brittany Evans. Brittany is a freelance writer and photographer in North Carolina. She has a passion for the outdoors, health information, and traveling. You can find her at her website.