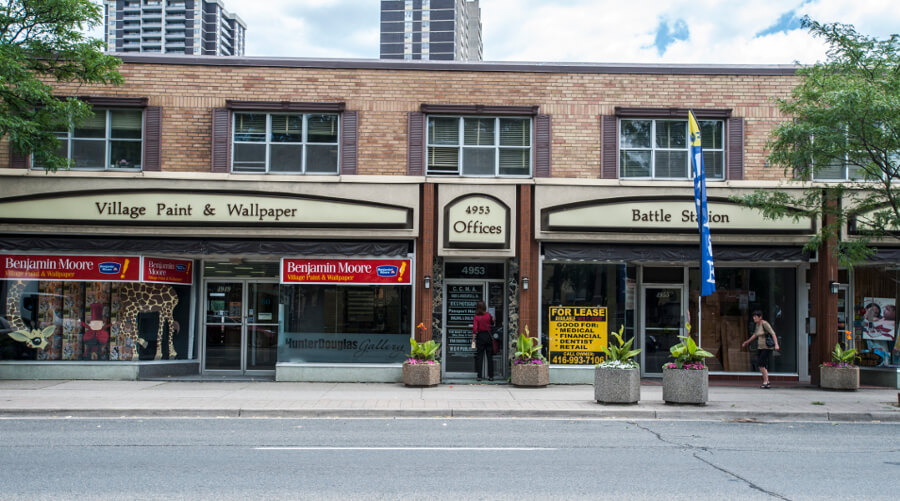 With 270+ travel clinics in North America, Passport Health is your local leading provider of travel vaccinations and medications. Prepare your health for travel, visit us before you go.
Passport Health Etobicoke Travel Clinic
4953 Dundas Street W
#103
Etobicoke
,
ON
M9A 1B6
Find directions to Passport Health Etobicoke Travel Clinic >>
Travelling soon? Have you asked, "What shots do I need for Cuba?" or "Does South Africa require a yellow fever vaccine?" Passport Health can help! Our expert travel health staff is ready to answer your questions and recommend the medications you may need for your upcoming journey.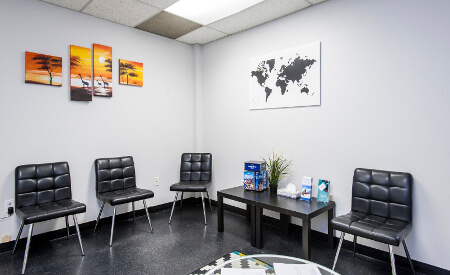 Whether you are travelling to Asia or South America, Passport Health can help you receive the immunizations you need. Many countries require a yellow fever vaccine for entry. Passport Health clients are provided with the International Certificate of Vaccination (yellow card) and all our clinics are Designated Yellow Fever Centers by the Public Health Agency of Canada (PHAC). Our staff uses the most up-to-date information from the World Health Organization, Public Health Agency of Canada and Centers for Disease Control and Prevention to help you know what you'll need.
Japanese encephalitis vaccination is a common concern among travellers to Asia. Passport Health offers the vaccine at a competitive price and will advise you on other mosquito-borne diseases that may be present such as dengue fever, Zika virus or malaria. Mosquito-borne diseases are common throughout the world. Let our Passport Health Travel Medicine Specialists help you venture worry-free.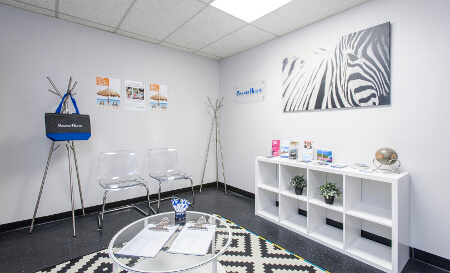 Looking for a traveler's diarrhea solution? The infections that cause the sometimes embarrassing symptom are very common, especially in some of the most popular travel destinations like Costa Rica and Brazil. Be prepared before you go with Dukoral or a Passport Health Traveler's Diarrhea kit.
If you're travelling to Netherlands or Cambodia, Tanzania or Mexico, the travel specialists at Passport Health will help with whatever you may need. Yellow fever, typhoid, rabies and malaria; we will help protect you against infections that can harm you and your peace of mind.
Directions to Passport Health Etobicoke:
Passport Health Etobicoke is located in the heart of Islington Village in Etobicoke, also known as "Toronto's Village of Murals". We are located on the second floor of a professional building on Dundas Street West. Free parking is available in the back of our building for visitors. Please call to schedule an appointment with our knowledgeable and friendly Travel Health Specialists.
Public Transit
The Passport Health Etobicoke travel clinic is located near Islington subway station. The major intersection is Bloor and Islington. Head two blocks east from Islington Station, head north on Burnhamthorpe Road until Dundas Street West.
Meet Our Team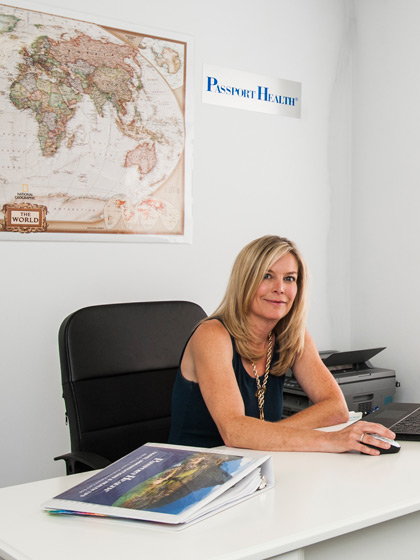 Mary Ellen Sharp, RN
Mary Ellen Sharp, RN, is a travel medicine specialist in the Etobicoke travel clinic. Having worked in the field for several years, she has experience preparing Toronto area travellers for their international travel. As part of her devotion to travel medicine, Mary Ellen has become an active member of the International Society of Travel Medicine, this helps her to stay up-to-date on all the most current travel information to better support her clients. Mary Ellen is dedicated to providing the highest quality pre-travel health services including destination specific immunizations and consultations. No matter your reason for travel, Mary Ellen's consultation and care will be focused on the risks you face and how to stay healthy while abroad. With Mary Ellen and Passport Health, you'll be able to travel with peace of mind.
Customer Reviews
"

Pleasant experience

"

"I really had no expectations regarding what was to happen at this visit, but if I had had any, Caroline Tran would have exceeded them. She was welcoming, friendly and warm – but most of all, she was prepared for us. She knew the countries we were planning on travelling to and had all information researched and ready. She was able to answer all our questions. Best of all, everything we needed was on hand so no return visit is required. I have already recommended your company to other travelling friends."
"

Excellent Service

"

"I recently visited the location on Dundas Street in Etobicoke for vaccines that I require for travel in October and found the nurse assigned to me Sharmei to be just so knowledgeable in travel and vaccines. She instantly made me feel confident in her recommendations of what I required for my upcoming trip. I would highly recommend her to my friends and family for their travels."
"

Very competent and efficient

"

"Our appointment started on time. The nurse was prepared (we had filled the medical history questionaire online in advance) and walked us through the risks and proposed options for vaccines, explaining those that are covered and those that are not. We selected based on her recommendation, had the initial shots and booked the follow-up appointments, all in 30 minutes."
"

Great service!

"

"Great visit to the Etobicoke location of passport health today. My nurse, Sharmei, was very friendly, knowledgeable and helpful. She made sure I was quite comfortable and had all of the information I needed before on deciding which vaccinations to get. Lots of additional information provided about the travel destination which was also quite helpful!"
"

Great service

"

"They took their turn me to discuss our options, and further explained when asked about various diseases/vaccines. Very accommodating and quick!"
"

Very Informative

"

"My practitioner was informative and reviewed all my vaccinations with me. She reminded me about previous medications and what to do in the future should I feel ill."
"

How to Travel Informed

"

"Travel to developing nations can involve health risks that might cause problems for the unaware traveler. Weather conditions, geographical location, condition of infrastructure and the effectiveness of governments, all work to make environments that are not what people from Canada are accustomed to. Some of the diseases the traveler could be exposed to, are those that we in the cold north don't have to even consider. The experts at Passport Health provide verbal explanation and paper printouts giving information about the specific countries to be visited. We learn which diseases are prevalent in the region, we learn the vaccines to take to offset the risk, and we learn how long the vaccines are effective. We get tips on how to stay safe from ubiquitous and dangerous microbes in water and food. After visiting the clinic, I feel I can be a conscious traveler who can make wise decisions to maintain my health."
"

Excellent Service

"

"I had a great experience at Passport Health in Etobicoke. Caroline Tran was excellent, she provided me with a lot of important information with detail. It was clear that she is very educated on travel medicine and she was also very kind and patient. I also received a personalized information package, catered to my trip and places I am going. I am also scared of needles, but Caroline made me feel calm and helped me get through it. I would highly recommend Passport Health and will continue going there myself."
"

Caroline was great !!

"

"I visited a travel clinic for the first time today and thus was unsure what to expect. The nurse, Caroline Tran, was so energetic and friendly. She explained the illnesses and prevention thoroughly and provided me with useful insights for travel in general. I would definitely return to this clinic based on my great experience!"
"

Visit June 8-2017

"

"Excellent information from Caroline Tran and will be back"
"

Caroline is Great!

"

"Caroline was extremely helpful, cordial, and knowledgeable. Her office was clean and confidence-inspiring. I will definitely return for future travel vaccination requirements."
"

Great experience

"

"Our nurse was informative! We found her very knowledge able and likeable"
"

Excellent Service

"

"I had a great experience at Passport Health in Etobicoke. Caroline Tran was excellent, she provided me with a lot of important information with detail. It was clear that she is very educated on travel medicine and she was also very kind and patient. I also received a personalized information package, catered to my trip and places I am going. I am also scared of needles, but Caroline made me feel calm and helped me get through it. I would highly recommend Passport Health and will continue going there myself."
"

Great Clinic Service

"

"Both Caroline and Charmaine were lovely to deal with when I had my appointments. Full of helpful information for me on my travels and interesting facts that I used on my trip. Never any wait times either so Passport Health gets 2 thumbs up from me."
"

Fantastic experience!

"

"We visited the Etobicoke clinic today and had the best service ever. Even my sons who hate shots commented how nice the nurse was during the visit. Very professional and informed. Would recommend to any world traveller."
"

Great service

"

"They took their turn me to discuss our options, and further explained when asked about various diseases/vaccines. Very accommodating and quick!"
"

Amazing Staff!

"

"I am actually amazed at the quality of the nurses at Passport Health are, especially Caroline Tran, who was mostly the nurse I was in contact with. I never leave reviews – not for hotels, customer service industries… anything like that, but I kind of felt compelled to. I absolutely hate getting needles and she was so gentle and (close to) pain-free. Moreover, it was just the personal nature of the appointments; I always felt more like a friend that simply a number of the board if that makes sense. I have recommended this clinic to my friends and family, and will definitely continue to do so."