General travel vaccines include ones such as cholera, hepatitis A, yellow fever, typhoid and rabies, however, they are not all recommended for the same destination. For example, hepatitis A is a global disease, while Japanese encephalitis is more likely to affect people going to rural Asia and the western Pacific. Consult a Passport Health team member to understand which immunizations are right for you.
All Passport Health travel clinics are Designated Yellow Fever Centres, registered with Health Canada. Every clinic keeps the vaccine in-stock and will provide you with a 'yellow card' or proof of vaccination (required for entry to some countries).
Did you know up to 70 percent of travellers will contract travellers' diarrhea from contaminated food or water. It doesn't matter where you're going, travellers' diarrhea is almost always a risk. Stay protected through hepatitis A and typhoid vaccination as well as travellers' diarrhea kits and diarrhea remedies will also help keep you safe.
Every single Passport Health client receives a booklet outlining what they may need for their trip. Whether you're going to one country or traveling through an entire continent, we can provide you with the most up-to-date and relevant information for your trip.
Details & Directions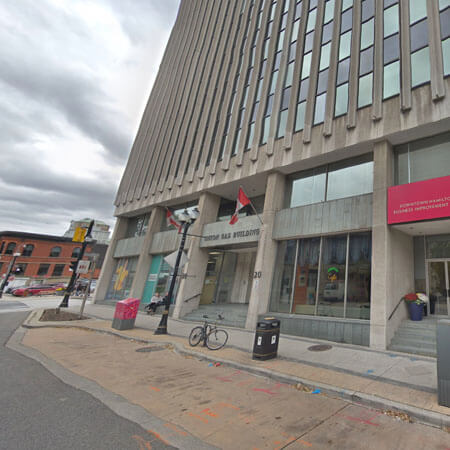 Passport Health Hamilton clinic is centrally located, at the corner of Main St E and Hughson St S. The office suite is at Union Gas Building on the seventh floor. With ample pay parking for patients and the back of the building. Elevator is onsite and is handicapped accessible.
Schedule an appointment today by booking online or calling .
Customer Reviews
"

Knowledgeable and Pleasant

"

"The nurse was just excellent! She gave us advice and options for our travel needs. I will go back there for any future vaccinations."
"

Round 2 – That was Easy!!!!

"

"2nd Booster shot for Rabies. The nurse was great! Was able to see me early. Very happy with Passport Health."
"

Quick and Easy

"

"The staff was very knowledgeable of which vaccines to recommend based on the location of my trip."
"

Fantastic!

"

"We had a wonderful experience at our visit. Our nurse was knowledgeable, friendly and informative. Keep up the good work!"
"

Great customer service

"

"Despite being 8AM on a Monday, everyone from the front desk to the RN was very attentive and helpful"
"

Excellent Experience

"

"The nurse provided a lot of useful travel information and the injections were skillfully done."