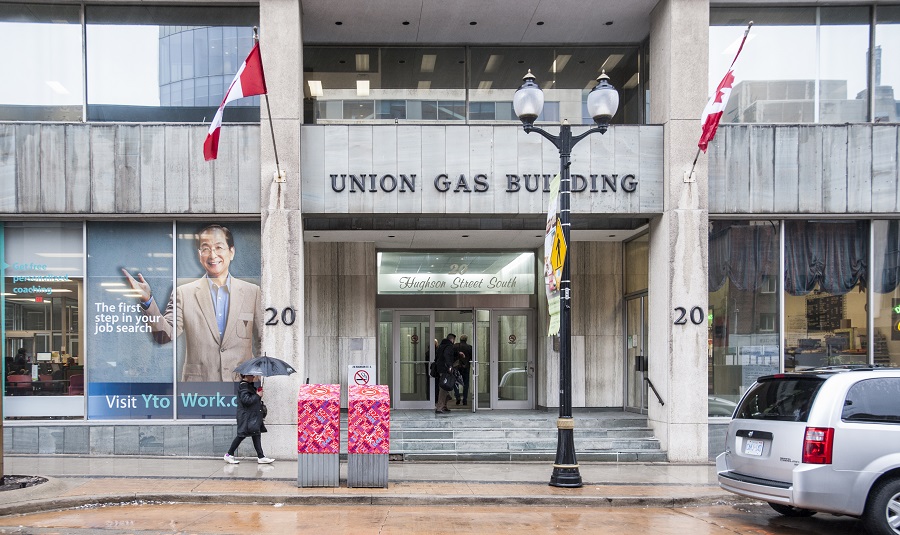 With 270+ travel clinics in North America, Passport Health is your local leading provider of travel vaccinations and medications. Prepare your health for travel, visit us before you go.
Passport Health Hamilton Travel Clinic
20 Hughson Street South
Suite 709
Hamilton
,
ON
L8N 2A1
Find directions to Passport Health Hamilton Travel Clinic >>
Preparing for a trip isn't the easiest thing. Why you travel may differ, anything from business to pleasure. But, the most important part of your preparation is your health.
Tasting in Thailand, a safari in South Africa and a mission trip to Haiti all have different health recommendations and requirements. Make sure you're ready for your next journey with the help of Passport Health's expert staff.
Passport Health's Hamilton clinic offers a variety of services and information to help you stay safe on the go, including:
Yellow Fever Immunizations– All Passport Health travel clinics are Designated Yellow Fever Centres, registered with Health Canada. Every clinic keeps the vaccine in-stock and will provide you with a 'yellow card' or proof of vaccination (required for entry to some countries).
Hepatitis A and Typhoid Vaccinations- To infections that can affect your stomach while you travel. Both are spread through contaminated food or water. Even if you are not an overly adventurous eater, Health Canada recommends both for most trips.
Recommendations Custom-Tailored to Your Trip– Every single Passport Health client receives a booklet outlining what they may need for their trip. Whether you're going to one country or traveling through an entire continent, we can provide you with the most up-to-date and relevant information for your trip.
Lobby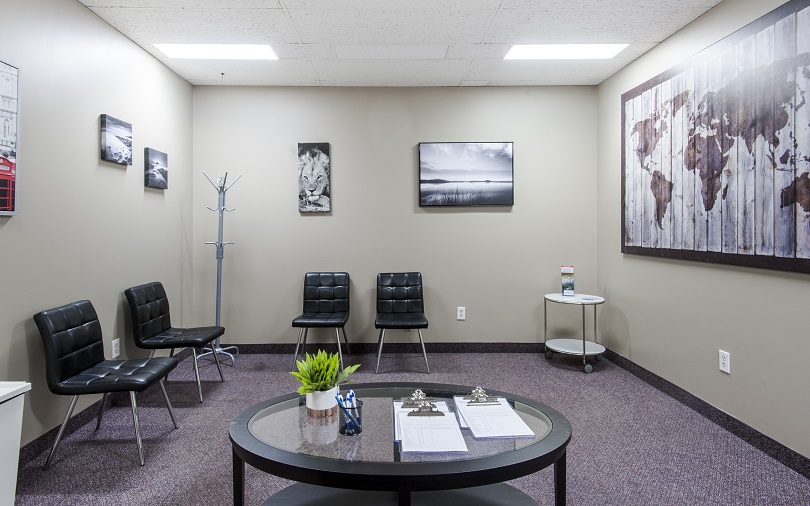 Consultation Room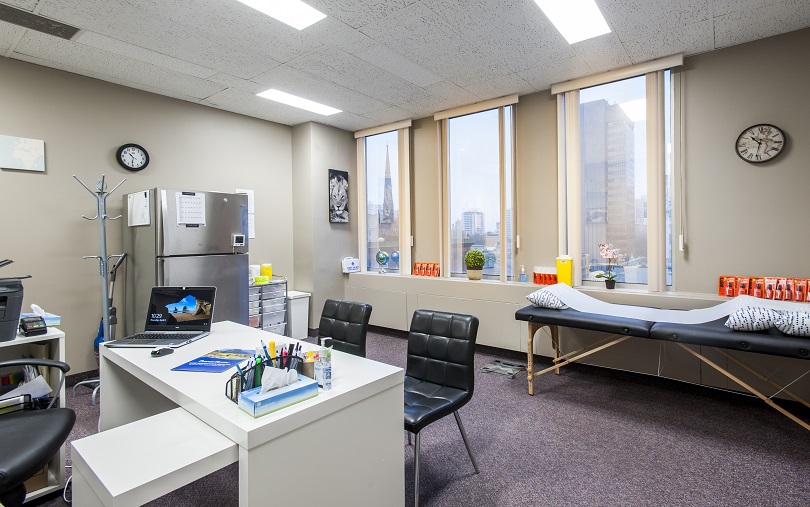 Your safety while traveling is important to us. Let Passport Health help you prepare for your upcoming trip.
Directions to Passport Health Hamilton Travel Clinic:
Passport Health Hamilton clinic is centrally located, at the corner of Main St E and Hughson St S. The office suite is at Union Gas Building on the seventh floor. With ample pay parking for patients and the back of the building. Elevator is onsite and is handicapped accessible.
Public Transit:
Passport Health Hamilton clinic is located in Union gas Building, nearly equidistant from Main St E and King St E. Head just three blocks south of the Hamilton GO Centre, and find the Union gas building access on your left hand.
Meet Our Team
Katie Chong, RN
Katie Chong is a registered nurse who is passionate about travel health. She brings global clinical experiences to Passport Health and is an active member of the nursing community. Experience in rural and urban healthcare settings around the globe, and work with clients of all ages, are assets that Katie brings to each consult. Katie is an avid traveler herself, and her interest in the field of travel helps her to continue to learn in order to provide the most relevant, up to date advice to her clients. Whichever adventure you are planning, Katie will work to ensure that you depart feeling informed and protected.
Drusilla Beemsigne, RN
I've been nursing for over 5 years and have always had a passion for travel. I'm excited to educate clients in protecting themselves against illness and disease through travel health. I've voyaged to many regions all over the world; Central America, Europe, the Caribbean, South America and South East Asia to name a few. I have a good understanding and a lot of experience when it comes to travelling. I've seen the sunset behind the Eiffel Tower and rise over Machu Picchu. I've swam with dolphins in Cuba and devoured street food in Bangkok. Traveling is more than an experience, it's making memories that will last a lifetime.Your health should be the last thing to be worried about while abroad. I can offer my expertise in travel health with advice and counselling to ensure that you'll be protected and have peace of mind when traveling.
Customer Reviews
"

Excellent Service

"

"This was the first time ever going to a travel clinic, and I was very impressed with the service I received! My travel health nurse (Sharmei Coronel) had a whole package ready for me complete with all the information I would need for my trip to South America. She went through each recommended vaccine, answered all my questions with great knowledge, and was very gentle in administering the vaccines. Loved that I could just step right in without any line, and left feeling much more confident about my trip."

Submitted by:

Christopher
"

Awesome

"

"Super Helpful and very knowledgeable. Would definitely recommend to anyone whose travelling and needs some advice."
"

Great experience

"

"Mary Ellen is the best nurse I could have possibly had with passport health. She answered all my questions and took the time to explain to me all the common diseases and vacinnations available. She directed me to the proper areas to get information and where to get my vacinnation records. She was absolutely amazing. I feel much more comfortable with travelling now."
"

Great Clinic

"

"Sharmei Coronel was great! She had everything ready in terms of paper work as soon as I came in. She answered every question in detail and even took the time to see what my insurance could cover. I would definatley reccomend this clinic or specifically Sharmei as she puts any worries for your travels at ease!"
"

Great experience!

"

"My experience here was great with really helpful nurses who took the time to explain all vaccinations, answer my questions and make me feel comfortable! Thank you!"
"

Professional Service

"

"When I got to the office there was no delay, I was welcomed by Sharmei Coronel with kindness. She asked me where I was going and relevant information related to my trip. She then explained to me what I should get for immunization prior my departure and some safety tips to keep healthy during my travel."
"

Wonderful Visit

"

"I arrived at the clinic and had my appointment on time. I had filled out my medical history and trip information previously, so when I got there the nurse (Mrs. Coronel) had already printed out information for me. She went through it with me and highlighted key points. I was able to get everything I needed at the clinic. I will definitely return for any future travel."
"

Excellent Experience

"

"The whole experience was very positive and informative. The nurses were excellent and provided a thorough review of all the vaccinations needed and their availability."
"

Great appointment

"

"Great experience. Very professional. Provided the most up to date information."
"

Amazing Nurse

"

"My experience was very enjoyable primarily due to my excellent nurse. She made the experience very easy and relaxed. Provided the answers to all of my questions and made sure that i understood exactly what i needed to. If there is some sort of reward you offer to your employees for excellent customer service i highly recommend she be recognized! I will 100% be recommending this service and location to friends and family."
"

Great

"

"Doc was very nice and helpful. I was able to get in early and did not last very long."