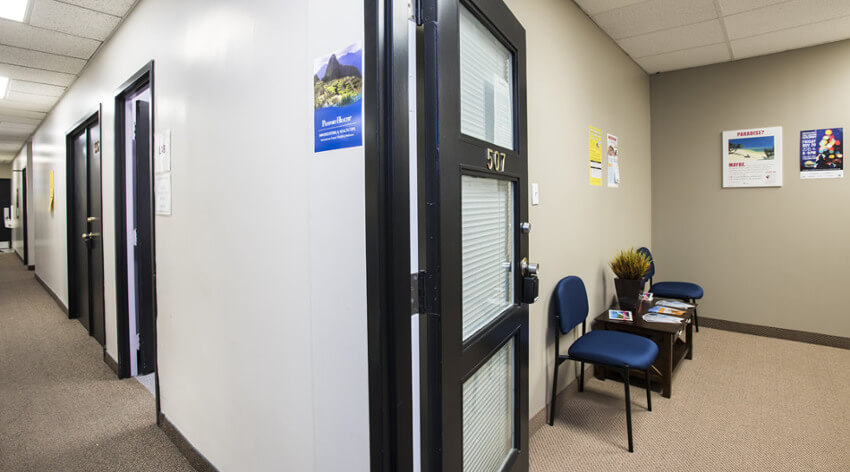 With 270+ travel clinics in North America, Passport Health is your local leading provider of travel vaccinations and medications. Prepare your health for travel, visit us before you go.
Passport Health Oakville Travel Clinic
345 Lakeshore Road E
Unit 507
Oakville
,
ON
L6J 1J5
Find directions to Passport Health Oakville Travel Clinic >>
Have you ever asked, "What immunizations do I need for a trip to Asia?" or "Is a yellow fever vaccine required for Argentina?" Passport Health can help! Our expert travel medicine nurses are ready to provide the highest quality care that you will need for your upcoming trip.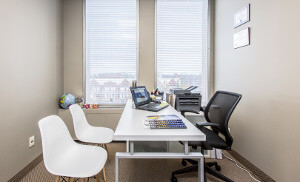 Are you going to Africa and wondering if you need a yellow fever vaccine? We can help! Our clients are provided with the International Certificate of Vaccination (yellow card) and all our clinics are Designated Yellow Fever Centers by the Public Health Agency of Canada (PHAC). Also, our travel health experts use the most current information provided by Health Canada, the Centers for Disease Control and World Health Organization to help you know whether you need the vaccine and administer it to you.
Concerned about Japanese encephalitis? We offer the vaccine at a competitive cost and will advise you and your family on other diseases that may be in the region such as dengue fever, chikungunya or malaria. Mosquito-borne diseases are some of the most common throughout the world, let our Passport Health Travel Specialists alleviate you travel worries.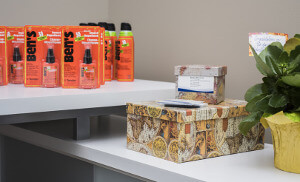 Looking for a solution to traveller's diarrhea? The diseases that cause the sometimes embarrassing symptom are very common, especially in some of the most popular travel destinations like Mexico and Cuba. Be ready before you go with Dukoral or a Passport Health Traveler's Diarrhea kit.
Whether you are traveling to the Mauritania or Mumbai, Benin or Bangkok, the travel specialists at Passport Health are able to help with whatever you may need. Yellow fever, typhoid, rabies and malaria; we will help protect you against those things that can hurt you and your peace of mind.
Do you have a large group of travellers that you need to immunize? Are you a mission group going to Africa? Or a group of technicians in a plant going to South America? Or maybe a school group that will travel overseas? We have on-site solutions for you!
Passport Health Oakville is located on Lakeshore Road E and Allan Street. Please call to schedule an appointment with our knowledgeable Travel Health Specialists.
Please note, the clinic is wheelchair-accessible.
Directions to Passport Health Oakville:
Passport Health Oakville is conveniently located on Lakeshore Rd East in Oakville, 1 1/2 blocks east of Trafalgar Road, in an area of professional services, shopping and great restaurants. Before you travel to your next destination, let us help you take care of your health by calling to schedule your next appointment.
Easily accessible from Oakville, Mississauga, Milton, Burlington, Hamilton and the Niagara Golden Horseshoe areas.
From the QEW or 407:
Take the Trafalgar Rd exit, travel south to Lakeshore. Turn left or east onto Lakeshore Road. The clinic is located at 345 Lakeshore Rd, Suite 507, between Reynolds and Allan Streets. Metered street parking is available on Lakeshore Road or municipal parking is available behind the building.
Meet Our Team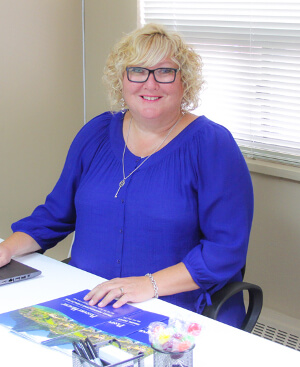 Beatrix Morrallee, RN
Nurse Manager, Passport Health Canada
Beatrix Morrallee, Registered Nurse, has worked passionately in the field of Travel Health for 16 years, 15 years at the recently closed Region of Halton's Travel Health Clinic and now at Passport Health. She brings 16 years of full service, Travel Health experience, always delivered with a smile to Passport Health. Beatrix achieved the Certificate of Travel Health from the International Society of Travel Medicine in 2005 and she continues to keep updated through professional development and Travel Medicine conferences. As well as seeing clients in the Oakville clinic, Beatrix is the Passport Health Nurse Manager, overseeing all of the Canadian Passport Health clinics. Whether you are travelling to a resort, visiting family or friends, on a business trip, relocation, mission or backpacking trip, etc, Beatrix can prepare you with a high level of knowledge and confidence.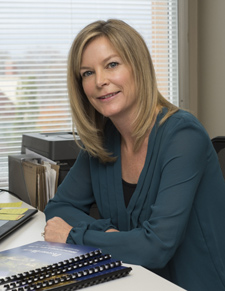 Mary Ellen Sharp, RN
Passport Health Clinical Travel Health Nurse Specialist
Mary Ellen Sharp, Registered Nurse, has specialized in travel medicine for the past several years working in numerous travel medicine clinics throughout the greater Toronto area. She is an active member of the International Society of Travel Medicine and routinely attends travel medicine conferences, allowing her to deliver pre-travel advise with the most current and up to date knowledge. She has a focused dedication to providing comprehensive pre-travel consultations to travelers who will be exposed to other countries specific health risks. Special itineraries and activities including cruise ship travel, diving, mass gatherings (e.g. Hajj), and remote region travel you can be assured Mary Ellen's pre-travel consultation will focus on the epidemiology of health risks to the traveler, designed to maintain the health of all travelers who consult with her. She will send you on your travels feeling well protected and informed.
Customer Reviews
"

VERY INFORMATIVE

"

"VERY INFORMATIVE AND FRIENDLY."
"

Great service

"

"Our appointment was early. We were seen on time and our Dr. Was extremely efficient and informative. We had a great experience. We also learnt a lot about current outbreaks of disease and immunization recommendations."
"

Amazing

"

"Beatrix is so knowledgable and helpful! Love her!!!"
"

Excellent visit

"

"Preparation was done on my file in advance, so we got right into what was needed, why, and what needed to be done. Very efficient and knowledgable."
"

Excellent experience

"

"Beatrix did an incredible job educating me and explaining everything thoroughly. The process was quick and easy. I would definitely recommend this clinic and come back in the future. Thanks!"
"

Had me laughing

"

"Mary Ellen had me laughing for most of the visit. Very helpful and informative."
"

Friendly, Knowledgeable

"

"Great information as well as friendly service!"
"

Good to have an update

"

"Good to have an update of shots and travel health in general. It's important to keep up to date."
"

First Visit

"

"The Nurse was excellent in explaining what I need for my trip and what other protection I might contemplate. She explained everything very well. I would give her a 10 out of 10."
"

Helpful

"

"Nurse seemed very thorough, was friendly, and it was definitely convenient."
"

Very Helpful

"

"Very helpful service Clearly defined requirements Good prep liked the takeaway materials."
"

Ready for Trekking in Nepal

"

"Beatrix was friendly, knowledgeable and helpful as she has always been in the past. She was full of great advice and it was a load off my mind to know that this portion of my trip preparation was completely looked after. Her record of my past appointment also helped expedite the process and keep the cost very reasonable."
"

Professionalism

"

"Everything was ready, clean and well explained. All the information was provided and questions answered."
"

Customer Service & knowledge

"

"When we arrived, we got not only the vaccines, but all the the information needed and more."
"

Kenya

"

"Excellent service from the clinic in Oakville. A complete review of all our needs for travel were covered. To be on the safe side during our travels we accepted most of the recommendations. My only issue is that I found the vaccinations very expensive."
"

Excellent consultation

"

"It was an excellent first consultation in preparation for my trip to Kenya – friendly and informative. I received everything I needed."
"

Oakville Ontario Visit

"

"We were taken in for our scheduled consultation on time and as we had been well prepared with pre-visit instructions, the meeting and conclusion was to the point and beneficial. Worth the expenses for the advice and products received."
"

Fantastic clinic

"

"This has been our follow up appt. the service is incredible. Amazing with children and super friendly."
"

Thorough

"

"The nurse reviewing our file and where we were going was very thorough. Gave us lots of opportunities to ask questions, giving an understandable response to what can be a complicated explanation."