With 270+ travel clinics in North America, Passport Health is your local leading provider of travel vaccinations and medications. Prepare your health for travel, visit us before you go.
Passport Health Downtown Toronto
Travel Clinic
44 Victoria Street
Suite 720


Toronto

,

ON

M5C 1Y2
416-840-3426

Get directions to Passport Health Toronto >>
Are you wondering, "What immunizations do I need for Brazil?" or "Do I need a yellow fever vaccine when traveling to Colombia?" Passport Health can help! Our expert travel medicine staff is ready to answer your questions and recommend the medications you may need for your upcoming trip.
Are you traveling to Africa and wondering if you need a yellow fever vaccine? We can help! Passport Health clients are provided with the International Certificate of Vaccination (yellow card) and all our clinics are Designated Yellow Fever Centers by the Public Health Agency of Canada (PHAC). Also, our nursing staff uses the most up-to-date information provided by Health Canada, the Centers for Disease Control and World Health Organization to help you know whether you need a vaccine and administer it to you.
Concerned about Japanese encephalitis? Passport Health offers the vaccine at a competitive price and will advise you on other mosquito-borne diseases that may be present such as dengue fever, chikungunya or malaria. These infections are some of the most common throughout the world, let our Passport Health Travel Specialists assist you and make your trip worry-free.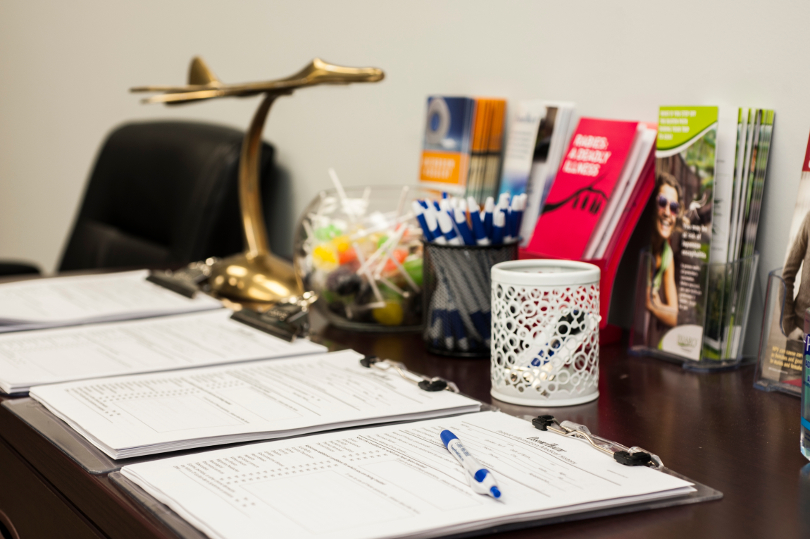 Looking for a solution to traveler's diarrhea? The infections that cause the sometimes embarrassing symptom are very common, especially in some of the most popular travel destinations like Mexico and Cuba. Be prepared before you go with Dukoral or a Passport Health Traveler's Diarrhea kit.
Whether you are traveling to Colombia or Cambodia, Berlin or Bangkok, the travel specialists at Passport Health are able to help with whatever you may need. Yellow fever, typhoid, rabies and malaria; we will help protect you against those things that can hurt you and your peace of mind.
Passport Health Downtown Toronto is located on the southwest corner of Victoria Street and Adelaide Street. The clinic is located inside Victoria Tower which is conveniently situated just a few steps from the King Street subway station. We are now open Saturdays! Please call to schedule an appointment with our knowledgeable Travel Health Specialists.
Directions to Passport Health Toronto:
Passport Health Toronto is centrally located, just three blocks north of the Hockey Hall of Fame. The office is in Victoria Tower on the seventh floor. Before you travel to your next destination, let us help you take care of your health by calling to schedule your next appointment.
Public Transit:
Passport Health Toronto is located in Victoria Tower, nearly equidistant from both King and Queen Stations' Southbound Platforms. Head two blocks south from Queen Station, or one block north from King, head east on Adelaide St. and you will be at Victoria Tower.
Meet Our Team
Daniela Mora – Operations Canada
Daniela Mora, is an international physician and graduate of the International Medical School in Havana, Cuba. She has years of specialized knowledge and training in travel medicine clinics within the Greater Toronto Area and is an active member of the International Society of Travel Medicine.
Daniela is equipped with the knowledge and international medical experience to advise clients on travel safety and medical precautions prior to their travels. She has had first hand medical experience in countries, in both South America and the Caribbean, such as Ecuador and Cuba. Additionally, she has broad knowledge and experience in Travel Health, Epidemiology and Health Services Management, having certificates in HIV & AIDS epidemiology, Global Health, Travel Health from the University of Havana, University of Geneva, South California and Ryerson University, respectively.
Passport Health Global is excited to welcome Daniela Mora as our Operations Leader in Canada.
Christine Victoria, RN
I am an international medical graduate and currently practicing as a registered practical nurse here in Toronto. Having worked as an occupational physician for 6 years in my home town brought me great amount of experience in dealing with communicable diseases such as rabies and tuberculosis and providing ways on how to strategically prevent them. In addition, I have also worked in travel medicine clinics, for 2 years, in downtown Toronto and North York areas doing pre-travel consultations and giving travel advice equipped with up-to-date knowledge based on CDC. I will make sure that travellers are well informed and travel with confidence.
Christina Bagwell, NP
Christina Bagwell is a Nurse Practitioner currently practicing as a Travel Nurse Specialist at the Passport Health clinic in downtown Toronto. Christina graduated from Clemson University with her Bachelor of Science in Nursing and worked as a Registered Nurse at Roper Hospital in South Carolina for 6 years on a post-surgical acute floor. During this time, she went on to further her education to obtain her Doctorate of Nurse Practitioner Degree from the Medical University of South Carolina. She now has both her Masters and Doctorate degree in Nursing. She worked as a Family Nurse Practitioner in Charleston, SC before relocating to Toronto and joining the Passport Health team. Christina is very knowledgeable and experienced in travel medicine. She has a strong passion for travel medicine as she herself has gone on several medical missions across North America and Africa. Christina provides excellent in-depth consultations that allow our patients to travel safely and with confidence.
Customer Reviews
"

Amazing Service

"

"I have a massive needle phobia, so coming in I had to already clam myself down. I shouldn't have worried at all. Upon arrival the nurse took such good care of me. She had pages of information ready about all the countries I had put on my application I was going to. She explained every needle/medication that may be required and how/when to take them. I didn't even feel my vaccine, that is how amazing and calm she made me feel. I would highly recommend coming here for travel vaccines, or even for the information necessary to wherever you are going."
"

Great service

"

"Friendly staff, no wait time, very thorough and clear on what I need to take and what I need to buy. Transparent about prices which is always appreciated! Thank you!"
"

Immunization

"

"I don't like needles; despite that, my immunisation technicians at Passport Health are always awesome, happy and upbeat, even at early morning appointments."
"

Great service

"

"This clinic has friendly, attentive and educated health care professionals. I'm always seen when I arrive, which is usually before my scheduled appointment. They are up to speed on the latest health care needs in the world and they give very clear instructions on how to take any medications. I go back everytime I travel to a new locale."
"

great experience, thank you

"

"Sharmei is great. We had some top class experience today. She is knowledgeable, well prepared, competent, cheerful. She is also skillful when applying needle."
"

Thailand Trip

"

"Informative, treated very well and provided all the necessary vaccinations required for my trip to Thailand."
"

Great Service

"

"Laura was warm, friendly, and helpful as well as quick! Great service with a great attitude."
"

Good info

"

"It was informative and helpful. Thanks!"
"

Great Clinic, Very Informative

"

"I visited the Passport Health Clinic in Toronto. The nurse practitioner, Christina Bragwell, was excellent. She was very informative and thorough in explaining what vaccines are recommended for my trip and what was not needed. I would recommend this clinic to anyone travelling overseas where vaccinations are recommended. Lisa Chitolie"
"

Great experience!

"

"Very knowledgeable and comfortable."
"

Excellent service

"

"Very professional, informative service. Served in a timely manner, answered all our questions and the information package was greatly appreciated."
"

Great service

"

"Awesome service for the 3 times I've been this year to get the necessary vaccinations before travelling to South America. Allison was great! Would highly recommend to friends and family."
"

Really Helpful !!

"

"I want to say thank you for the detailed information and prescription. I am going on a spur of the moment trip to Nicaragua and the nurse who helped me was so kind and really honest and helpful. Thank you guys so much!"
"

Excellent

"

"Needed to find a clinic that was outside of the regular 9-5. This clinic offered has weekend hours and it was perfect. The doctor was very sociable and extremely informative. I would highly recommend this location to friends and family."
"

Travel Clinic

"

"Great experience at this clinic."
"

Easy, quick and efficient

"

"I was in and out of this clinic in 15 minutes. Christine, the nurse who helped me, was lovely and explained everything patiently and thoroughly. She was great!"
"

South africa

"

"The nurse I dealt with was very well prepared and informed about what shots I needed for a trip to South Africa. She was also very knowledgeable about what other drugs I should take with me, including an antibiotic she provided. Very worthwhile experience!"
"

Great experience

"

"Very knowledgable nurse. Lots of info. She did not try ro oversell medications we did not need – this was a relief. Was worried about potential upsell pressure. Very impressed. I will go back again. Had a horrible experience at a competitor a few years ago. This was a delightful experience."
"

Very informative

"

"Met with Sheila, she was super informative, quick, and knowledgable!"
"

Excellent Service

"

"My appointment was with Miranda who did a thorough job reviewing my travel plans and came up with a comprehensive vaccine program. Miranda reached our before the apt but also a follow-up to check I was okay and to remind me to schedule my next appointments to complete the program."