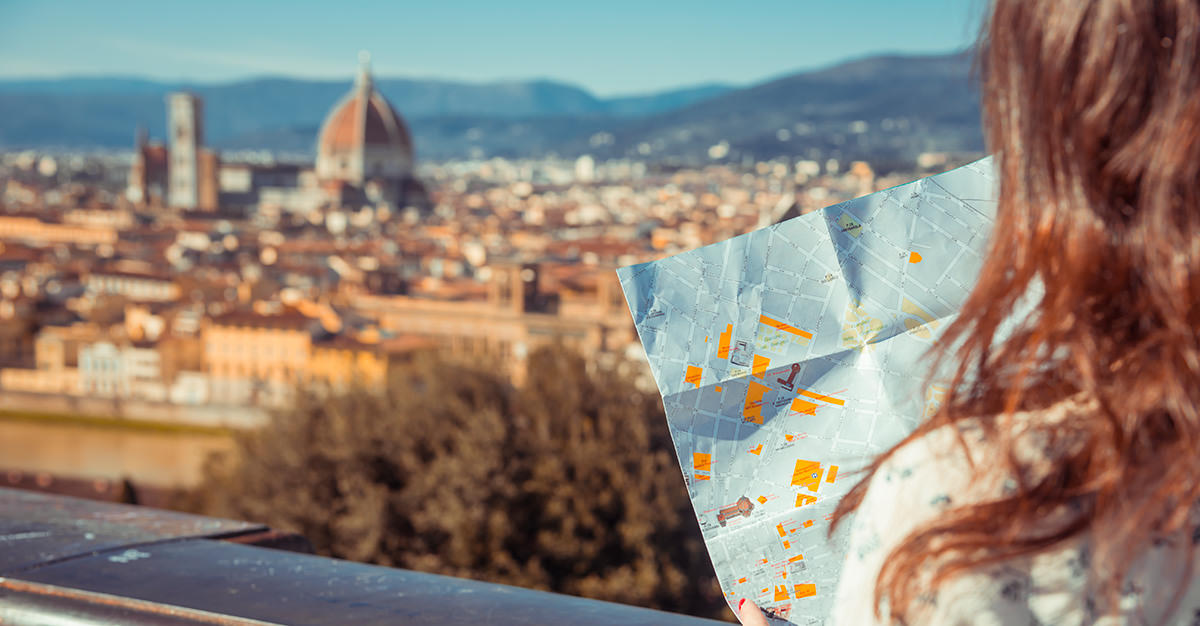 Recognized for its striking beauty, the picturesque town of Florence, Italy attracts around 13 million tourists each year. It is the capital city of the Italian region of Tuscany, and home to breathtaking architecture such as the Cattedrale di Santa Maria del Fiore (the city's most iconic landmark), magnificent and expansive botanical gardens, and some of the world's most famous art museums, such as Uffizi Gallery.
Artistic masterpieces from the Renaissance are located in Florence, including work by the great artist Michelangelo Buonarroti, sculptures by Donatello, paintings by Sandro Botticelli, and many others.
For those aspiring to pursue a career in fine arts, there are excellent opportunities for training and education, including advanced courses offered at the Florence Academy of Art, a premier world-renowned institution. In the Piazza della Signoria, you will find the school's students sketching and performing, inspired by the marvelous sculptures that surround the square.
If you find yourself in Florence, be sure to sample the mouth-watering homemade pasta and the artisanal gelato. Take in the panoramic views of the city from Piazzale Michelangelo, located at the top of a hill, and witness the splendid sunsets Florence is known for.
The best way to explore this small, pedestrian-friendly city is by foot. Leave some time to get lost in the beautiful winding lanes, and to shop the art galleries and souvenir shops built along the Ponte Vecchio bridge—a medieval stone bridge that overlooks the Arno River.
Health and Safety
Florence is generally considered a safe city. Exercise normal security caution when visiting and be wary of minor offenses such as pickpocketing. Take caution with your valuables and always zip or fasten your handbag shut, carry personal belongings securely, and do not place your wallet in your pocket or on counters.
When traveling to Italy, there are certain health risks you may be exposed to. If you're planning your next trip abroad, be sure to book your Passport Health appointment in advance. Our Travel Medicine Specialists will provide you with the important information you need, and help you take the necessary health and safety steps in preparation for your travels.
The Public Health Agency of Canada recommends that people traveling to Italy consider the following vaccinations:
Measles: Regardless of your travel destination, your measles vaccination should always be up-to-date. This disease is highly contagious and is common in most parts of the world.
Typhoid: This common food and waterborne illness can be prevented through vaccination. The vaccine will provide you with up to five years of protection.
Hepatitis B: You may be exposed to hepatitis B, a disease of the liver, through sexual contact, medical treatment, acupuncture, tattooing, sharing needs, or other situations where it can be spread through blood or other bodily fluids. Book your Passport Health appointment to get vaccinated against hepatitis B.
Influenza: Commonly known as the flu, influenza is contagious and can be spread from person to person, through coughing or sneezing. In Italy, the flu season runs from November to April. If you will be traveling to Italy during this time, it is recommended you get the flu shot.
Tick-borne encephalitis: If bitten by an infected tick, you can contract this viral disease which affects the central nervous system. If you will be active in wooded areas or any regions with tick-borne encephalitis, you should consult with your local Passport Health Travel Medicine Specialist about the vaccine.
Planning your next trip?
If you are planning a trip to Italy or any other destination, don't forget to visit your local Passport Health clinic. Our Travel Health Medicine Specialists will provide you with the expert care you need to stay safe on your journey. To schedule an appointment at your local Passport Health clinic, or book online today.
Travelling to Italy? Already been? What was your favourite place? Let us know in the comments below, on Facebook or via Twitter.
---
Reprinting or republication of this post on websites is authorized by prominently displaying the following sentence, including the hyperlink to Passport Health, at the beginning or end of the post.
"Florence, Italy: The City of Artistic Expression and Awesome Sunsets is republished with permission of Passport Health."
Simply copy and paste this code: