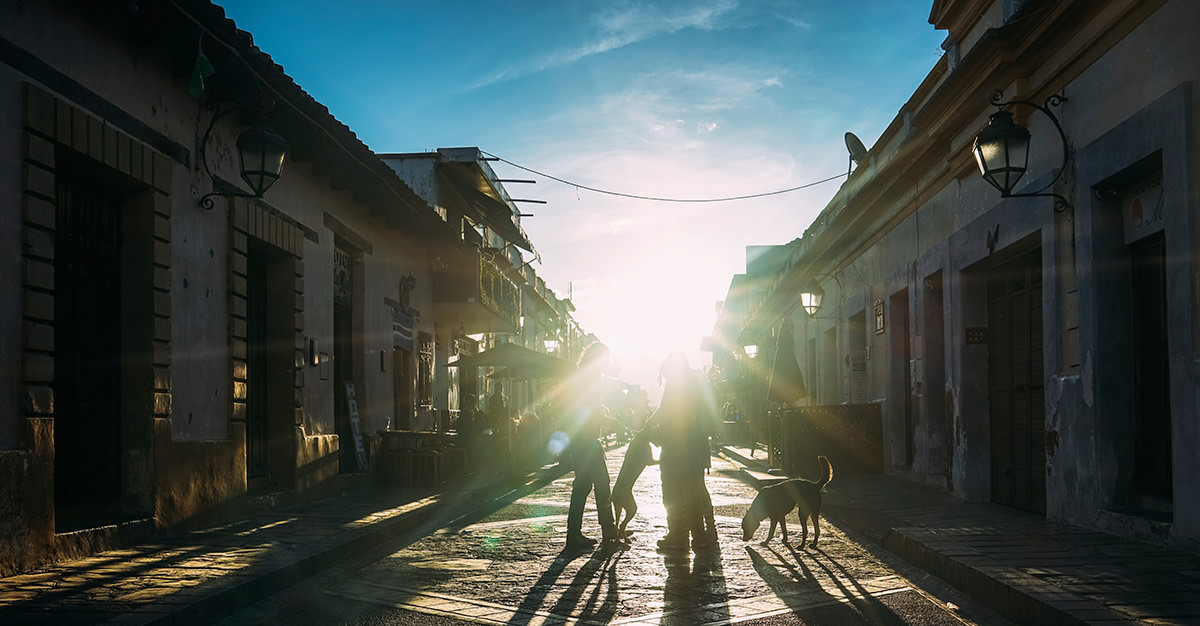 In the Mexican state of Chiapas near the border of Guatemala lies a vibrant town called San Cristobal de las Casas. This colourful small city is nestled in the valley surrounded by hills. To get to it, you would need to drive 78 kilometers from Ángel Albino Corzo International Airport. San Cristobal de las Casas embodies the passion and artistic expression emblematic of Mexican heritage.
There you will find shops and homes in alternating colours of blue, yellow, pink, orange and every cheery hue you can think of; traditional paper streamers known as papel picado adorn the walls; artisans sell lovely handicrafts in the open market; beautiful courtyards are shaded with floral gardens and lime trees; and there is no lack of sombreros worn as protection from the blazing sun's rays.
In San Cristobal de las Casas, you will find rows of restaurants specializing in a variety of cuisines, modern fashion boutiques, bakeries, chocolatiers, used bookshops selling rare finds, dance studios and jewelry shops. You'll run into many people from around the world who once traveled to the small town and never left. With the summer heat, rich culture, abundant art and free-spirited vibe, it's no wonder why.
One Bad Meal Can Ruin a Trip
This region is known for the beautiful handcrafted textiles produced by its indigenous people. It is common for NGOs and designers to work with women from the local tribes to create stunning modern textiles suited to Western tastes. One weavers co-operative called Jolom Mayaetik collaborates with a charity called Semillas to offer free workshops that equip the local artisans with basic business skills.
They help them understand the benefits of their eco-friendly handcrafted goods versus similar products manufactured in industrialized countries such as China. The students typically do not have access to computers or other modern luxuries, but through NGOs like this one, they can sell more product and expand their market reach.
Tourists are welcome to visit Jolom Mayaetik to interact with artisans, observe them work and even purchase some of the extraordinary shawls, clothing, home decor and other textiles available in the shop.
There are those who travel to Chiapas to discover its unique pre-hispanic Mayan rituals. You will find a mysterious small church in the town of San Juan Chamula, located just 10 kilometers northwest of San Cristobal de las Casas. The village's inhabitants are of the Tzotzil community, an indigenous Maya people.
Many gather outside, selling in the marketplace and purchasing food items and trinkets. They are often barefoot and wear the same attire of black wool. Inside San Juan Bautista church, there are no pews—only open space for the faithful to kneel and pray.
Thousands of tapered candles are arranged on the pine needle covered ground and table surfaces, illuminating the dark space. Interestingly, worshippers chant and use Coca-Cola in their practice. They perform healing rituals which often include eggs, bones and live chickens which are sacrificed inside the church.
Statues of saints representing Mayan deities are enclosed in boxes that line the interior walls. Some of the statues face the wall as punishment for having failed to protect the nearby church of San Sebastian from destruction nearly a century ago. If you'd like to glimpse the interior of this fascinating church, you'll have to visit by foot since pictures are strictly prohibited.
Are you planning a trip to Mexico? Be sure to book an appointment with your Passport Health Travel Medicine Specialist in order to take the necessary health and safety precautions. The Public Health Agency of Canada recommends visiting a travel clinic to consider the following immunizations:
If you are planning a trip to Mexico or any other destination, don't forget to visit your local Passport Health. Our nurses will provide you with the expert care you need to stay safe on your journey. To schedule an appointment at your local Passport Health clinic, call or book online today.
Planning a trip to Mexico? Already been? We'd love to hear your stories and travel tips! Share them below, on Facebook or via Twitter.
---