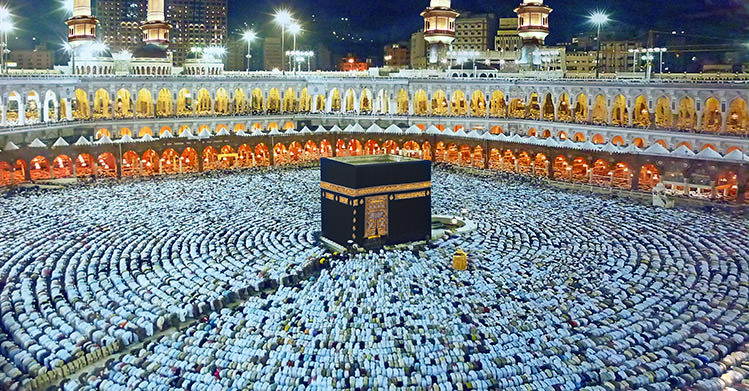 There are several world religions that have a pilgrimage that believers strive to make. But, no pilgrimage can compare to the Hajj, which is the Islamic trek to Mecca, Saudi Arabia. Not only is it a tough journey, but is the biggest mass gathering in the world. At least 2 million Muslims from over 180 countries attend annually. Islam requires every able-bodied Muslim to make the sojourn at least once in their lifetime.
The Hajj takes place between the 8th and 12th days of the last month of the Islamic year, Dhu al-Hijja. As Islam uses a lunar calendar, the timeframe varies. The Hajj often falls somewhere during September or October on the Gregorian calendar.
All foreign pilgrims participating in the Hajj fly into the nearby city of Jeddah. From there, they take a bus to Mecca and then continue on to Mina by bus or by foot. In Mina, the pilgrims stay in air-conditioned tents for the night to prepare for their trek the next day.
All pilgrims begin their journey at first light, starting with a long 14.4km walk to Mt. Arafat.
Throughout the trip from Mina back to Mecca, they stop at set points to take part in sacred rituals.
Back in Mecca, the travellers make their way to the Grand Mosque to visit the Ka'aba, the most sacred site in Islam. Each pilgrim will take part in rites particular to Mecca and the Grand Mosque. For example, a pilgrim perform a tawaf, circling the Ka'aba 7 times counterclockwise.
Pilgrims will leave Mecca after participating in each ritual and completing a final tawaf. Once done, their Hajj is over.
Which Vaccines Do I Need for Hajj?
No matter where you plan to travel, it's important your routine vaccinations are up-to-date. But, if you are planning on participating in Hajj, you may need additional vaccines. The Public Health Agency of Canada and CDC recommend the following vaccines for Hajj:
If you are planning a trip to Hajj, be sure to speak with a travel health specialist. Our staff is uniquely suited to help you plan for your upcoming trip. Schedule your appointment today by calling or booking online now.
Other Health Risks
Due to the dense population of pilgrims during Hajj, risk increases for disease of all kinds. The stopping points where pilgrims congregate to perform rituals become crowded. These are some of the most dangerous points along the way.
Respiratory Infections and Communicable Diseases
Respiratory infections are common during Hajj. The most common reason for hospital admission being pneumonia. The Seasonal Influenza vaccine should guard against these infections. But, extra precautions are recommended including:
Frequent washing hands
Wearing a face mask
Observing cough etiquette
Avoid individuals with concerning symptoms
Seniors and travellers with immune issues should consider receiving a pneumonia vaccine.
Though less common, there is also an increased risk of tuberculosis due to the heavy crowds. See a doctor immediately if you begin to see signs of active tuberculosis.
Middle Eastern respiratory syndrome, first discovered in Saudi Arabia in 2012, is also a threat. Caused by a coronavirus, MERS is similar to the 2003 SARS virus. Cases have been identified all around the Arabian peninsula, as well as in the United States.
The virus has a wide range of symptom. Most often patients will experience fever, cough, and shortness of breath. Cases have ranged from mild to severe, but 35% of cases have been fatal.
Due to the crowded conditions, diarrhea and other communicable diseases spread easily. Awareness and prevention are key to protecting yourself against these and other issues.
Overheating
While the days of the Hajj vary from year to year, the pilgrimage will take place when the desert heat is heavy.
There are mist sprinklers to try to combat the high temperatures, but heat stroke is a major concern. Heat exhaustion and heat stroke are the leading causes of death during the Hajj. Travelers should take extra precautions to protect themselves against the heat. This includes staying hydrated, applying sunscreen, wearing appropriate clothing, and even using umbrellas.
Special Note for Women
Women are not allowed to perform a tawaf around the Ka'aba when they are menstruating. Consider requesting hormone suppression to help with menstruation cycles.
It's a once in a lifetime journey.
The most important thing when planning to attend Hajj is making sure you have all necessary vaccinations. Prepare beforehand for prevention's sake, and be aware and alert of your own needs and of others on the journey.
Do you have further questions about the Hajj or what vaccines you may need for an adventure you are planning? Feel free to contact us at or set up an appointment on our website.
Have you participated in the Hajj? Do you have any advice for future travelers to the Middle East? Please feel free to contact us on Facebook or via Twitter!
Written for Passport Health by Adrienne St. Clair