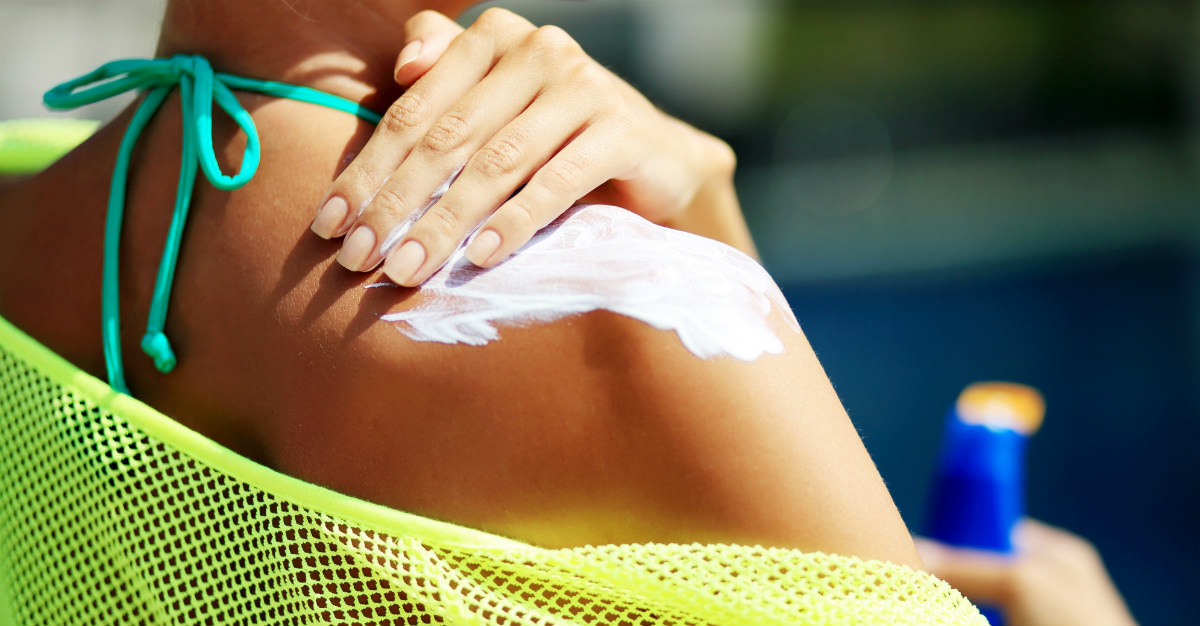 It may seem premature to worry about sunscreen during the winter.
Snow is falling and many people are bundled up in heavy clothing or staying indoors. This has led to a myth that sunscreen isn't necessary during the winter.
But months of cold air doesn't make the sun go away, along with its dangerous ultraviolet rays.
The cold temperature may actually cause some to increase sun exposure, while many are opting to protect themselves.
It may seem unnecessary to use sunscreen in the winter, but you're no less exposed to dangerous rays.
But, this is far from the only common misconception when it comes to sunscreen. Here's some more sunscreen myths debunked to keep you safe from the dangers of UV rays:
Myth: You don't need sunscreen when it's cloudy
This also applies to the cold weather because freezing temperatures and grey clouds go hand-in-hand.
Clouds block out some of the UV rays, but not as much as you'd think. About 80 percent of the ultraviolet rays can still pass through clouds.
It may take a bit longer for that sunburn to hit, but if you're spending a lot of time outside, those UV rays will have an effect.
This applies far more when you're spending time near the snow.
Ultraviolet radiation can almost double when reflected off fresh powder.
Most people do wear more clothing after snowfall. But, the few exposed areas are far more susceptible to sunburns. When you see a skier at the bottom of the hill with a cherry-red face, it's less to do with wind and more to do with a sunburn.
Next time you're heading out for a ski trip, don't forget the sunscreen.
Myth: You need to use sunscreen with the highest SPF
The SPF on a sunscreen bottle can be confusing.
Standing for sun protection factor, shouldn't an SPF of 100 keep you from all the sun's dangers?
Not really.
An SPF 15 sunscreen will offer 93-94 percent protection from ultraviolet rays. That number marginally increases the higher you go, with SPF 30 providing 97 percent coverage and SPF 45 good for 98 percent.
By the time we approach SPF 100, the difference is negligible. SPF 100 offers almost no more protection than other sunscreens. Ultraviolet rays will always creep in with no sunscreen good for complete protection.
SPF numbers only refer to protection against short-term damage to the sun.
There are two kinds of ultraviolet rays: UVB rays, which cause sunburns, and UVA rays which are more associated with skin damage.
SPF numbers cover the exposure to UVB rays, but have no relationship to UVA rays. Whether you buy cheap SPF 15 or an expensive SPF 100, you may not get any extra help from skin cancer and other long-term skin problems.
Myth: One coat of sunscreen will last the whole day
Suppose you're enjoying a day at the beach.
You apply a coat of sunscreen right after arrival and then get on with your beach activities. Whether you're trying to catch some rays, playing some volleyball or reading a book, it's easy to forget about putting on that second coat after a few hours.
No big deal, right? There's no sign of a sunburn yet and this might give you a chance to get a bit of a tan.
Even though there is no sign of skin damage, doesn't mean that initial coat is still doing any work. That sunburn could come after you get home and reddening of the skin is no sign of the dangerous UVA rays.
Myth: You only need to use a dollop of sunscreen for each coat
Any estimation for how well sunscreen works is all dependent on how much you use.
While most only use a small amount on each area, a thick coat of sunscreen is what will keep you from going home burnt. The guideline suggests using "enough to fill a shot glass" or about one ounce.
Although this liberal use may seem like a ploy to sell more sunscreen, it's actually the only way to get the full SPF that's advertised.
On average, a coat of SPF 15 will keep you protected for a little over two hours. But, if you go light with the sunscreen, that time decreases dramatically.
Still, remember what we said earlier. Just because you use the full amount of sunscreen doesn't mean you can skip the reapplication.
Usually when we decide sunscreen is needed, we're out in the sun, swimming or exercising and getting sweaty. That water on your body makes the sunscreen less effective faster, so you'll still need that second coat.
Curious how to stay free of a sunburn and healthy during your next trip? Passport health can help! Call us at or book an appointment online.
Did we miss any of sunscreen's common myths? Let us know in the comments, or via Facebook and Twitter?