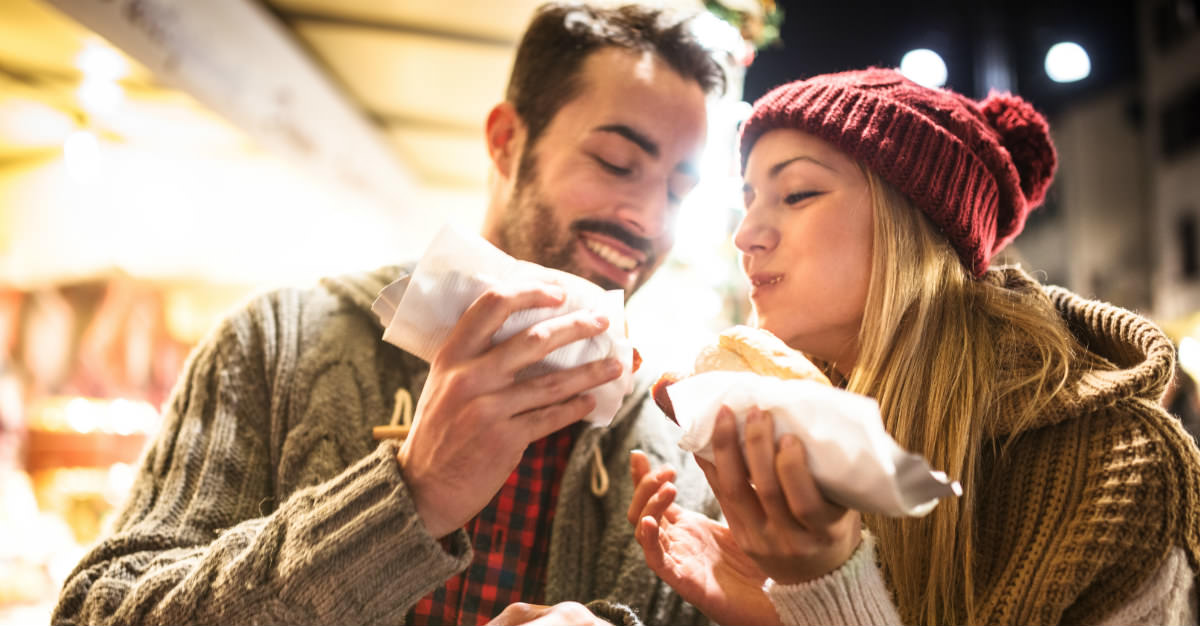 So you head to an exotic location. The sites are awe-inducing and the locals welcome you like an old friend.
But, you've really been waiting that whole trip to try some of the local food.
No more knockoffs or subpar versions that you might eat back home. The real, authentic food that earned this country a great reputation.
Delectable meats and homegrown produce mesh with foreign spices to create a whole new flavor for your palate. The whole trip may be worth it just for the extraordinary cuisine that you will brag to friends about upon your return.
Unfortunately, you aren't feeling so great after the feast.
You're sporting a severe fever with an intense stomach ache and are too weak to get out of bed. Some issues with bowel movements, diarrhea or constipation, a rash, sweating and dry coughs create some concern.
None of these symptoms are rare after eating food in a foreign country.
Millions of people around the world, most often in developing countries, contract typhoid fever every year. Also known as Salmonella, typhoid fever is easily treated with antibiotics and fluids.
But, the best plan for typhoid fever is to avoid the illness altogether.
How to Avoid Typhoid Fever?
The CDC recommends the typhoid vaccine for travellers to a part of the world where the disease is common. Two typhoid vaccines are available; one vaccine is injectable while the other is taken orally.
The injectable vaccine uses inactivated bacteria. One dose is enough, although a booster shot is needed every two years. Travellers should get the shot at least two weeks before a trip to give the vaccine time to work.
The oral typhoid vaccine uses weakened bacteria. The vaccine requires four doses, one pill every other day over a one-week period. That last capsule should be taken at least one week before travel and a booster dose is only needed every five years.
How Do I Avoid Catching Typhoid During the Trip?
Even after getting vaccinated, a resilient bacteria can still infect you with typhoid. There are many more ways to go about your trip without a typhoid problem.
The bacteria that causes typhoid fever is found in food and liquids contaminated by a person infected with the virus.
Unless you intend to ask everyone nearby if they have typhoid before eating, you'll have to be careful with food and drinks.
Frequent travellers follow a mantra for safe eating abroad: Cook it, wash it, peel it or forget it.
This starts with exclusively eating meat that's been fully cooked. The heat kills any bacteria that's made a home in your delicious meal.
Vegetables and even fruit should also be cooked unless it has a peel that you're personally removing. To try some of the fresh produce in the area, make sure that you're the one washing the food. Lettuce and other seemingly harmless foods are some of the most common carriers of typhoid.
When washing the food yourself, the right kind of water is key.
Bottled water is the safest bet when consuming water abroad. Tap water in developing countries is a common host for salmonella and other dangerous bacterias. Boiling or purifying local water can get rid of bacteria, but is still less safe that a sealed bottle of the liquid.
This does pose a problem for those travellers trying to get a frozen drink or something on the rocks during a trip. The ice in these drinks likely comes from a local water source.
It may be a pain to down that cocktail without some ice, but it's preferable to ruining your trip thanks to a serious illness.
To ensure that you aren't contaminating any of the food yourself, it's also wise to use clean eating utensils. Not necessarily your knife and fork, although clean cutlery still important, but your hands.
Wash your hands often and always do so before eating. A travel bottle of hand sanitizer may also be helpful to kill bacteria on your hands when nowhere near a sink.
Are you heading on a trip and looking to stay free of typhoid and other dangerous diseases? Passport Health can help! Call us at or book an appointment online.
Any questions or comments about typhoid? Let us know in the comments or via Facebook and Twitter.