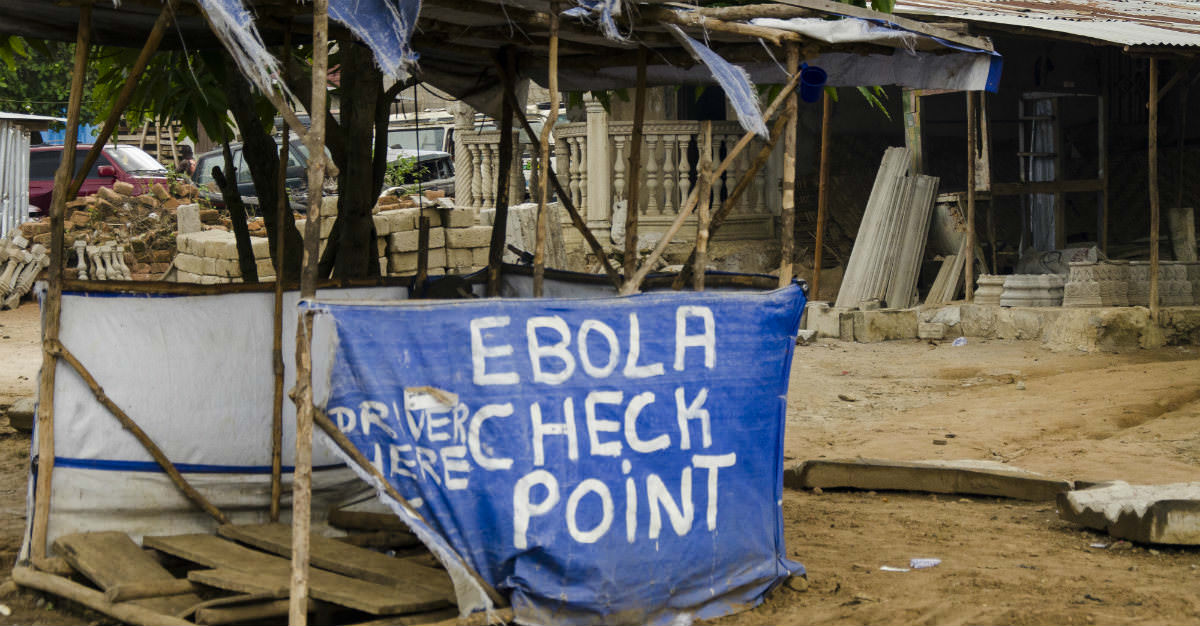 It happens every year during peak flu season.
Many of your coworkers, friends or family members are battling the contagious virus.
You feel fine, showing no symptoms of the virus despite spending time with people that are sneezing and feverish. But, even though you don't show any signs of the flu, it's naive to think you escaped the virus.
As is the case for many people, you may be infected with the flu and just not know it. There could be some mild symptoms or even none at all.
But, despite never actually dealing with the illness, you are still contagious. Day-to-day you are unaware that you're a carrier and take no precautions to stop its spread.
This situation poses a threat every year with common bugs like the flu.
In the case of latent Ebola, carrying the deadly epidemic with no symptoms, the risk is far greater.
After Sierra Leone's Ebola outbreak in 2014, doctors closely monitored possible cases in the area.
The village Sukudu was home to 34 Ebola cases during the outbreak, causing 28 deaths. Nearly a quarter of the 800 village residents were quarantined after sharing space with a confirmed case.
One year after Ebola's peak, the doctors tested the blood of quarantined locals. Most people were clear of the virus, but 14 tested positive for Ebola. The majority of the infected reported no symptoms during the epidemic or in the year since their quarantine.
It's understandable for these results to make someone scared of an unstoppable outbreak. A deadly virus with no vaccine is just hanging around inside of people years after the outbreak.
But, doctors conducting the tests recommend waiting before suiting up in a hazmat suit and hiding in a bunker.
Since 2014, the World Health Organization reported nearly 30,000 confirmed Ebola cases in Africa. Doctors conducted the tests in a small village that, at the time, had 34 confirmed cases.
This is a small sample size for such a noteworthy outbreak.
Doctors and scientists are still unsure about the long-term risks for someone carrying latent Ebola.
Many viruses, like Epstein-Barr virus, can lie dormant in a person for decades. But, as is the case with EBV, latent Ebola could prove to be deadly over time.
While more testing and time must pass before we get a better idea of latent Ebola, these statistics clarify some things about the virus.
Fever, headaches, fatigue, vomiting and unexplained bleeding are common symptoms for Ebola. Despite carrying the disease, a person could show no signs or mild versions of these symptoms.
This could make the virus harder to track and stop for future outbreaks.
A milder case of Ebola would be less contagious. But, it could still spread through some kind of close or sexual contact. For the next dangerous viral epidemic, doctors now know to be more cautious with any potential cases.
This may lead to a wider net for quarantines and more testing labs in endemic areas. There could even be registries for survivors of the virus to provide better health support after an outbreak.
Although these tests could cause doctors and scientists to run scared and wait for a coming outbreak, many are being proactive. They're choosing to attack the risks of a latent epidemic before it happens.
Leaving the country and looking to avoid any latent or active diseases? Passport Health can help! Call us at or book an appointment online.
Any questions about latent cases of Ebola or other viruses? Let us know in the comments, or via Facebook and Twitter.