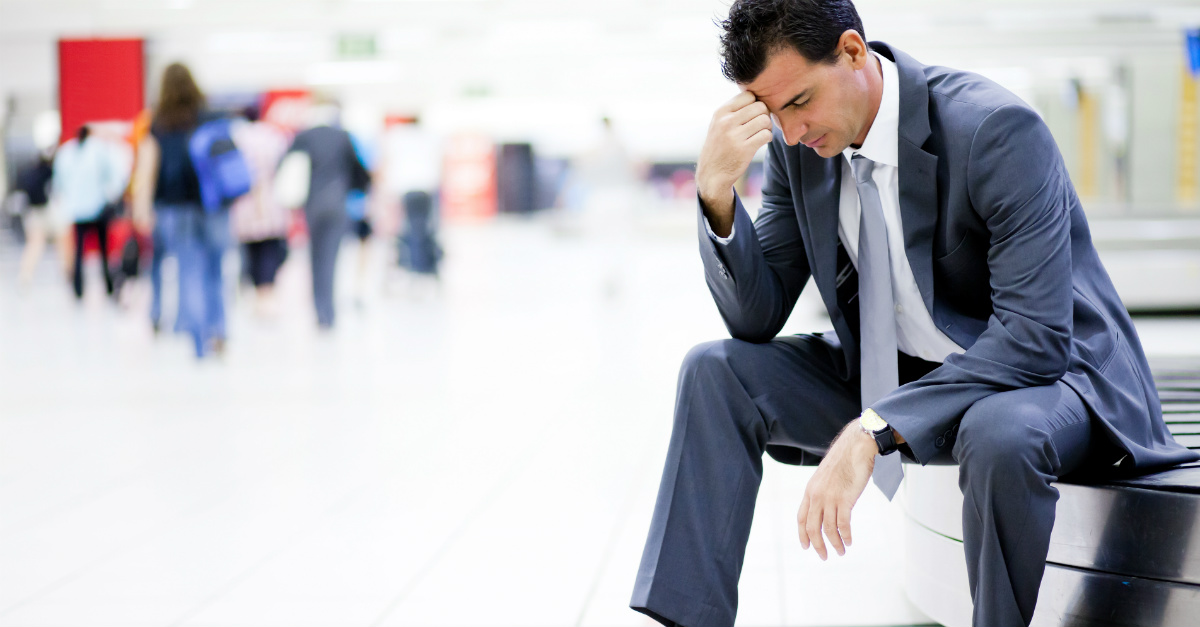 For many, a trip abroad is a reprieve from daily stress. Travelers anxiously look forward to that break from the humdrum of daily life.
But, when something goes wrong during that escape from reality, it can put the whole trip in jeopardy. Unfortunately, it's common to experience some inconvenience during international travel.
Lost luggage is frequently the event that can instantly ruin your foreign getaway.
When getting off that plane, travelers expect to gather their luggage and get on with the trip. But, if that luggage doesn't make it's way to baggage claim, tourists often don't have a backup plan.
Good news is that this is happening less often. According to a report from SITA, less than six bags were lost for every 1,000 passengers.
But, even with those improved odds, there's still a risk of missing or losing your bags while abroad. It's always better to have a strategy in these situations, so what should travelers do upon realizing their luggage is lost?
Report Your Lost Luggage
The first and most important step is reporting your missing luggage. Do this immediately with an airline attendant while at the airport.
It may not be ideal to start your foreign trip by filling out some forms, this is the best way to ensure receiving your luggage at some point. While speaking to an airline employee at the desk or window near baggage claim, you may also need to show a copy of your itinerary. With both your hotel and contact information from the itinerary, the airline then knows where to send your luggage.
If traveling late at night, there may not be an attendant to help with this problem. Call the airline immediately to take care of the situation and make sure to note who you spoke to and time of the call.
Is Your Luggage Lost or Missing?
Once you've filed the report about your missing luggage, you will have a better idea of whether your suitcases are lost or missing.
If the bags are simply missing and on the next flight, then you should have them within a few hours. The airline representative may ask you to wait at the airport to ensure that you can identify them and receive the correct luggage.
Lost luggage is more of a problem because it could take the airline a few weeks to locate and deliver your bags. In this case, you can file a lost baggage claim with the airline. This claim may be separate from the original report you filed; it depends on the airline's policy.
The silver lining is that you'll often avoid luggage fees in this case. Most airlines will reimburse the baggage fee for checked luggage. But, those waived baggage fees aren't the only cost-saving part of lost luggage.
Get The Correct Compensation
Lost or just missing, the airline will also often pay you some compensation for the inconvenience.
Airlines should reimburse you for the purchase of new items to replace clothing and toiletries that were in your luggage. In this situation, it's crucial to keep all your receipts for replacements. Granted, they will not replace a designer pair of jeans for a no-name brand, but they will take things into consideration when determining your claim payment for lost items.
Airlines will want to know the original price of the articles of clothing and how old the items are. They will then factor in depreciation to calculate your claim payment.
According to The Seattle Times, airlines can pay up to $1,742 for lost luggage on international flights. This number comes thanks to the Montreal Convention, signed in 1999. While the treaty helps avoid a legal battle, international travelers should take extra care when assessing losses or damages with lost luggage.
But, be careful when agreeing to that compensation.
Airlines will often offer cash to replace your losses, but the immediate money will likely pay less.
The other option to satisfy your claim are tickets for another flight. While this can be a good alternative, many airlines have rules for these tickets. They likely have a specific window of time that the tickets can be used. If you are not going to be able to use the tickets for a future flight, they are not worth taking.
Track Your Claim
Once that claim is filed, the situation isn't out of your hands. There are a few things you can do to check for updates with your lost bags.
Check for available updates via the airline's website. This may be the quickest and easiest ways to stay up-to-date with the situation.
If using a travel agent, communicate with the company about your ordeal. The agency might have included insurance as part of your travel package, for circumstances such as this.
Below are a few proactive steps that you can take as preventative measures:
Buy travelers insurance. This can both protect you and earn more money back in the case of lost luggage, illness or emergency evacuations.
Invest in a smart luggage tag. The implants a chip or barcode associated with your luggage, tracking the bags at all times.
Put your personal information inside your luggage, instead of on the ID tag on the outside. The tag can make luggage easier to find at baggage claim, but is also more likely to fall off during the travel process.
Pack a change of clothes in your carry-on, in addition to your important documents, special jewelry, or other items that have sentimental value.
Losing personal belongings while traveling in a distant land can be a challenge, to say the least. But, follow some of these tips, and the ordeal doesn't have to ruin your foreign adventure.
Do you have any other tips to help avoid losing luggage while traveling? Let us know in the comments, or via Facebook and Twitter.
Written for Passport Health by Sabrina Cortes. Sabrina is a freelance writer with a Bachelor's Degree from Georgian Court University. She currently lives in the Smokey Mountains of western North Carolina.