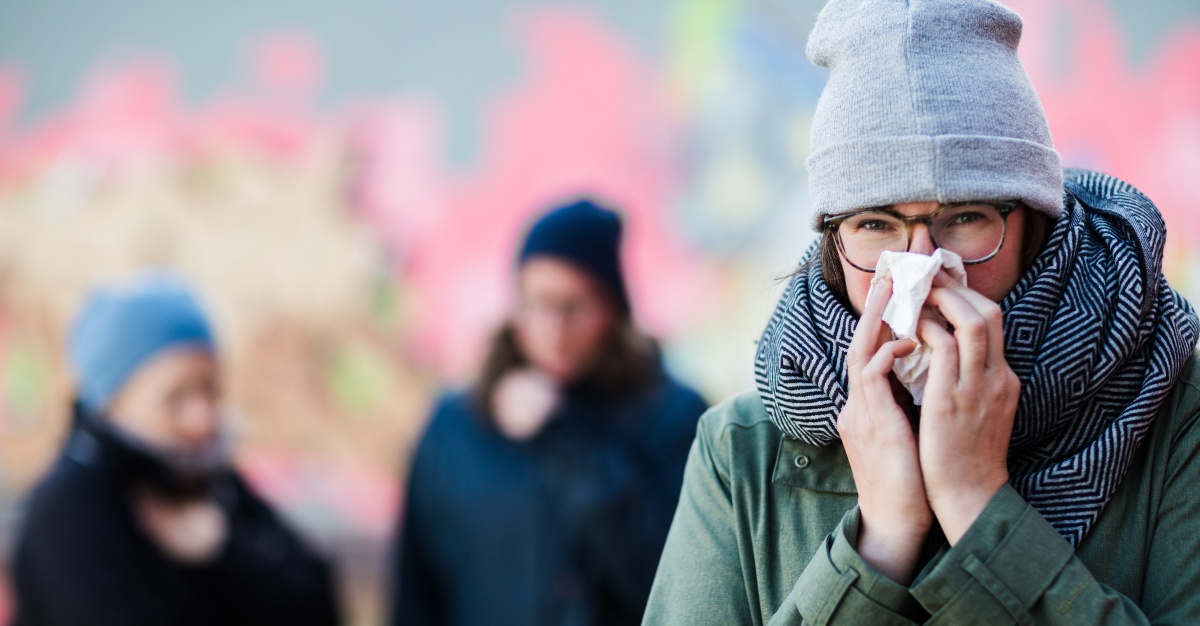 We're all familiar with the sense of dread that comes when you realize you're getting a case of the winter sniffles – often cold or flu. Although, it's thought that over two million Americans actually deal with walking pneumonia each year, and many may not even realize it.
What is Walking Pneumonia?
If you've never heard of walking pneumonia, you're not alone. The disease goes unheard of for many, despite affecting 2 million people in the United States every year.
Walking, or "atypical", pneumonia is a lung infection caused by a different bacteria than the regular disease. The CDC states it, "might have slightly different symptoms, appear different on a chest X-ray, or respond to different antibiotics than the typical bacteria that cause pneumonia."
For example, antibiotics are required and routinely prescribed to treat pneumonia. But, the M. pneumoniae bacteria is resistant to the same medicine. Beta-lactam antibiotics such as penicillin cannot be used to treat M. pneumoniae. This is part of the growing, worrying trend of AMR, or antimicrobial resistance.
Even when it comes to atypical pneumonia, there are several different types. Atypical pneumonia could come in the form of Mycoplasma pneumonia, Legionnaires' disease, Chlamydophila pneumonia and psittacosis. Mycoplasma pneumonia is by far the most common variety of walking pneumonia.
How Do I Know if I Have Walking Pneumonia?
Atypical pneumonia usually presents with persistent but relatively minor symptoms. A person might have a sore throat, lasting dry cough fever and headache. Potentially, the disease may also cause fatigue, muscle aches, abdominal pain, chills and a high fever.
WebMD reports that Mycoplasma pneumonia symptoms typically start 15 to 25 days after exposure to bacteria. These signs will slowly worsen over the next few days.
Given the similarity to signs of cold or flu, patients often may not question their illness. With no knowledge of the dangerous bacteria they're dealing with, many continue with life as normal.
But, infection may require hospitalization and even lead to death in some cases.
If you suspect you may have walking pneumonia, consult your physician. Your doctor will conduct an exam and ask if people in your home or work life are sick as well.
Diagnostic methods like blood, lab and urine tests and a chest X-ray may also be used to confirm whether you have walking pneumonia.
Who is Most Often Affected by Atypical Pneumonia?
Mycoplasma pneumoniae infection and Chlamydia pneumoniae infection both often spread most often in crowded settings. The disease is commonly found in schools, college dorms, military barracks, hospitals, nursing homes and prisons.
Legionella bacteria is generally found in fresh water environments. Most people exposed to the bacteria will not get sick, but certain groups are at increased risk. Seniors, smokers, those with certain underlying illnesses and weakened immune systems are at a higher risk.
Psittacosis is caught from pet birds or poultry. Bird owners, aviary and pet shop employees, poultry workers and veterinarians are at the greatest risk for infection.
To help avoid infection, the Cleveland Clinic recommends getting the flu shot and potentially the pneumococcal vaccination. It's also wise to take extra care when others are sick and to lead an all-round healthy lifestyle.
Have you or someone you know ever had walking pneumonia before? Did you know it was different from regular pneumonia? Let us know in the comments below, or via Facebook and Twitter.
Written for Passport Health by Katherine Meikle. Katherine is a research writer and proud first-generation British-American living in Florida, where she was born and raised. She has a passion for travel and a love of writing, which go hand-in-hand.