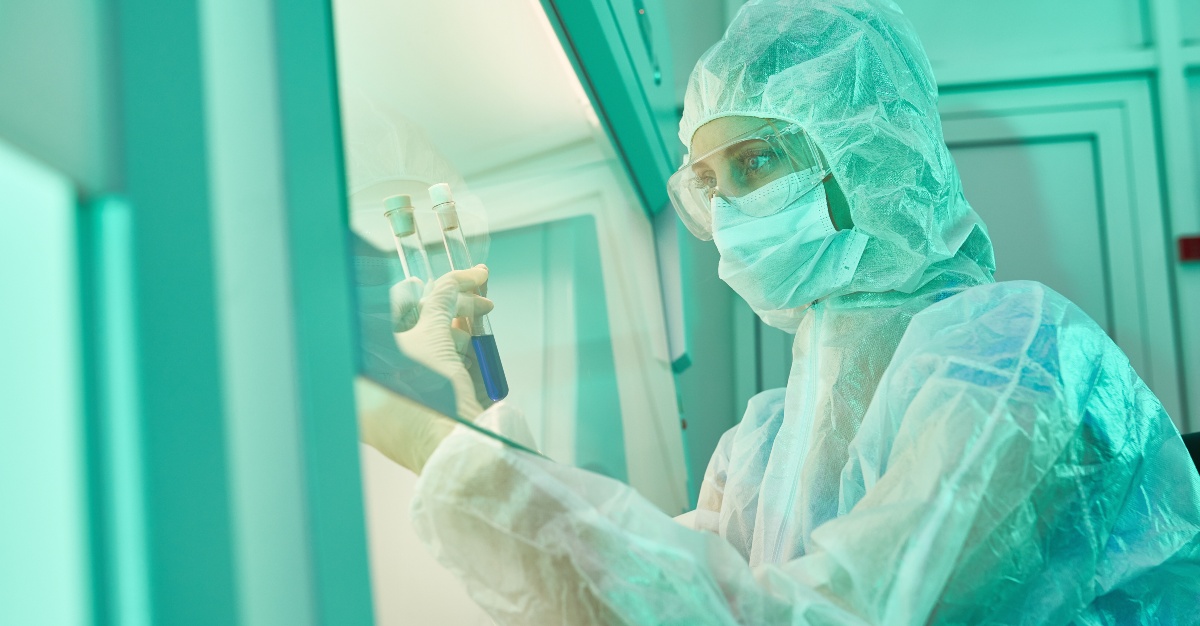 Today, epidemiology is a valuable field of study which plays a role in eradicating diseases. It helps us prevent outbreaks, craft preventative measures and treat illnesses.
But, it wasn't so long ago that the world didn't have this practice and suffered much more drastic consequences from each case of sickness.
Stories of the most rudimentary vaccines stretch back a few hundred years, but epidemiology is a bit younger.
Described by Merriam Webster as, "medical science that deals with the incidence, distribution, and control of disease in a population," epidemiology's origins are largely credited to legendary Victorian doctor John Snow. His claim to fame in discovering that cholera is spread by a parasite through contaminated water or food. Snow's work even earned the nickname "the father of epidemiology."
John Snow: The Father of Epidemiology
Snow's cholera discovery began in late 1848, when a deadly outbreak of Asian cholera struck London.
Though it wasn't unlike ones before it, it acted as an epidemiological testing ground for John Snow. He used the outbreak to challenge the community belief that cholera was an airborne disease.
At the time the prevailing "miasma" theory was that cholera was spread by rising poisonous gases and decaying particles. But, John Snow was highly skeptical of this theory.
In the past, Snow had treated sick coal-miners who caught cholera while working deep underground raised. Instead Snow surmised that the disease may have been spread through invisible germs. With no ability to wash their hands while working, this would make for an easy opportunity to spread bacteria.
So, when the 1848 outbreak began, Snow took the opportunity to undertake a thorough investigation.
To begin his research, Snow started with the first victim. He learned all he could about the circumstances surrounding the merchant seaman who died a short time after renting a room in London. Snow questioned the landlord and the attending physician to follow the path of the disease. He learned that the next tenant in the room had also contracted cholera and died.
The path of cholera showed that left-behind germs could be the culprit.
Next, through countless interviews, Snow found that victims all first reported digestive issues. Problems such as diarrhea would indicate that the disease was spread through food or water rather than the air. At the time, Snow knew that food and water-borne disease would often show with symptoms in the stomach. Airborne diseases would instead first cause respiratory symptoms.
This piece of information, and others like it, taught Snow that cholera epidemics were seemingly brought on by poor sanitary conditions. Poor separation of water sources would easily contaminate wells and water pipes. With waste from sewers and drains in the mix, a water-borne disease could move travel.
John Snow Shares His Findings
The next year he compiled his findings and released a 39-page essay entitled "On the Mode of Communication of Cholera". The pamphlet was paid for out of Snow's own pocket and fully explored the research he had done into cholera.
At the time, it was not received well by many, such as The Lancet founding editor Thomas Wakley. Wakley came down particularly harshly on Snow, publishing his criticism. "In riding his hobby very hard, he has fallen down through a gully-hole and has never since been able to get out again."
Snow wasn't deterred.
When cholera broke out in the district Snow was working in the following summer, he immediately worked on his water theory. He sorted through municipal records for the source of this outbreak.
He found that two private companies supplied the water used in the district. UCLA shares that one company, the Southwark and Vauxhall Water Company, sourced its water from a sewage-polluted Thames area. The other company, the Lambeth Water Company, had recently moved its intake facilities above sewer outlets.
It was this moment when his grand experiment began.
Snow conducted survey after survey to find out which houses had water from which company. Eventually he realized that in one four-week period a staggering 286 of the 334 cholera victims got water from the Southwark and Vauxhall Water Company. During that period, just 14 victims received water from the Lambeth Water Company.
He would then write of the dire conditions putting a whole region in danger.
"No fewer than three hundred thousand people of both sexes, of every age and occupation, and of every rank and station, from gentle folks down to the very poor, were divided into two groups without their choice, and, in most cases, without their knowledge; one group being supplied with water containing the sewage of London, and amongst it, whatever might have come from the cholera patients-the other group having water quite free from such impurity."
Again, his peers were not persuaded.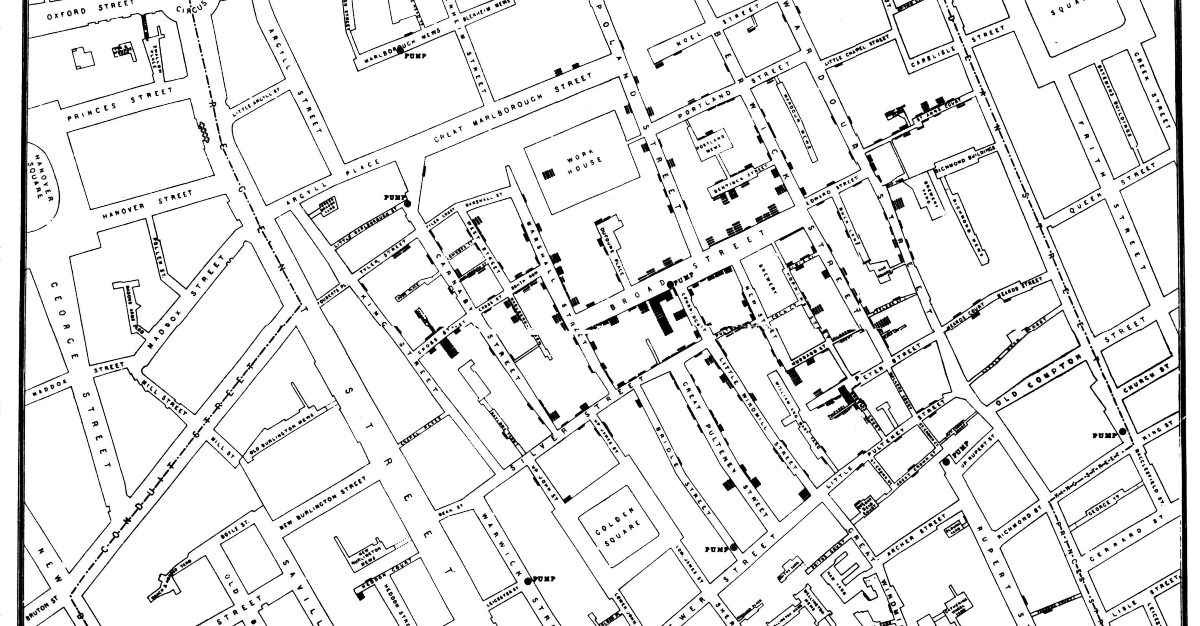 Another Outbreak Gives Dr. Snow More Proof
Snow needed to wait until 1854 for another breakthrough. It was in this year that the Broad Street cholera outbreak offered another opportunity.
Within a week of the outbreak's beginning, people fled their homes. Dead victims were being taken away by the cartload. Most of the fatalities occurred in the vicinity of a pump on Broad Street. Snow suspected that although the companies that supplied water to Broad Street were generally reliable, the well under the pump might have been contaminated by nearby sewage pipes.
When sampling the water proved unhelpful, Snow plotted a large map with victim information.
He found that 73 of the 83 deaths happened in homes close to the Broad Street pump. Then, after interviewing those at the homes of the other victims, Snow found that eight of 10 victims drank the pump water. With final research, he concluded that 61 of the 83 victims had drunk water from the Broad Street pump.
In a meeting with the Board of Guardians, Snow presented his findings. He recommended the Board remove the Broad Street pump handle immediately. This way, no more people would be able to drink the water and get infected.
The listeners were highly skeptical but agreed, and the local outbreak shortly ended.
The Father of Epidemiology and His Legacy
Despite this link, Snow's theory regarding cholera still was not accepted by many of his peers. It was until a decade after his death in 1858 that evidence was found to prove his cholera theories.
In his lifetime John Snow was considered ridiculous by many for his epidemiological views on cholera. He was instead famous as an anesthetist, deemed the most accomplished in the British Isles.
Much of this reputation was likely garnered from his assistance to Queen Victoria during the births of two of her children, Prince Leopold and Princess Beatrice. In fact, many readers today may be familiar with John Snow due to his recent feature on the PBS Masterpiece showing of Victoria.
In the end, Snow was a medical genius who pioneered multiple techniques in both epidemiology and anesthesiology. Upon hearing the name John Snow, many of us likely imagine the one who grew up in Winterfell. But, it's clear that the phrase "You know nothing Jon Snow" wouldn't apply to the Father of Epidemiology.
Had you heard of Dr. John Snow before this article? Did you know the field of epidemiology had such relatively recent roots? Let us know in the comments below, or via Facebook and Twitter.
Written for Passport Health by Katherine Meikle. Katherine is a research writer and proud first-generation British-American living in Florida, where she was born and raised. She has a passion for travel and a love of writing, which go hand-in-hand.