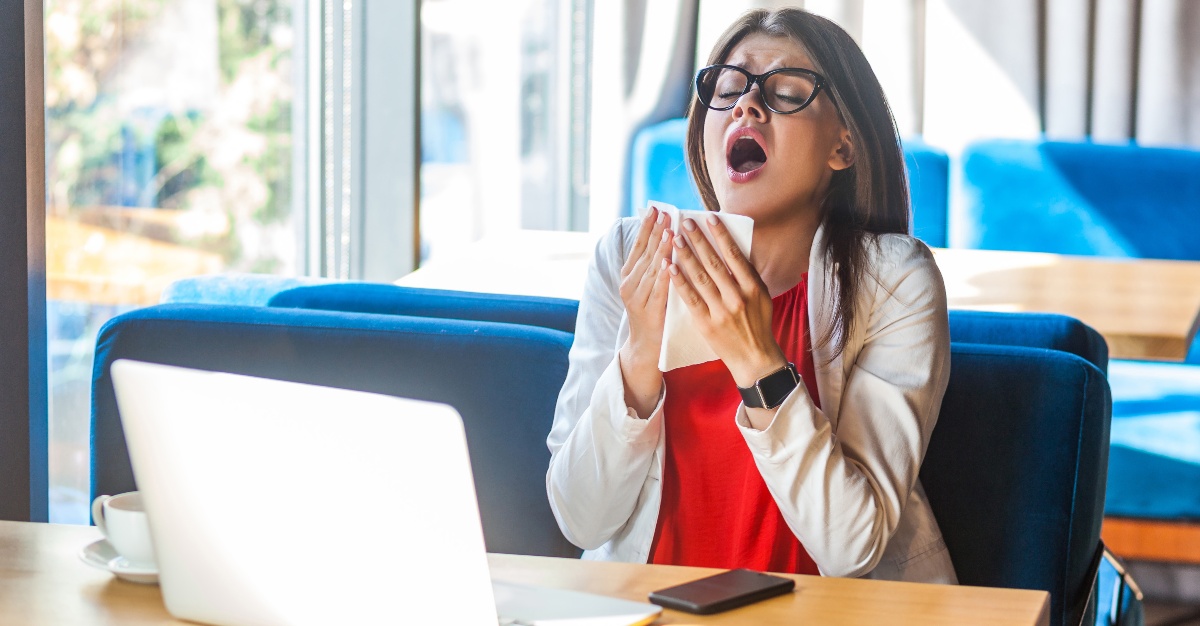 The CDC said on average a person gets two to three colds per year. Most of these colds are also caught in the winter and spring. With cold and flu season around its peak, it can be hard to avoid catching a virus that's going around.
Germs are everywhere this time of year, from doorknobs to desks. If a person chooses not to wash their hands after sneezing, coughing or blowing their nose, those germs and bacteria are even more common.
It's hard to avoid touching things like doorknobs, but how long do viruses survive outside of the body?
"Flu viruses can survive on hard surfaces and infect another person for 24 to 48 hours. Cold viruses don't survive as long – usually a few hours. But there is evidence that they can survive and be passed on for up to 24 hours." That's how Dr. Alison Carey, an associate professor of microbiology and immunology at Drexel University, explained the health risk.
Cold Viruses
Carey said cold viruses typically only survive a few hours on hard surfaces, such as doorknobs and bus poles, but can survive up to 24 hours. While this is true, it also depends on the type of cold virus.
Each virus is different, which means each one can survive a different length of time on surfaces. Some cold viruses might survive up-to and even longer than seven days on hard surfaces. Others might be gone within a few hours.
Cold viruses can also survive on soft surfaces, such as fabrics, but not as long as they would on hard surfaces.
While the cold viruses can survive for days outside of the body, National Health Services (NHS) said, "Their ability to cause an infection reduces rapidly and they don't often survive longer than 24 hours."
That's not to say a person can't catch a cold virus from touching one of these surfaces.
Let's say a person coughs or sneezes into their hand, then touches a doorknob. Gross, yes, but it also creates a brief window of likely disease spread. The virus they left on the doorknob is likely to infect someone who touches it within the 5-10 minutes since the sick person touched it.
Cold viruses last an even shorter amount of time on hands. According to the NHS, cold viruses only survive a short amount of time on hands with some lasting only a matter of minutes and others up to an hour.
Flu Viruses
Much like cold viruses, flu viruses typically don't last longer than 24 hours on hard surfaces. Flu viruses can only last up to 15 minutes on soft surfaces like tissues.
These viruses also last much shorter on hands as well. After about five minutes of flu viruses being on hands, they drop to low levels, which means they likely won't infect anyone.
Flu viruses may last a short period of time outside of the body, but Carey said although it doesn't last long, any surface can still harbor flu viruses long enough to infect someone. It just depends on when a person touches this surface.
If a person touches a surface minutes after a sick person does, there is a much higher chance that this person can become infected with the flu, much like cold viruses.
Unlike cold viruses, according to the NHS, "Flu viruses can also survive as droplets in the air for several hours; low temperatures increase their survival in the air." The cold air also explains why flu viruses are much more common during the winter.
Stomach Bugs
There are many different viruses that cause stomach bugs. Some of which survive for a few hours outside of the body and others can last up to several months.
Salmonella and campylobacter are two types of bacteria that can cause stomach bugs. Both of these cause viruses that last a very short amount of time outside of the body. These viruses last anywhere between 1-4 hours on surfaces.
While these stomach bugs don't last very long, others like norovirus and clostridium difficile survive for days and sometimes weeks at a time, according to the NHS.
Just like the flu, droplets from stomach viruses can survive when someone vomits, leaving these droplets to spread onto surfaces. This is especially common with norovirus, which is why it's important to clean surfaces if you or someone you live with has a stomach bug.
Luckily, stomach viruses can be easily prevented. Most stomach viruses can be removed from surfaces with cleaning and prevented by frequent washing the hands.
MRSA and Herpes
Other viruses, like the staphylococcus aureus bacteria, which causes MRSA, typically lasts a few days to weeks outside of the body, like stomach viruses. They can last longer than colds and flus, because they don't need as much moisture to survive on hard surfaces.
The herpes virus dies the quickest outside of the body. It's a virus that's passed by human-to-human, typically through kissing or oral sex, and can stay active on the skin. Although, the virus dies very quickly when it's away from skin.
Prevention and Protection from Viruses
Prevention of viruses isn't guaranteed, but there are a couple simple steps to protect yourself against them.
Washing your hands regularly will greatly reduce your risk of catching a virus. The step is even more important if you touch your face often throughout the day.
Another way to give yourself extra protection is by using sanitation wipes or cleaners to clean surfaces around your house or office.
Are you worried about catching the flu this time of year? Passport Health can help with that! Give us a call at , or book an appointment online for more information about the flu shot.
Did you know some viruses survive longer than others? Does this news change your plans to stay free of those illnesses? Let us know in the comments, or via Facebook and Twitter.
Written for Passport Health by Elle Johnson. Elle Johnson is a senior multimedia journalism student at the University of South Carolina. Johnson is graduating with a bachelor's degree in December and is a freelance writer in her free time.