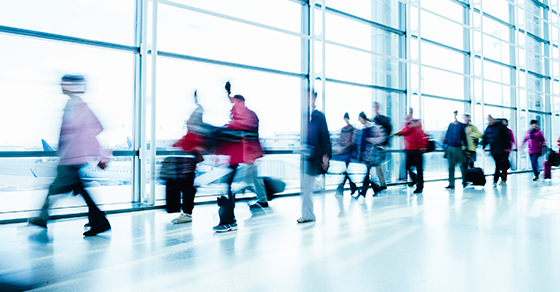 If you travel a lot, you likely have experienced jet lag at some point. Jet lag occurs when people experience sleep problems after travelling long distances. The body's "internal clock" is affected and causes a feeling of imbalance and increased tiredness. Your body needs time to get used to a new sleep and wake pattern.
Longevity of Jet Lag
How long jet lag lasts depends on various factors. How far you travelled, your body's unique rhythms and your overall health will determine how quickly you recover. Some people feel better a few days after arriving at their destination. Others will need a week or more to return to normal.
How Do I Know I Have Jet Lag?
Jet lag affects people differently. The farther people fly, the more severe the effects can be. Greater distances require more daily adjustments. Since your body is adapting to a new wake and sleep schedule, you will likely feel tired during the day and unsure of when to go to bed.
Some symptoms to watch out for are:
Insomnia
Headaches
Drowsiness during the day
Mood changes
Upset stomach
Treatments for Jet Lag
Jet lag is typical, but there are ways to reduce the symptoms and help your body adapt to your new surroundings better.
Here are four ways to ease the symptoms of jet lag:
1) Get Some Air
Do not try to stick to the routine you had with your old time zone. When you arrive at your destination, set your watch and travel clocks to the new time zone. Your cell phone will likely update on its own, so you will not have to worry about the exact time of day.
Going to bed at a decent time in the new time zone will also help your body adapt. Suppose you constantly try to push yourself to do things according to a different schedule. In that case, you will affect the balance of your mind, physical being, and emotional state.
2) Drink Water
Long-distance travel can cause dehydration. It is vital to stay hydrated on the plane and when you arrive at a new location. While limiting water consumption en-route may seem like an excellent way to avoid bathroom trips, it contributes to jet lag.
There are plenty of options available to keep your water intake steady. Empty water bottles can be carried through airport security and filled in terminals. Water can be purchased in the terminal or requested in-flight as well.
3) Light Exposure
One of the main reasons why people experience jet lag is that their exposure to light changes. Going outside and soaking in the sun can wake up your body and reduce melatonin hormones which make you sleepy.
Knowing when to expose your body to the most light is essential for great morning and night routines. If you need to wake up earlier, morning light exposure helps. If you need to stay up later and get things done, exposure at night works better.
If you cannot get a moment in the sun or moonlight, there are special lamps that can help you decrease the symptoms of jet lag. These types of lights are also offered to people who suffer from seasonal affective disorder.
4) Medication
If no natural remedies are helping with your jet lag, consider talking to a doctor about sleep aids. Sleep aids help you get more rest in the nighttime when you are still adjusting to a new location. But, sleep aids have side effects, and they may not decrease daytime jet lag symptoms. Gain all the information you need before choosing a prescription that will work best for you.
5) Prevention
No matter what strategy you use, you cannot 100% guarantee that you will experience no jet lag symptoms. But getting a head start can help reduce the overall impact of jet lag.
If you are travelling east to west, go to bed later and wake up later for several days before you leave. If you are travelling west to east, go to bed earlier and wake up earlier. These changes will help you adjust to your new bedtime routine before you arrive at your destination.
Stay in motion while you are on the plane. When possible, it is good to keep yourself moving to reduce jet lag symptoms. Some things you can try are breathing deeply, rolling your feet, turning your head, and contracting and releasing your leg muscles. The movements will refresh your body and help stabilize your internal clock.
From vaccinations to key advice, Passport Health can help you stay safe while abroad. Schedule your appointment today by calling or book your appointment online now.
Written for Passport Health by Shelbi Jackson. Shelbi is a freelance writer from Illinois. She enjoys writing about various topics from health care to music and book reviews. In her free time, you can find her at a live event, taking a stroll outside, or playing with the family dogs.