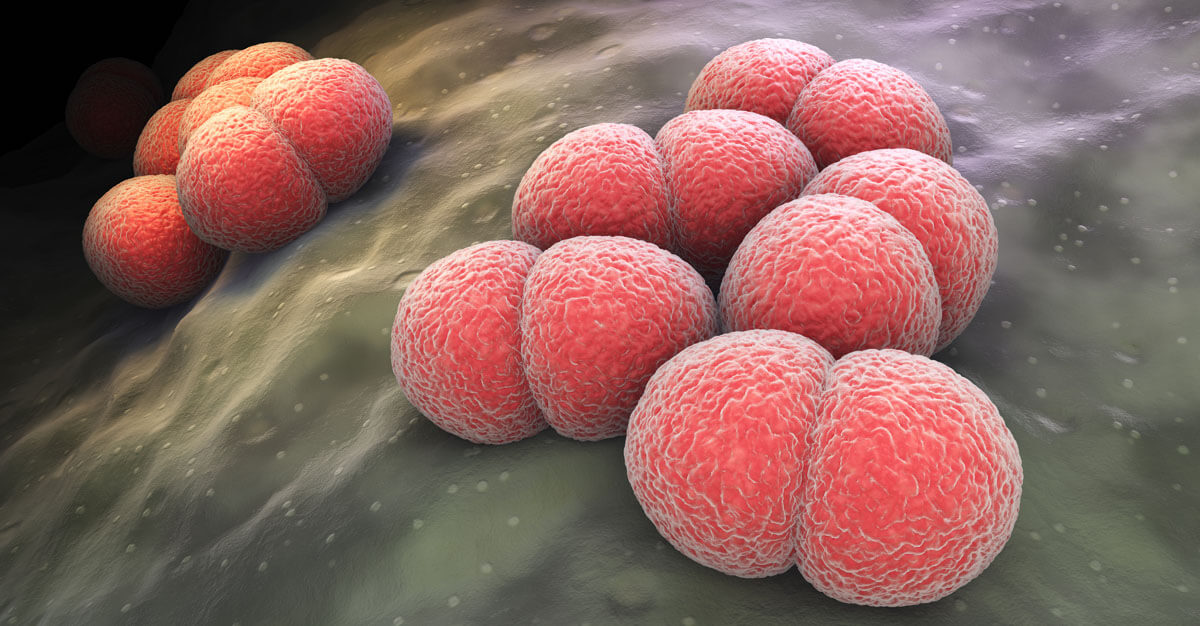 Meningitis is an inflammation (swelling) of the protective membranes covering the brain and spinal cord. Usually, a bacterial or viral infection of the fluid surrounding the brain and spinal cord causes swelling. There are millions of meningitis cases worldwide, and some forms of meningitis are more serious than others.
Types of Meningitis
There are several types of meningitis that affect the human body in different ways (infectious and noninfectious). They also have various risk factors, anticipated outcomes, treatments, and complications.
Doctors usually diagnose meningitis based on symptoms and physical examination. Brain imaging studies are also helpful because they can show signs of inflammation of the meninges. Learn more about each type of meningitis below.
Viral Meningitis
Viral meningitis is the most common type, and it is caused by viruses that are commonly contagious in the community. Some examples are enterovirus, mumps virus, and varicella-zoster virus (which causes chickenpox).
You can develop viral meningitis as a complication of an infection with any of the viruses mentioned above. However, most people who contract them do not develop viral meningitis. While anyone can have it, it is more common among children.
Individuals who have a healthy immune system usually recover quickly from viral meningitis. Still, complications can occur, especially for those who have immune problems. Also, those with meningitis caused by a virus can transmit the virus to others. But, those people are not likely to get meningitis.
Bacterial Meningitis
Bacterial meningitis is the second most common type of meningitis, and it can be deadly. People who contract this should seek immediate attention. The most common causes are Streptococcus pneumonia, Neisseria meningitidis, and Haemophilus influenzae. These organisms are prevalent in the environment and are contagious.
The symptoms can progress rapidly, and treatment should target the infectious organism. Generally, the bacteria is identified with an LP (Licensed Practitioner). Even though anyone can have bacterial meningitis, it is more common among people who have an impaired immune system. Or those who have had brain surgery or head trauma.
Fungal Meningitis
Fungal meningitis is rare, but people can get it by inhaling fungal spores from the environment. A weak immune system is a huge leading risk factor. Fungal meningitis is caused by Candida (normally present on the skin), Cryptococcus, Histoplasma, Blastomyces, and Coccidiodes.
Organisms that cause fungal meningitis are prevalent in the community, and it is not unusual to have contact with them. They typically do not cause infections in healthy people.
Parasitic Meningitis
Numerous kinds of parasites can cause meningitis or affect the brain and nervous system in certain ways. Parasites can enter the human body through exposure by contamination from undercooked food or the environment. Some of the most common parasites that cause meningitis are Angiostrongylus cantonensis, Baylisascaris procyonis, and Gnathostoma spinigerum.
Parasitic infections can cause brain inflammation and appear like a mass or growth in the brain. Parasites can reproduce in the body after they invade or may die and remain in the body, where they continue to produce a mass effect in the brain. Parasitic meningitis is treated with antimicrobials, and the organism may be removed surgically.
Amebic Meningitis
Amebic meningitis is a rare and devastating infection of the brain. Amoeba is a single-celled organism that usually lives in freshwater, lakes, rivers, soil, or contaminated sewer water. Organisms that cause amebic meningitis include Naegleria fowleri and Acanthamoeba species.
Since the condition is so rare, it may not be easily recognized. Brain imaging studies may identify a pattern of inflammation.
If this condition persists for too long, symptoms may progress. Treatment may include a combination of antimicrobials usually reserved for treating fungal infections. Antimicrobials are also used as surgical treatment for fluid pressure in and around the brain.
Noninfectious Meningitis
Inflammation of the meninges and CSF (cerebrospinal fluid) can occur without an infection. Sometimes referred to as aseptic meningitis, this can happen due to autoimmune diseases like lupus, sarcoidosis, or rheumatoid arthritis.
Keep in mind that not everyone who has these autoimmune diseases will develop meningitis. If someone develops it, it will be infrequent and may cause fatigue, trouble concentrating, or confusion.
Noninfectious meningitis can also result from medications or radiation to the brain used for cancer treatment.
Ensure you're protected from meningitis. Schedule an appointment at your local Passport Health by calling or book online now.
Written for Passport Health by Shelbi Jackson. Shelbi is a freelance writer from Illinois. She enjoys writing about various topics from health care to music and book reviews. In her free time, you can find her at a live event, taking a stroll outside, or playing with the family dogs.