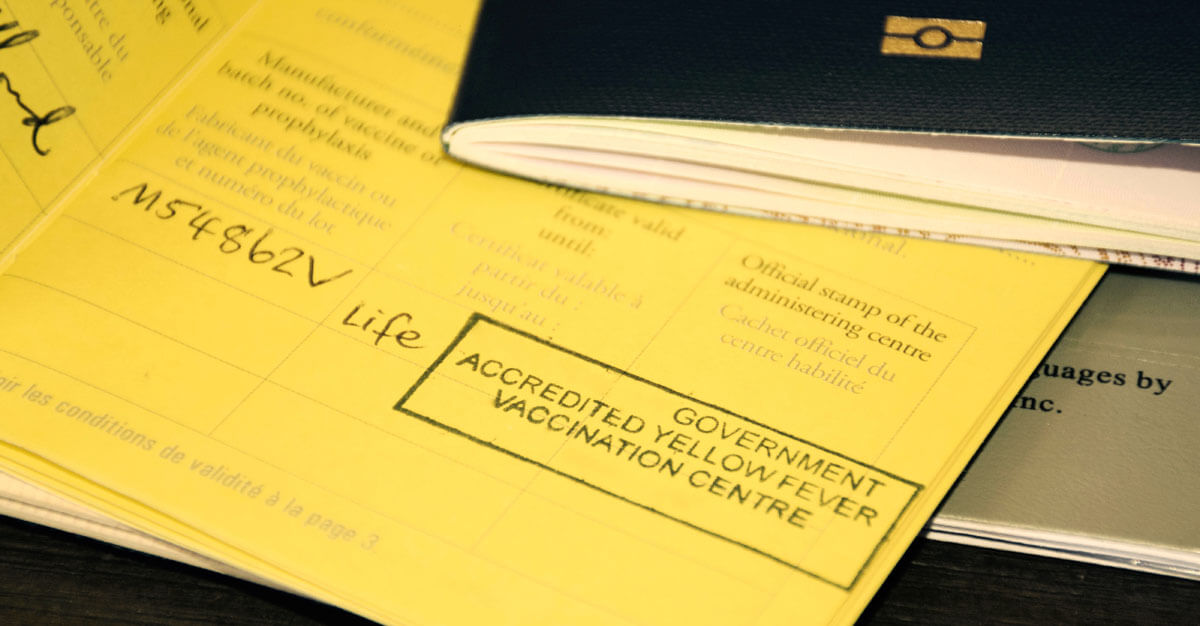 The yellow fever vaccination card, also known as the yellow card (Carte Jaune), is a physical vaccine card that is used to show that someone has been vaccinated against yellow fever. Created by the World Health Organization (WHO), it is currently the only official international certificate of vaccination against yellow fever. Since the yellow fever vaccine provides lifelong immunity, this card does not expire. It's validity lasts as long as the immunized individual is still alive. But, that's not to say you won't need a new one.
When Does the Yellow Fever Card Become Valid?
The yellow fever card becomes valid 10 days after someone receives the yellow fever vaccine. About 98% of vaccinated populations reach complete immunity against yellow fever 10 days after vaccination. The card is not yet valid immediately after receiving the vaccine because immunity hasn't yet been reached.
What if I Lose My Card?
Since the yellow fever card never expires, you can continue using the same one for life. What happens, though, if you lose or misplace your card? There's no need to panic if this happens. Try to get in touch with the healthcare facility where you were vaccinated. If you were vaccinated as part of an endemic response campaign, contact one of the organizations that were involved in putting together the vaccination events. After giving them the necessary details, they should be able to access your vaccination records and issue you a new yellow card.
What if My Card is Soiled or Damaged?
A soiled or damaged vaccine card does not nullify its validity. If the card is soiled or damaged to the point where the vaccinated individual's name or date of birth are illegible, then a new card may need to be issued. By contacting the correct facilities or organizations, an individual can get a new yellow card. The new card issued will still be valid from 10 days after the person was vaccinated with no date of expiration.
Which Countries Require the Yellow Fever Card?
Many countries require the yellow fever card showing proof of yellow fever immunization. Some of these countries require it because the risk of transmission is high within the country itself.
Other countries require this proof of vaccination for travellers coming in from countries where there are cases or frequent outbreaks of yellow fever. Some of these countries include: Australia, Botswana, Cape Verde and Thailand. A complete list of countries requiring the yellow fever card can be found on the official website of the World Health Organization (WHO).
Will I Need a New Yellow Card in 10 Years?
Unfortunately, the answer to this question is, maybe. While the WHO has stated the yellow fever vaccine provides lifetime immunity, some countries still require proof of vaccination within the last ten years. This means if you got your vaccine 11 years ago, you may need to receive it again for entry. Be sure to check with your travel destination on their specific requirements for older yellow fever vaccine administration. If you receive your yellow fever vaccine today, or have in the last few years, it is likely country rules will have caught up with the WHO by the time you may need to be re-vaccinated. Be sure to check with a travel health professional before your trip.
Planning a trip to a region that requires or recommends yellow fever vaccination? Passport Health can help. Call or book online to schedule your appointment today.
Ese Agboh is a student nurse who wants to specialize in pediatric nursing and wound care. In her free time, she enjoys reading and writing articles related to medicine and the pathophysiology of communicable diseases. Ese currently lives and studies on the east coast of the United States.