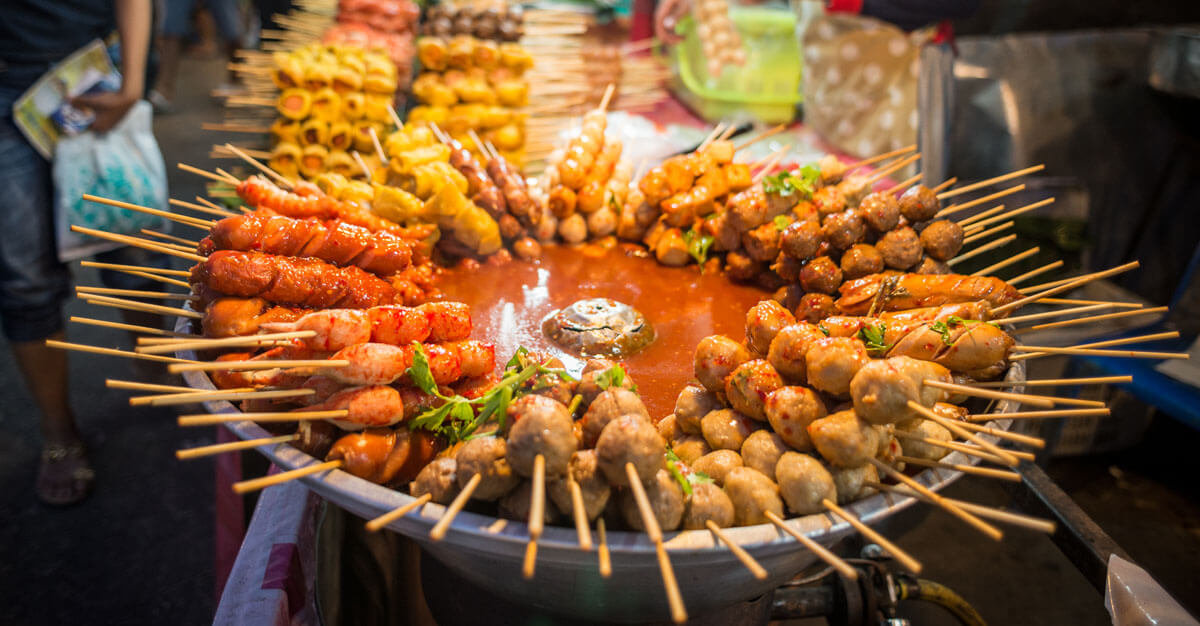 Whether you're embracing a gluten-free lifestyle because of personal preference or you've been advised to cut out or limit gluten due to a medical condition, traveling gluten-free can be a little intimidating. But, sticking to your gluten-free diet doesn't mean you can't enjoy the flavors that season the streets of your next vacation destination. Many top travel destinations offer a wide variety of authentic, gluten-free street food. Thailand is one of these destinations.
Comfortably settled on the coast of waters that share a mix of the Indian and Pacific oceans, Thailand is a country with a lot to offer. Nestled between Cambodia and Malaysia, the country's cuisine is as vibrant and diverse as its people. From captivatingly sweet desserts such as Kluay Tod to mouth watering spicy favorites like Som Tam, Thailand is a foodie's playground. With such a striking range of dishes, it's no surprise that Thailand has an abundant amount of options for those on a gluten-free diet.
The Savory
If you're craving something savory while in Thailand, you don't have to ditch your gluten-free diet. While one of the most popular street foods in Thailand, pad thai, is definitely not gluten-free because of the soy sauce, there are some other appetizing options that won't take you off of your gluten-free diet.
Som Tam is one dish that would make you happy you skipped the pad thai and saved room for something better. This simple but flavor-packed dish is made with shredded green papaya, tomatoes, carrots, peanuts, dried shrimp string beans, sugar, garlic, fish sauce, lime juice and chilies. Plenty of chilies. Usually served on a bed of white rice with a fried egg on the top, Som Tam is free from wheat, barley, rye or soy sauce, making it safe for those who are avoiding gluten. The dish is often spicy so if your tolerance level is low, make sure to ask the street vendor for it "mai pet", which in Thai means "not spicy".
Another tasty gluten-free dish that Thailand serves up is Sai Ooah (pronounced: sa-yee oh-ah). Thai sausage bathed in a medley of aromatic spices, Sai Ooah is particularly famous in the northern city of Chiang Mai. The sausage is mixed with lemongrass, kaffir lime leaves, galangal (similar to ginger) and red chili paste. It's then grilled in an intestine wrapper until it is golden and crispy.
Gai Tod is Thailand's twist on a Western classic. This is like a version of Thai fried chicken. Chicken wings marinated in a mixture of spices and battered in rice flour, Gai Tod is another dish that's safe for those that are gluten-free. Typically served with a spicy dipping sauce, make sure to verify that the sauce doesn't contain soy in order to enjoy Gai Tod in all of its gluten-free glory.
The Sweet
Khanom Buang is a popular Thai street food that is safe for those sticking to a gluten-free diet. This dish resembles a crispy crepe and is made of rice flour. It's sometimes topped with a rich, meringue of sweetened egg yolk. In addition to the rice flour, Khanom Buang is made with mung bean flour, eggs, sugar and water.
Another sweet treat that those eating gluten-free can enjoy in Thailand is Kluay Tod. This is an addictive dessert made of deep fried mini-bananas. Deep fried might be a foreign concept to gluten-free foodies since most deep fried delicacies are battered in wheat flour. However, Kluay Top is coated in desiccated coconut and sesame seeds, resulting in a crunchy and golden gluten-free sweet treat with a warm and creamy center.
Enjoy gluten-free in Thailand
There are so many other gluten-free street foods in Thailand. Guay Teow, Poh Pia Tod and Massaman Gai only graze the surface of tantalizing gluten-free options that the streets of Thailand serve up. With so many dishes to choose from, it's relatively easy to stick to a gluten-free diet while enjoying Thai street food. If you get a particularly daring food vendor and you know a few words in Thai, you may even be able to ask for a specific dish without soy sauce or with rice-noodles instead of egg or wheat noodles, making it suitable for a gluten-free diet. So why not visit Thailand and see why there's no need to limit your appetite while traveling gluten-free!
While gluten-safe options can help avoid some tummy troubles, traveler's diarrhea, typhoid and other diseases are always a risk. Make sure you are prepared with Passport Health. Call or book online to schedule your appointment today.
Ese Agboh is a student nurse who wants to specialize in pediatric nursing and wound care. In her free time, she enjoys reading and writing articles related to medicine and the pathophysiology of communicable diseases. Ese currently lives and studies on the east coast of the United States.