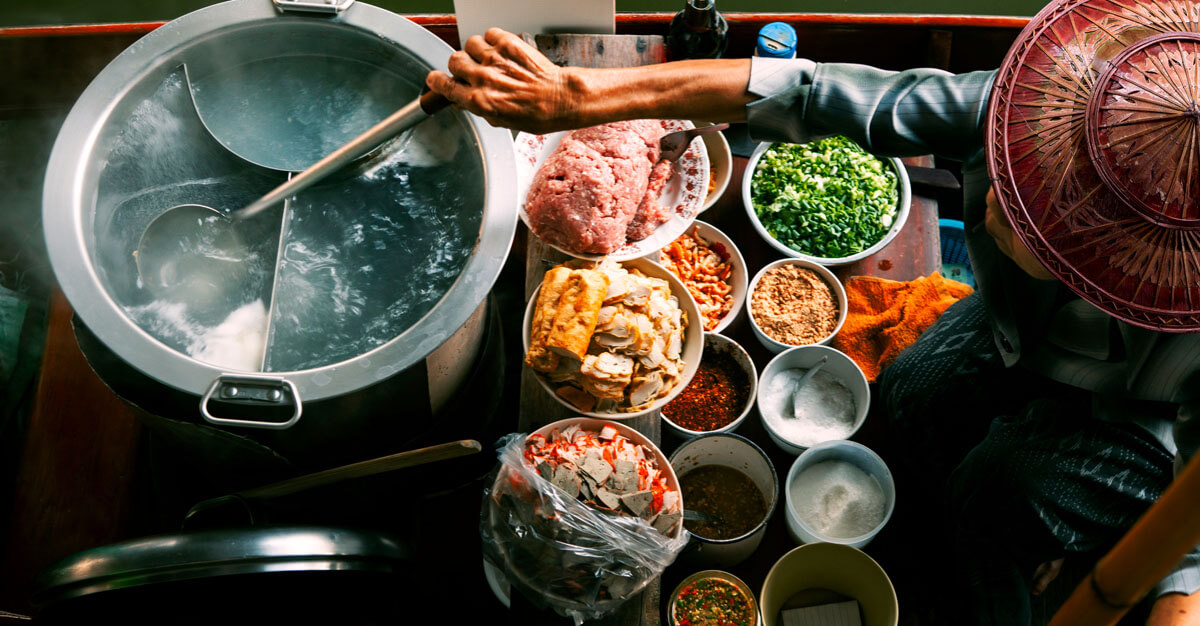 If you're a diabetic, eating foods high in fiber at regular intervals is important to maintaining good health. It's also important to limit foods high in simple carbohydrates and saturated fats. Keeping up with this type of lifestyle while traveling doesn't have to be frustrating. Many countries offer delicious street food options that fit nicely into a diabetic diet and won't cause uncomfortable spikes in blood sugar.
Malaysia may not be the first place that comes to mind when you think of countries with diabetic-friendly street food. Though many traditional Malay dishes are served with or over rice, there are a host of other low-carb, high fiber options . Take Rojak, for example. Rojak is a typical Malaysian salad made of a variety of fruits and vegetables mixed in shrimp sauce and topped with crushed peanuts. Depending on the season, fruits and vegetables that make up Rojak usually consist of beets, cucumbers, mangoes, bean sprouts and green apples. Free of added sugars and filled with fiber, Rojak is a great dish for diabetics. Its high fiber content helps to metabolize carbohydrates while its low sugar content won't cause spikes and crashes.
The streets of Kuala Lumpur, the capital of Malaysia, are also consistently decorated with engaging and exciting food vendors. This makes it easy to have easy access to food, helping you maintain stable blood sugar levels.
With its impressive size, diverse culture and invigorating cuisine, the streets of India are calling all diabetics. In the south of India, the diabetic traveler can find an impressively flavorful midday snack known as Masala Vada. Masala Vada is a traditional lentil fritter made of a combination of chana dal, onions, ginger, curry leaves, fennel seeds, dried red hot peppers, vegetable oil and salt. With such a heavy caliber of flavors, there's no need for any added sugars in this tasty tea time snack. Plus, the lentils offer a great amount of fiber without an overload of carbohydrates.
Venture north and you'll find Pav Bhaji. Pav Bhaji is a thick vegetable curry made of potatoes, tomatoes and varieties of seasonal vegetables. Though slightly higher in carbohydrates than some other dishes due to the potatoes, Pav Bhaji is still suitable in moderation for diabetics. The vegetables added in the curry offer a nice serving of fiber that will help properly metabolize the carbs from the potatoes. Pav Bhaji is usually served with a roll of bread on the side. Make sure to keep the carb content low by asking the vendor for no bread.
Japan is known for having some of the healthiest food in the world. Rice is a constant in most Japanese dishes and this may cause diabetics to shy away. But, there are Japanese street foods that are served without rice, low in carbohydrate and high in fiber. Yaki Imo, a simple Japanese roasted sweet potato, is a great option for diabetics. Sweet potatoes provide complex carbohydrates that supply essential energy and won't cause sudden changes in blood sugar. Besides Yaki Imo, you can also find sukiyaki on the streets of some Japanese cities. Sukiyaki is a dish of beef and vegetables both cooked in one pot. When eaten without white rice, sukiyaki is a great low-carb option for diabetics.
Diabetes and Travel
Traveling as a diabetic doesn't have to be an ordeal. By making sure you eat regularly, you can avoid dangerous drops in blood sugar levels. It's also important to choose meals and snacks that provide enough fiber to help with carbohydrate metabolism. This will help you to avoid fluctuations in blood sugar levels.
Never forget to travel with your insulin. Following these and other directions from your healthcare provider will help you make a success of your vacation!
Planning on trying street foods? Up to 70 percent of travelers will contract travelers' diarrhea. Stay healthy and keep bathroom visits to a minimum with a travelers' diarrhea kit from Passport Health. Call or book online to schedule your appointment today.
Ese Agboh is a student nurse who wants to specialize in pediatric nursing and wound care. In her free time, she enjoys reading and writing articles related to medicine and the pathophysiology of communicable diseases. Ese currently lives and studies on the east coast of the United States.