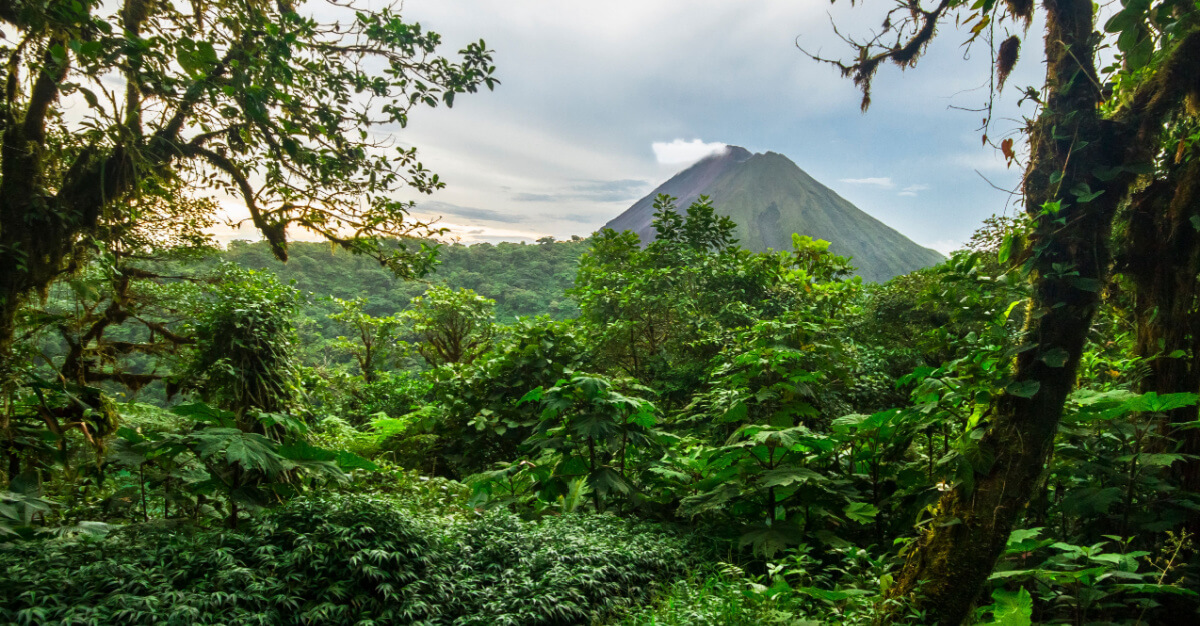 Adventure enthusiasts from around the world visit Costa Rica's volcanoes every year. With over 200 volcanic formations, there is an adventure for everyone. While most of Costa Rica's volcanoes are extinct or dormant, six remain active. These are the top four volcanoes that make an impact on visitors.
As you climb the towering volcanoes, you can immerse yourself in the mineral water of a natural hot spring, or explore the unique biodiversity that is created by the magma and high altitudes.
The high altitude mixed with the magma has infused the soil surrounding the volcanoes with minerals, causing it to flourish. This fertility has contributed to dense verdant forestation, which supports not only a myriad of bird & wildlife species, but is also home to numerous tropical and exotic plants and trees.
The volcanoes offer many recreational activities to visitors. Hiking, horseback riding, camping, and mountain biking are just a few of the activities you can take part in when visiting the volcanoes.
The Arenal volcano is Costa Rica's most popular and most recently active volcano. Historically, the Arenal volcano erupted an average of 41 times per day. The Arenal volcano entered a dormant state in 2010. Dormant volcanoes have ceased regular eruptions but will likely erupt in the future. The Arenal volcano is uniquely beautiful because of its "perfect cone" shape and lush green mountainsides.
The Poás Volcano has been dubbed the most accessible volcano in Costa Rica. If the weather is clear from atop the Poás volcano, visitors can view the Pacific and Atlantic coasts. Poás is unique because it has two crater lakes, Lake Botos and Laguna Caliente. Lake Botos is in the southernmost crater and has icy clear water. Meanwhile, Laguna Caliete, the northern crater, is known for its boiling acid water which is known to change color frequently.
The Rincón de la Vieja Volcano is another popular site. The temperamental activity of this volcano creates an enjoyable trek for its visitors. The path to the top of the volcano is dotted with volcanic hot springs, waterfalls, and bubbling mud pools. One of the volcanic craters, the Von Seebach crater, is still active, venting steam and the occasional volcanic hiccup on a regular basis. There is an interesting legend surrounding Rincón de la Vieja and how it got its name. The legend says that a wise old medicine woman lived on the slopes of the mighty volcano until her death. Her presence was so strong in the region that the volcano now bears her name, translating to "the corner of the old lady.
Another popular volcano is the Irazú Volcano, which is Costa Rica's tallest volcano. At 11,260 ft tall, Irazú is a largely popular destination because it's a fairly easy trek, and the path is home to several rare and exotic species of foliage and animals. Irazú has numerous active craters that range in size from 300ft- 900ft deep. The trek to the top of Irazú provides explorers with breathtaking views and experiences.
When considering a trip to Costa Rica, you should consider visiting these monumental formations. The volcanoes are open to visitors as long as they are not actively erupting, and there are peak seasons to visit them. Check with your travel consultant before planning your trip to ensure you visit them at the optimal time.
Planning a hiking trip abroad? Make sure you are prepared with rabies, typhoid and other key vaccinations from Passport Health. Call 937-306-7541 or book online to schedule your appointment today.
Written for Passport Health by Brittany Evans. Brittany is a freelance writer and photographer in North Carolina. She has a passion for the outdoors, health information, and traveling. You can find her at her website.