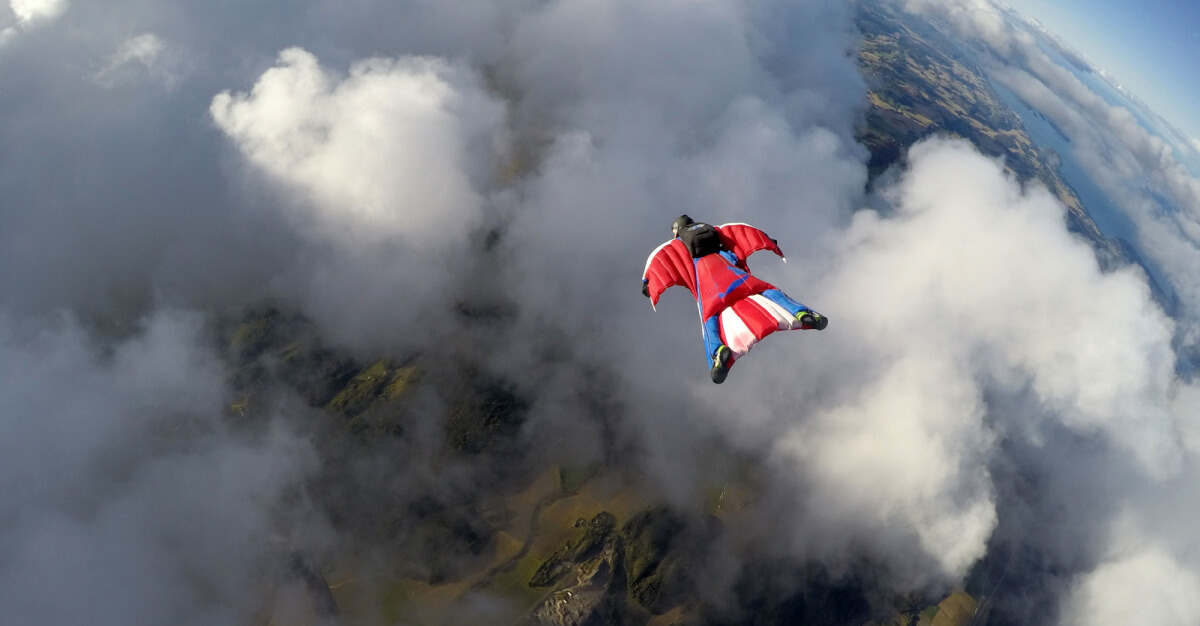 Some people enjoy a larger dose of adrenaline than others. While a rollercoaster or free fall amusement park ride can do it for some, the extreme thrillist needs more of a rush than that. Adrenaline junkies worldwide have produced some of the most interesting forms of excitement known to man.
Skydiving is an elemental way to produce an adrenaline high. While skydiving is becoming more accessible to people via indoor skydiving facilities that are popping up all across the US, the thrill of outdoor skydiving is another adventure in itself. Skydiving over Mt. Everest has become a popular choice for thrill seekers. Skydiving at this altitude requires each diver to follow a special protocol and have an oxygen mask, also known as a HALO jump. The HALO jumps are a rare thrill because of the high price tag and preparation that is required.
Another extreme airborne activity is bungee jumping. More specifically, bungee jumping from the Macau Tower in China. This 764ft jump is the highest bungee jumping site in the world and is on most thrillist bucket lists. To create an even more electrifying experience, the Macau Tower offers bungee jumping at night.
Skydiving and base jumping in a wingsuit are the newest forms of human flight for thrill seekers. Wingsuits are bodysuits that have extra fabric between your arms and hips and between your legs to resemble a flying squirrel. These suits allow you to free fall and glide from a high altitude, allowing you to experience the closest thing to flying. Wingsuits are recommended for experienced divers because you will still need to use a parachute to land safely.
If you enjoy heights but don't want to fly per se, cliff walking in China is an appealing experience. The Mount Huashan plank walk is considered one of the most dangerous hikes in the world. This experience grants thrillist the chance to walk across the side of Mount Huashan on planks that are approximately 2.3 feet wide. At its peak, the plank walk reaches 985 feet in height. This is high enough to pump adrenaline through the most experienced thrillist.
Volcano boarding in Nicaragua is probably the most unique experience on the list. It's not every day that you have the chance to sled the side of an active volcano. The Cerro Negro Volcano in Nicaragua has not erupted since 1999, but Cerro Negro is the ideal location to sled because of the fine volcanic gravel that makes up the surface combined with constant winds to propel the sledder. Once you arrive at Cerro Negro, you will have to hike to the top, which is estimated to take about an hour. Once at the top, you will be dressed in a bright orange jumpsuit and given your board. You can sit (sled style) or stand (snowboard style) as you descend the volcano.
When planning your extreme activities always consider your skill level, and if needed, find an expert to help you make the most of your adventures. Always use safety gear and follow all safety policies. Don't forget to pack a Go Pro to document your experiences!
Make sure you are prepared for your next trip with vaccines and advice from Passport Health. Call 937-306-7541 or book online to schedule your appointment today.
Written for Passport Health by Brittany Evans. Brittany is a freelance writer and photographer in North Carolina. She has a passion for the outdoors, health information, and traveling. You can find her at her website.