With 270+ travel clinics in North America, Passport Health is your local leading provider of travel vaccinations and medications. Prepare your health for travel, visit us before you go.
Passport Health Brampton Travel Clinic
8 Nelson Street West
Suite 201
Brampton
,
ON
L6X 1B7
Find directions to Passport Health Brampton Travel Clinic >>
Are you wondering, "What immunizations do I need for Brazil?" or "Do I need a yellow fever vaccine when traveling to Egypt?" Passport Health can help you! Our travel medicine staff is prepared to provide you with the answers and medications you need for your upcoming trip.
Are you going to a Peru and wondering if you need a yellow fever vaccine? We can help! Our clients are provided with the International Certificate of Vaccination (yellow card) and all our clinics are Designated Yellow Fever Centers by the Public Health Agency of Canada (PHAC).
Concerned about Japanese encephalitis? We offer the vaccine at a competitive price and will advise you on other diseases such as dengue fever, chikungunya or malaria. Mosquito-borne infections are some of the most common throughout the world, let our Passport Health Travel Specialists help you journey worry-free.
Looking for a solution to traveler's diarrhea? The infections that cause the sometimes embarrassing symptom are very common, even in some of the top travel destinations like Mexico and Cuba. Be prepared before you go with Dukoral or a Passport Health Traveler's Diarrhea kit.
Whether you are traveling to China or Germany, Argentina or Bangkok, the travel specialists at Passport Health are able to help with whatever you may need. Yellow fever, typhoid, rabies and malaria; we will help protect you against those things that can hurt you and your peace of mind.
Passport Health Brampton is located on Nelson Street West, near Main Street North. Please call to schedule an appointment with our helpful Travel Health Specialists.
Directions to Passport Health Brampton:
Passport Health Brampton Travel Clinic is located in the downtown area of Brampton, the building where the suite is located is right next to the Brampton Bus terminal and one block away from the Brampton train station located at Railroad Street. Before you travel to your next destination, let us help you take care of your health by calling to schedule your next appointment.

Coming from the city of Toronto by Train
From Union station please make sure to board the KL train, the Brampton station should be the sixth stop, which is the following after the Bramalea Go Station.
Coming out from the station walk on Railroad street towards your right hand, then make a left on Nelson street, the Passport Health Brampton clinic would be at 8 Nelson street west, Suite 201 at the second floor, this whole trip should be done in 45 minutes.
Parking
There is a parking lot right in front of the building for clients at Nelson street, but the access to it is from the Diplock lane alley, right next to George street. There is another public parking lot available in the corner of George Street and Diplock lane.
Meet Our Team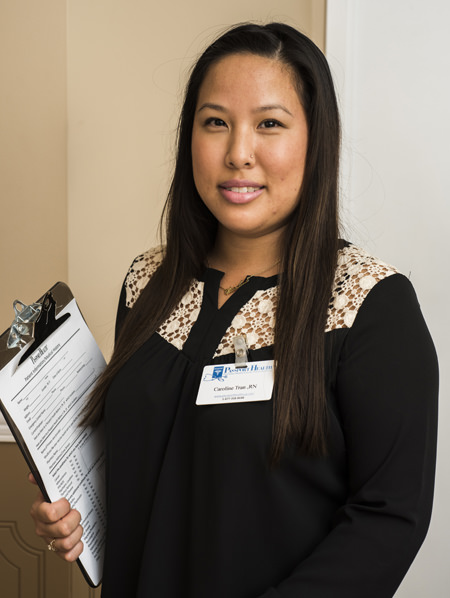 Caroline Tran, RPN
Caroline Tran, Registered Practical Nurse, has been on the Passport Health team since the early stages of operation in 2014. The best part about this job is meeting the amazing clients that come from different walks of life, sharing their travel stories and adventures. Each person and their reason for traveling is so unique and I enjoy hearing each story. I equally enjoy counselling each client on what to expect for the upcoming trip. Each consultation is tailored to the client in terms of how to prepare, what vaccines are recommended or required, preventative strategies and what current health alerts the traveler should be aware of. When a client leaves our clinic fully informed and happy after getting an injection, I have done my job.
Ninad Sanghani GTA, RN
Ninad Sanghani, Registered Nurse, is an international medical graduate (MD) and Family Nurse Practitioner Candidate. He has lived in many countries and is able to speak 5 languages. He is passionate to provide education regarding health promotion and illness prevention. Ninad has experience working in an Emergency Department, Walk in clinics and Geriatric clinic and is able to provide up to date evidenced based information regarding vaccines and medications customized to your travel needs.
Customer Reviews
"

Thorough

"

"Greeted at the door upon arrival. The paperwork was completed prior to that arrival. The nurse was attentive and made the process easy with in depth questions and an understanding of the conditions we would face at destination. Very little down time. In and out in a timely manner."
"

Professional treatment

"

"Was greeted by RPN Caroline Tran and she explained in detail all necessary and recommended Travel Health needs. She came across knowledgable and courteous. I was also provided with detailed customized Travel Health information on the countries of my proposed travel – a very nice touch. Highly recommend this site."
"

Friendly and Professional

"

"A most pleasant experience. All my questions were answered. And was able to save a bit of money too."
"

Fantastic

"

"Caroline was very knowledgeable with the vaccinations that we required to go on our trip. Very helpful and was able to answer all our questions."
"

Amazing Expeirence Ever!!

"

"The nurse that was working their was very professional and kind. She was very informative and kind. She made getting the vaccination one of my best health related experiences ever . Would recommend clinic."
"

Excellent services

"

"The lady at the clinic is very friendly, good personally. She have explained all items very clearly and be able to complete all my questions."
"

Great Experience

"

"I was so impressed with Caroline who was my health care provider. She went to the extreme to make me feel comfortable and also provided me with detailed and important information regarding my Country of travel. I would recommend your service to everyone whom is looking for travel health vaccines and also important information needed for your destination."

Submitted by:

Christopher
"

Exceptional service

"

"I was extremely please with the service I received today. I was quite nervous going in, and now I feel safe and confident for my upcoming trip. Caroline was so helpful, knowledgeable and friendly. I would definitely recommend to everyone!"
"

Worthwhile

"

"Caroline was great, knowledgeable! Took the time to answer questions and curiosities. Offered good advice and suggestions. Provided comfort and confidence about having a healthy and happy vacation abroad."
"

Great!

"

"Don't let the exterior deceive you! Once I entered the clinic, I can attest that it was a professional working, clean and safe environment!"
"

Caroline does a great job for your company.

"

"Caroline, was most knowledgeable; very customer orientated; punctual; courteous and some we would like to work with again"
"

Impressed

"

"I was impressed by the package presented to help prepare for my travel plans. Caroline was very knowledgeable and a pleasure to meet."
"

Great service

"

"Thank you for all the information and inserting all the extra questions. Caroline was fantastic to at helping me out and provided a painless delivery. (a.k.a needle) Thanks"
"

Best travel clinic

"

"Good nurse, excellent service, and proper advice."
"

Excellent services

"

"The lady at the clinic is very friendly, good personally. She have explained all items very clearly and be able to complete all my questions."
"

Excellent Service!

"

"I've had the opportunity to visit both the Brampton and Lakeshore locations. Both facilities are clean and the staff amazing! I have a fear of needles and they took their time to treat me. I never felt rushed. My appointments started on time. I received full instructions on my treatment and felt like I could ask questions. I was able to contact the office by phone and email with additional concerns when I missed taking my medication. I felt completely prepared for my trip to South America and stayed healthy and safe. The clinic also provides additional location specific travel facts and information which is very useful to read over in preparing for a trip. Thank you"
"

Very good service ( Carolina )

"

"Very good customer serve by the nurse. I wish the price for consultation will be cheaper."
"

Passport Health-Brampton

"

"Caroline at PH Brampton was amazing! My wife & I had completed our medical histories online so when we got to our meeting Caroline was right on time & was totally prepared for us. She had a print out of possible vaccines with prices for us to consider. She was enthusiastic about explaining everything, answering our many questions & making sure we understood. There was no hard sell involved. We will definitely see her again before our next trip."