Photography by Bryan Pereira
With 250+ travel clinics in North America, Passport Health is your local leading provider of travel vaccinations and medications. Prepare your health for travel, visit us before you go.
Passport Health Brampton Travel Clinic

49 Hillcrest Ave
Unit 207


Brampton

,

ON

L6W 4V4
289-201-3948

Get directions to Passport Health Brampton >>
Are you wondering, "What immunizations do I need for Brazil?" or "Do I need a yellow fever vaccine when traveling to Egypt?" Passport Health can help you! Our travel medicine staff is prepared to provide you with the answers and medications you need for your upcoming trip.
Are you going to a Peru and wondering if you need a yellow fever vaccine? We can help! Our clients are provided with the International Certificate of Vaccination (yellow card) and all our clinics are Designated Yellow Fever Centers by the Public Health Agency of Canada (PHAC).
Concerned about Japanese encephalitis? We offer the vaccine at a competitive price and will advise you on other diseases such as dengue fever, chikungunya or malaria. Mosquito-borne infections are some of the most common throughout the world, let our Passport Health Travel Specialists help you journey worry-free.
Looking for a solution to traveler's diarrhea? The infections that cause the sometimes embarrassing symptom are very common, even in some of the top travel destinations like Mexico and Cuba. Be prepared before you go with Dukoral or a Passport Health Traveler's Diarrhea kit.
Whether you are traveling to China or Germany, Argentina or Bangkok, the travel specialists at Passport Health are able to help with whatever you may need. Yellow fever, typhoid, rabies and malaria; we will help protect you against those things that can hurt you and your peace of mind.
Passport Health Brampton is located on Hillcrest Ave, just south of the Kennedy Rd. Please call to schedule an appointment with our helpful Travel Health Specialists.
Directions to Passport Health Brampton:
Passport Health Brampton is centrally located in the Brampton area. The office is located on the second floor building across the street from Kal Tire. Before you travel to your next destination, let us help you take care of your health by calling to schedule your next appointment.
Highway Driving Directions:
If traveling North on 410, exit left at the Queen St. exit. Make a left on Kennedy road. It will be the second plaza on the right (the first right).
Meet Our Team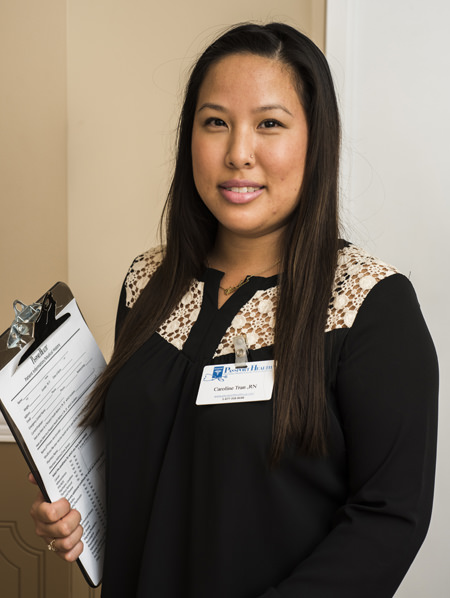 Caroline Tran, RPN
Caroline Tran, Registered Practical Nurse, has been on the Passport Health team since the early stages of operation in 2014. The best part about this job is meeting the amazing clients that come from different walks of life, sharing their travel stories and adventures. Each person and their reason for traveling is so unique and I enjoy hearing each story. I equally enjoy counselling each client on what to expect for the upcoming trip. Each consultation is tailored to the client in terms of how to prepare, what vaccines are recommended or required, preventative strategies and what current health alerts the traveler should be aware of. When a client leaves our clinic fully informed and happy after getting an injection, I have done my job.
Customer Reviews
"

Good Experience

"

"Great clinic, the assisting nurse was really knowledgeable and friendly."
"

Very Good

"

"The nurse was knowledgeable. She was very friendly and polite. She was amazing with my children age 2 and 5 months."
"

Great Service

"

"Great service quick and knowledgeable. Will be going back"
"

Great!

"

"Don't let the exterior deceive you! Once I entered the clinic, I can attest that it was a professional working, clean and safe environment!"
"

First Visit

"

"First time we've been to this clinic. Lisa was very thorough in her explanations of what vaccines we should have, as well as ways to avoid common issues."