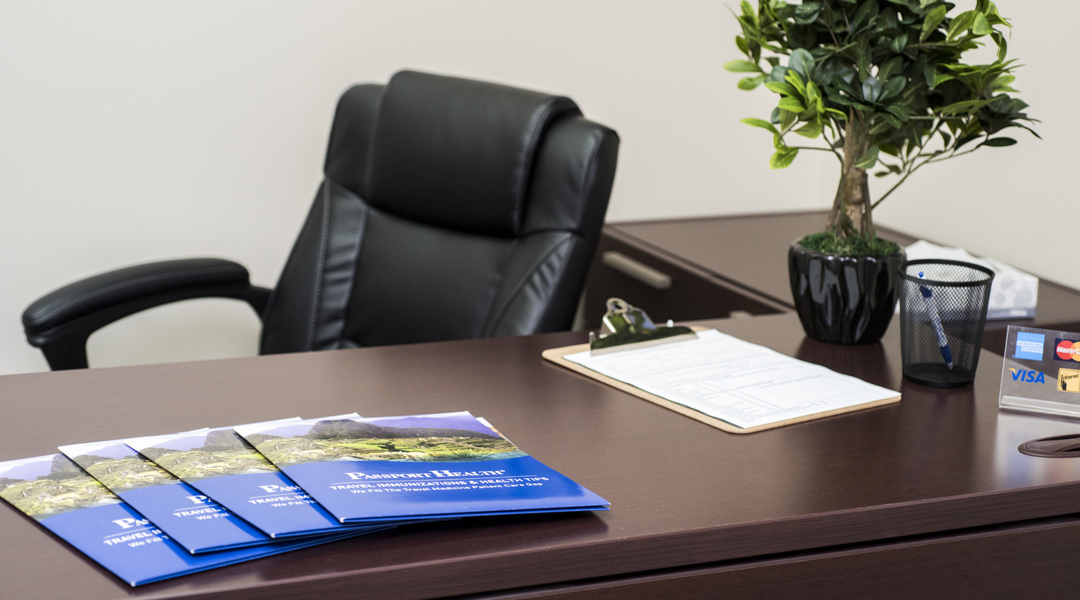 With 270+ travel clinics in North America, Passport Health is your local leading provider of travel vaccinations and medications. Prepare your health for travel, visit us before you go.
Passport Health Kitchener Travel Clinic
684 Belmont Avenue West
Suite 304
Kitchener
,
ON
N2M 1N6
Find directions to Passport Health Kitchener Travel Clinic >>
Are you asking, "What vaccines do I need for Brazil?" or "Do I need a yellow fever vaccine when traveling to Africa?" Passport Health is here to help! Our expert travel medicine staff is ready to provide you with the answers and medications you may need for your upcoming trip.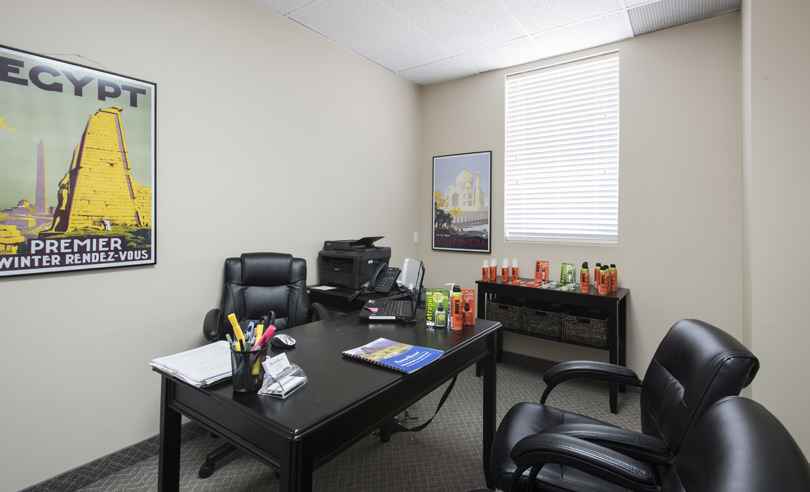 Are you going to a Colombia and wondering if you need a yellow fever vaccine? We can help! Passport Health clients are provided with the International Certificate of Vaccination (yellow card) and all our clinics are Designated Yellow Fever Centers by the Public Health Agency of Canada (PHAC). Also, our travel health specialists use up-to-date information provided by Health Canada, the Centers for Disease Control and World Health Organization to help you know whether you need the vaccine and administer it to you.
Concerned with Japanese encephalitis? We offer the vaccine at a competitive price and will advise you on other diseases that may be present such as dengue fever, chikungunya or malaria. Mosquito-borne diseases are some of the most common throughout the world, let our Passport Health Travel Specialists help you travel worry-free.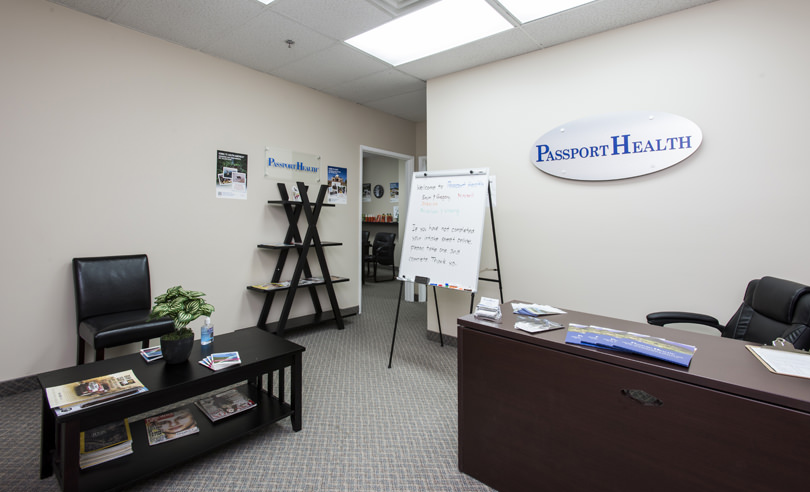 Looking for a solution to traveler's diarrhea? The infections that cause the sometimes embarrassing symptom are very common, especially in some of the most popular travel destinations like Mexico and Cuba. Be prepared before you go with Dukoral or a Passport Health Traveler's Diarrhea kit.
Whether you are traveling to China or Cameroon, Brazil or Bangkok, the travel specialists at Passport Health are able to help with whatever you may need. Yellow fever, typhoid, rabies and malaria; we will help protect you against those things that can hurt you and your peace of mind.
Passport Health Kitchener is located on Belmont Ave W, just north of Glasgow Street. This clinic is now open Saturdays. Please call to schedule an appointment with our knowledgeable Travel Health Specialists.
Directions to Passport Health Kitchener:
Passport Health Kitchener is located two blocks away from Grand River Hospital. It is on the intersection of Belmont Avenue and Glasgow St. There are plenty of free parking spaces located at the back of the building. Appointments are available at this location Monday, Tuesday, Friday and Saturday.
From 401 Macdonald-Cartier Fwy:
Take the exit 278 for ON 8 toward Kitchener/Waterloo, continue on ON-8 for 7 km, continue on King St. East take Courtland Avenue East and Park St. to Belmont Avenue. This will take you approximately 19 min.
Via Public Transport:
From Kitchener City Hall- 8 (towards university via Frankin and Westmount) – this will take you 12 minutes with 16 stops until you reach Belmont/Claremont the building is right beside the bus stop OR 4 (towards Glasgow) – this will take you 19 minutes with 23 stops until you reach Glasgow/Belmont and have to walk for 2 minutes going towards the direction of Rexall Pharma plus. The building is right before the pharmacy.
Meet Our Team
Coming Soon
Customer Reviews
"

Visit

"

"Friendly personnel. Was given list of vaccines I needed for protection at my destination. I accepted some and declined others. ie. No pressure. Administration wise appointment times were very flexible and I received e-mail reminders regarding appointments."
"

Great Experience

"

"Sandra was very knowledgeable and understanding when I told her I had a history of fainting from needles! She was very professional and took the time to explain everything to myself and my fiance, Brandon. We felt very comfortable with her advice and now feel safe for our trip! Thank you Sandra!"
"

Vaccinations Good to Go

"

"Passport Health has good hours, for those who work. The clinic is is efficient and helpful."
"

Excellent customer service

"

"My nurse went above and beyond in order to ease the experience for me. I really appreciate it! I was coming from out of town and she made sure to set an appointment that would work for me, even though it meant juggling her own schedule."
"

Best RPN

"

"She was very pleasant and calm"
"

Informative & Helpful

"

"The clinic was easy to access, no wait time, and friendly technician. I received a detailed list of recommended vaccinations, and was able to make informed decisions on the ones I wanted. The costs were reasonable, and more affordable alternatives were offered."
"

Great Service

"

"The lady who I had my appointment today was great. She was kind and knowledgable. She didn't waste time or force extra unneeded vaccinations on me."
"

Great clinic in kitchener

"

"The nurse that I saw, Sandra, was very nice, knowledgable and made me feel at ease. She gave me good advice without overwhelming me. I would recommend passport health kitchener to anyone who needs a travel consultation and vaccinations!"
"

Quick and efficient

"

"Clean bright office. Appointments were running on time. Friendly competent staff."

Submitted by:

Christopher
"

Excellent Service

"

"The nurse was very thorough in explaining each vaccination and drug, adapted to my specific needs (providing anti-malarial drugs even though I'm in a lower-risk area because I'm prone to bites), and was quick and careful with the vaccinations."
"

Great Experience

"

"Had a wonderful experience at the Kitchener clinic with Sandra. She was super helpful and made sure I was well educated on all the vaccines recommended for my travel destination. She answered all my questions in an easy to understand manner, and I felt at ease when deciding which vaccines I would be receiving. I would recommend this clinic to any family and friends looking to travel and will be returning for future vaccines/travel medication."
"

Excellent Staff

"

"Super personable nurse who made me (a chicken) feel very comfortable. She was very knowledgeable and sweet."
"

Awesome

"

"There were 5 clients at 7:30AM to receive Yellow Fever vaccination. Sandra was fantastic, took each client in order they arrived. I needed an additional injection that visit for Twinrix, so once all yellow fevers were administered, she was able to give final shot before our departure on our trip!! Well done Sandi."
"

Very Helpful

"

"The process to sign up and fill out my medical history was quick and simple, and the staff was super helpful. Highly recommended!"
"

Experience at Belmont Village Passport office

"

"Service was excellent. The Nurse was very knowledgeable and informative and did an great job with the administration of the needle. Exceptional customer service."
"

Review for Kitchener office

"

"We are traveling through the Children's Wish Foundation. Because we have never been to this destination I had a Lot of questions and concerns. I sw nurse Beatrix prior to making appnt and she was very welcoming and calming. She took time to communicate with me via phone and follow up with emails to continue to assist us and our family. Thank you so much Beatrix, we are so glad we went to Passport Health! Once in the office we met Sandra. Sandra was very thourough, patient and informative. We went with a family of 4 who all needed different things and all have different health and allergy concerns. She was very organized and super friendly!Thanks for all the info Sandra, You Rock Girl! We will definitely be going to Passport Health in the future if we need any further assistance. I also have already recommended them to family as well as friends whom travel frequently."