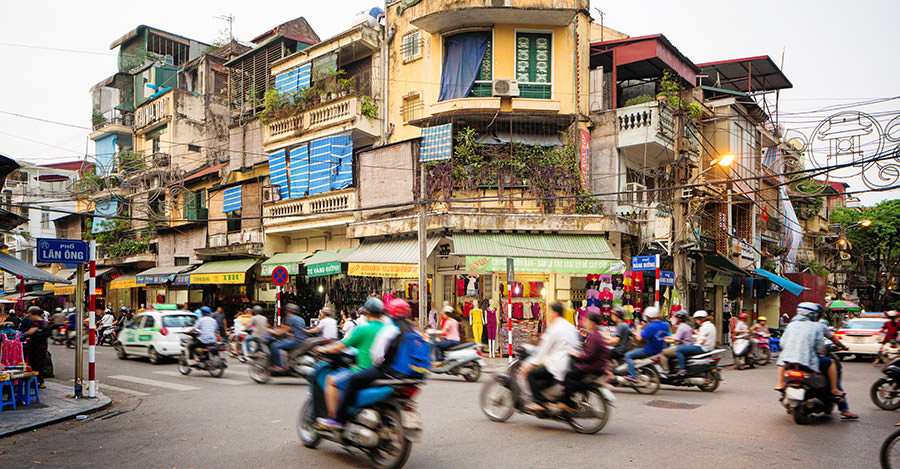 Vietnam is a land bathed in natural beauty. Lush valleys extend below cloud-piercing mountains and blue-green rivers wind their way through the countryside.
In contrast, Vietnam's major cities are large and cosmopolitan. A diverse cuisine characterized by the freshest ingredients and a disciplined application of spices.
Together, the mix of old and new makes the country a must-see for any traveller. But, it's important to make sure you are ready for your journey. Vietnam is a developing nation and a little extra preparation is needed for any trip.
Which Vaccinations Do I Need for Vietnam?
There are plenty of reasons to travel to Vietnam, but it's important to be healthy during your trip. Mosquito- and foodborne illnesses are common in Vietnam. Take proper precautions before you leave to ensure an exciting, safe and fulfilling visit.
The Public Health Agency of Canada recommend the following vaccines for Vietnam:
What Else Can I Do To Stay Healthy In Vietnam?
Vaccinations are just the first part of preparing Vietnam. Unfortunately, not every infection or situation is vaccine-preventable. Some things need extra awareness or just a few more items in your bag.
Traveller's Diarrhea– This symptom of an infection affects up to 70 percent of travellers worldwide. Vietnam is no exception. Consider bringing a traveller's diarrhea kit containing a remedy like DiaResQ.
Dengue Fever– This mosquito-borne disease is present in Vietnam. Cover exposed skin by wearing long-sleeved shirts, long pants, boots, and hats. Consider using a bednet when sleeping, especially if you'll be outside.
Zika Virus– The WHO reported a few cases of Zika in Vietnam in early 2016. Zero cases have been reported since that time. The PHAC advises travellers take precautions to avoid the virus.
Reduce Exposure to Germs– Wash your hands with soap often. Washing your hands with soap and water before eating can prevent a variety of infections. If soap or clean water are not available use a sanitizer with at least 60% alcohol.
Theft– Petty crime against tourists is increasing, particularly in larger cities. Try and travel in groups, and be aware of your surroundings. Motorcyclists sometimes try and snatch purses or shoulders bags from travellers. Cut a bag open to get to the contents is another common practice. Try to limit displays of affluence or wealth while in public.
Travelling Within Vietnam– Try and stick to areas that you have familiarized yourself with. Travel in authorized, official taxis and NEVER share a taxi with a stranger. Driving standards are poor and road maintenance is worse. In Vietnam, be an alert and defensive pedestrian.
Where Should I Visit In Vietnam?
Hanoi– Ancient buildings and glass skyscrapers decorate the 1000 year-old skyline. This city houses much of country's foodie-culture, allow tourists to taste authentic Vietnamese cuisine.
Ha Long Bay– This beautiful region draws scuba divers, rock climbers and hikers to its emerald shores. The jungle-topped, limestone islands tower above the bay creating a beautiful views.
Cu Chi Tunnels– A historic tunnel system located about 40km northwest of Ho Chi Minh City. These were used as a base of operations for the Viet Cong during the Tet Offensive of the Vietnam War in 1968. Some of the areas of this interconnected system of passages are open to tourists.
Do you have any sightseeing recommendations for other travellers headed to Vietnam? Any crucial travelling tips for a better experience? Let us know by visiting us on Facebook or leaving us comment on Twitter!
Are you planning a trip to Vietnam? Call Passport Health at or book online to schedule a consultation with one of our travel health specialists! Together, we can develop a plan to keep you safe while you explore what the world has to offer.