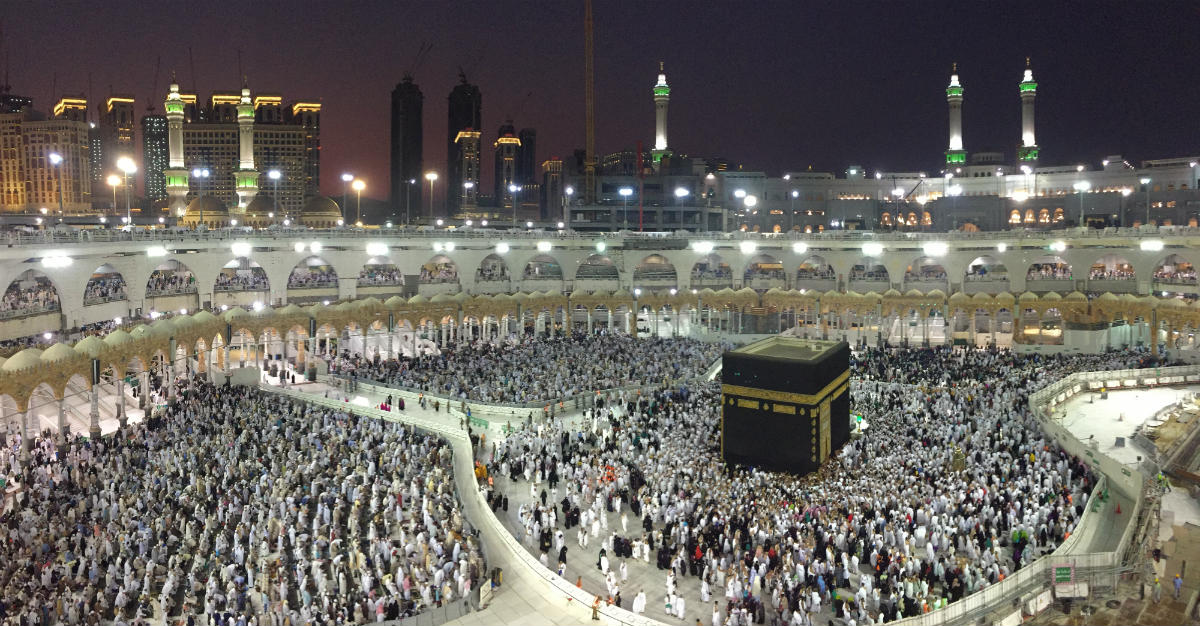 Millions of Muslims travel to Mecca, Saudi Arabia in the last month of the Islamic lunar calendar to perform a five-day pilgrimage called "Hajj".
The Hajj is a compulsory event that must be experienced at least once by every able-bodied adult Muslim who can afford to do so. In 2018, many took their chance to make the journey on the 19th of August.
But what health risks does the pilgrimage come with, and what can participants do to handle them?
General Health Risks of Hajj:
In his piece for Science, Former Deputy Minister of Public Health for Saudi Arabia Ziad A. Memish lists some telling statistics about the journey. Of the pilgrims traveling for Hajj, many lack access to good health care and/or are already at risk for illness due to other factors.
Memish states that nearly half of Hajj pilgrims are 56 years of age or older and about half already have health conditions. Two-thirds of the travelers also come from countries with low income and 18 percent come from countries facing conflict. These stats show that forming epidemics can easily go undetected and turn Hajj into a hotspot for disease.
The crowds of the event allow respiratory illnesses in particular to thrive. MERS, for example, is fatal for about one in three cases and should not be taken lightly.
Contagious diseases aside, the heat can also prove to be a potent threat. Temperatures in Mecca this week ranged from a low of 82 F to a high of 112 F, and the sun was in full force.
Should I be concerned about nearby outbreaks?
Whether in Saudi Arabia or in a nearby country, outbreaks can cause significant trouble.
For example, in December 2017 the Red Cross shared that 1 million Yemenis were infected with cholera. Yemen's ongoing cholera crisis is now considered the world's worst recorded outbreak. Travel can easily make epidemics worse, especially with notably contagious illnesses such as cholera and measles.
How do officials try to protect participants?
Saudi Arabian health experts set up immunization requirements, visa limits, healthcare facilities and other similar precautions to ensure that things run as smoothly and safely as possible.
Certain vaccines are required in general and depending on a traveler's country of origin. Proof of immunizations such as yellow fever and polio may be necessary.
Recommendations are made to create a strong environment. Children and pregnant women are advised not to take part in Hajj because of the risk. Visas for visitors from endemic countries may be limited or not permitted at all.
Temporary hospitals and clinics with more than 5,000 hospital beds are opened every year. That number does not include the available space at established hospitals in the area. Treatment is free for pilgrims.
Mobile surveillance teams are tasked with helping the people and recording valuable data. A total of 25,000 healthcare workers have been deployed and will treat pilgrims. Workers also collect epidemiological data and biological samples to be shared and published. Newsweek explains the importance of this date to, "inform ongoing humanitarian interventions and international health security efforts." They add that this info could help with new viruses and diseases. Knowledge about these new pathogens could better protect the world against a possible epidemic.
What should I do to perform the Hajj pilgrimage safely?
Preparation is necessary for both personal health and legal reasons. Take the time to understand what you need to do to protect yourself and why.
Get your vaccines. The CDC recommends travelers to Saudi Arabia to be up-to-date with routine immunizations plus hepatitis A, hepatitis B, polio and meningitis. Remember that certain vaccinations such as yellow fever, influenza, polio and meningitis may be required for Hajj.
Don't underestimate the heat. Remember to keep hydrated, use sunscreen and stay in the shade. Consider taking an umbrella to ensure you are out of direct sunlight whenever possible.
Do your research. Some of the common dangers at Hajj may not have occurred to you. There's a danger of stampes or a frustrating diarrheal disease. After hours of walking, chafing can even ruin the pilgrimage. Many hidden risks can await travelers during Hajj. The same idea is true with outbreaks in nearby countries. With care, these problems do not have to ruin your experience – read up on advice from authorities like the CDC.
Though vaccinations and surveillance records, temporary hospitals and clinics can greatly assist travelers. It's important for travelers to be aware of the risks and how to deal with them before leaving.
Have you or someone you know ever traveled for Hajj? Did you know about the health risks of the pilgrimage? Let us know in the comments below, or via Facebook and Twitter.
Written for Passport Health by Katherine Meikle. Katherine is a freelance writer and proud first-generation British-American living in Florida, where she was born and raised. She has a passion for travel and a love of writing, which go hand-in-hand.