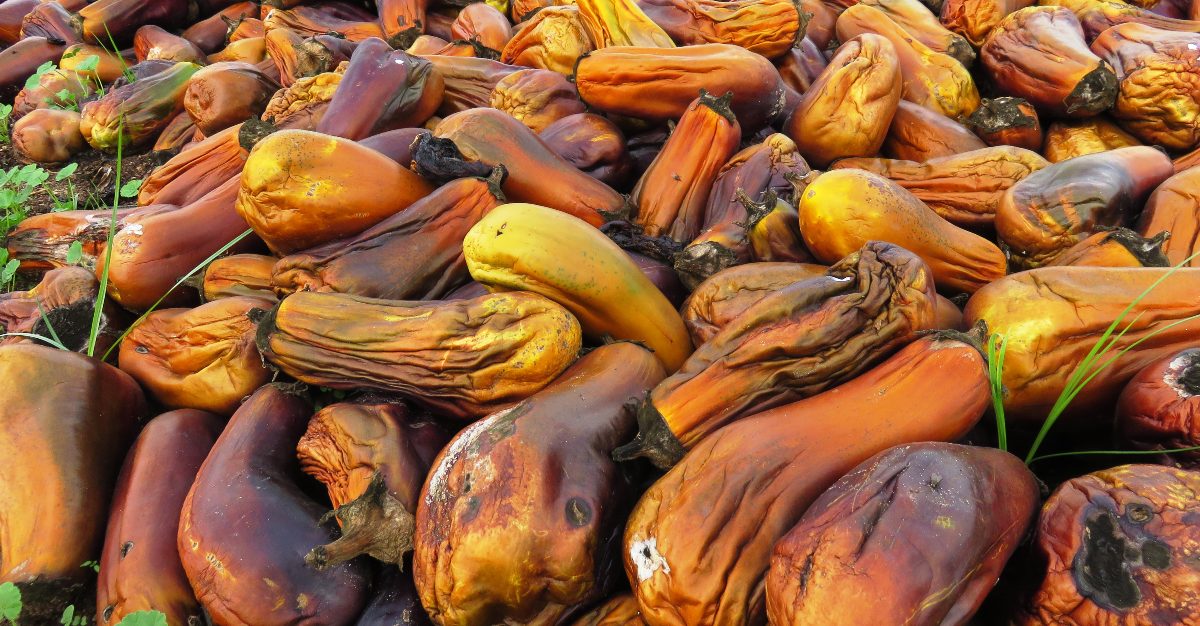 Experimental medicine has long been a staple when it comes to treating disease.
A rudimentary smallpox inoculation centuries ago led to the first vaccine, but recently we've also seen many new ideas. Odor profiling is now used to find asymptomatic malaria patients and new immunotherapy techniques can expose and eliminate HIV.
But still, these experimental solutions can come from even more surprising sources. Recently, that source is muck from a partially decomposed eggplant. That treatment has already ended up playing a major role in giving life back to one young cystic fibrosis patient in 2017.
Why Did They Even Try to Use Rotten Eggplant for a Treatment?
An unusual turn-of-events led to this unexpected solution, starting in 2010. That's when a South African University of KwaZulu-Natal student Lilli Holst submitted samples for a class studying bacteriophages. Those viruses, often referred to as phages, invade, hijack and destroy bacteria while using it as a breeding ground.
Affectionately named "Muddy", Holst's eggplant phage and several others were then sent from the South African school to the University of Pennsylvania. There, they joined microbiologist Graham Hatfull's collection of bacteriophages. With an impressive 15,000 vials, the world's largest phage collection was built from submissions sent by students all over the globe.
Seven years later, Hatfull went through countless of these bacteriophages after receiving a call to help a pair of teens, a girl and a boy, at Great Ormond Street Hospital in London, England.
The young patients received double lung transplants to help fight the effects of cystic fibrosis (CF). The terminal progressive disease is known for affecting the respiratory and digestive systems. After receiving the transplants, the patients then suffered devastating bacterial infections.
What is Cystic Fibrosis?
By making the bodies' natural mucus thicker and stickier, CF also makes this mucus harder and harder for patients to cough out. The buildup can lead to severe lung infections and difficulty breathing. Other complications can include osteoporosis, reproductive problems, diabetes and more.
Cystic fibrosis affects 30,000 people in the United States and 1,000 new cases are diagnosed every year. Medical News Today shares that 75% of these diagnoses are made in children under two years old. For those infected children, CF would have been fatal within a few years of diagnosis only 60 years ago.
There is currently no cure for cystic fibrosis and the average age of patient death is just under 40 years old. This number is continually rising over time.
In most cases, cystic fibrosis patients can enjoy a relatively normal, active life with proper management.
How Did the Experimental Phages Help These Patients?
For countless people affected by CF, lung transplants offer a life extension. As of 2013, 150 to 200 patients receive transplants every year and of these, over 50% are alive after five years.
But, even after their double lung transplants, the two London teenagers experience complications. A bacterial infection took hold in the surgical wound and beyond, causing major problems.
First the infection resisted all antibiotics. Then, it spread to the limbs, buttocks, torso, liver and skin. Doctors were forced to settle on no real hope of treatment and both patients were put on palliative care.
It was at this point that Hatfull was contacted for, as Wired writer Megan Molteni put it, a Hail Mary.
Hatfull and his team looked through his vials for the right virus to beat the infection. They settled on Muddy, which consistently eradicated the exact strain of M. abscessus bacteria which caused so many problems for traditional treatment methods.
Although, the search wasn't quite over yet.
A "Frankenstein's Monster" of Phages Helped Treat Cystic Fibrosis
Bacteria is a flexible fighter. It can quickly evolve to fight back against a particular phage.
Hatfull took action to prevent this from happening. He took two peaceful bacteriophages, which normally hide out in a host rather than destroying it, and deleted the gene that held them back. Hatfull then added them with Muddy to make a "phage cocktail" which would ultimately prove successful.
Unfortunately, the treatment did not come soon enough for the male teen, who died before the phage work was finished.
But for Isabelle Carnell-Holdaway, the phage therapy was a literal life-changer.
Carnell-Holdaway received a full six months of injections and topical treatments. In that time she went from being tube-fed and speaking monosyllables to resuming normal activities such as school, baking and social media. In less than a year palliative care turned into "very good general health" – thanks largely to Muddy.
The success of from this treatment can't be replicated for every bacteria-related illness. In fact, scientists specifically note that the phages were uniquely tailored for this particular strain of the bacteria M. abcessus. But, the experimental solution could have major ramifications for more than this now 17-year-old girl. The scientific community as a whole could benefit thanks to this wildly experimental idea.
Though phages have been used to treat bacterial infections before, this is the first-ever known use of engineered phages in a human patient.
As a result, this success marks a huge triumph for those studying phage therapy. Several in the field even say they had been eagerly hearing rumors about the event for months before the press release was published in 2019.
Carnell-Holdaway herself described the victory well, saying this: "I think it's amazing. It kind of shows that there is completely no limit to what they can come up with really."
Had you heard of bacteriophages before? Did you know viruses could help fight infections? Let us know in the comments below, or via Facebook and Twitter.
Written for Passport Health by Katherine Meikle. Katherine is a research writer and proud first-generation British-American living in Florida, where she was born and raised. She has a passion for travel and a love of writing, which go hand-in-hand.