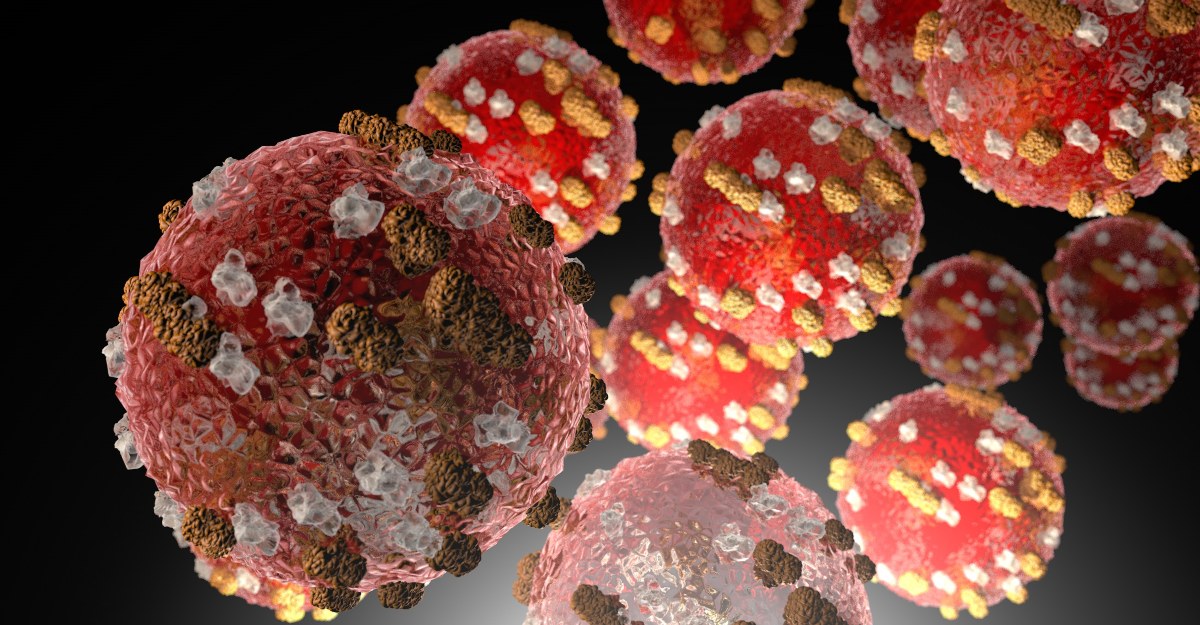 In the 56 years since the measles vaccine was created, we've made significant strides in fighting the virus. Even in this century alone, deaths due to measles have dropped significantly.
According to the World Health Organization, measles caused 110,000 deaths worldwide in 2017. That may still be an alarming amount, but it's 80% less than the 545,000 deaths in 2000.
But, as we've seen around the world this year, vaccine hesitancy has caused a resurgence in cases and outbreaks.
Even in the cases where measles isn't deadly, those who survive the infection have an increased morbidity and mortality. Up until recently, the reasons behind the increased morbidity and mortality were poorly understood. A new study shows that there are dangerous effects even for those who catch and are cured of measles.
What is the Measles?
Measles is a serious viral disease, but is easily preventable by the measles, mumps and rubella vaccine.
Symptoms of measles resemble those of a cold, such as a fever, cough, runny nose, and watery eyes. What makes the measles different from a cold is that it can get much more serious with life-threatening symptoms. Two of the most distinguishable signs of illness are the koplik spots and the measles rash.
Koplik spots are white spots surrounded by a red ring found inside the mouth. They're an early sign of measles.
The measles rash causes reddish-brown spots which can become raised. The rash first develops on the face, then spreads over the entire body. The spots can join together and also cause a fever to spike above 104° Fahrenheit. They can last for over a week before being healed.
The measles, mumps, and rubella vaccine can easily prevent contracting the measles.
Although, if you've never had the measles vaccine and you catch the virus, there are no antibiotics to treat the measles, because it's a viral infection. The best forms of treatment are acetaminophen, ibuprofen, rest and plenty of water.
Effects of the Measles
Even after a bout with measles and its dangerous short-term effects, the virus isn't done causing problems. We already know that there are long-term effects to surviving measles, which can be even more serious. These effects include blindness, extreme dehydration, ear infections, pneumonia, and encephalitis.
Encephalitis is an extremely serious condition that often results in permanent brain damage. It's a fairly rare condition that typically occurs in a person who has had neurological and respiratory complications along with measles.
Another effect of the measles, which was only recently understood in a new study, is immune system amnesia.
Immune System Amnesia
Being cured from the measles can lead to many lasting effects, but one of the most dangerous of those is immune system amnesia.
When your body is infected with measles, the virus kills cells that make antibodies. After a vaccination or infection, our body builds up those antibodies to fight off future infections and diseases. When they are killed by the measles virus this is known as immune system amnesia.
This isn't only the recent antibodies being killed either. Throughout childhood, a person develops their immune system with those antibodies. After exposure to various diseases as a child, our bodies remembers the infections and is prepared to fight them if we ever come in contact with them again.
This memory is what's erased, causing immune system amnesia.
Dr. Michael J. Mina of the Harvard Medical School and Brigham and Women's Hospital led a study on immune system amnesia. Mina said choosing not to vaccinate your child can be dangerous, because of the chance that they may catch the measles. By not getting a measles vaccination, it's risking the chance of over 50% of your child's immune system memory to be erased.
A recent study found that surviving the measles can cause 11-75% of antibodies to be erased.
With the loss of such a large portion of immune memory, people who have been cured of the measles are vulnerable to future infections and diseases, even ones that they were previously vaccinated for. Doctors involved with the study said the only way to rebuild this immunity is to be revaccinated or exposed to infections again.
Did you know the body could forget how to fight some diseases? Would the risk of Immune System Amnesia make you more likely to get a vaccination? Let us know in the comments, or via Facebook and Twitter.
Written for Passport Health by Elle Johnson. Elle Johnson is a senior multimedia journalism student at the University of South Carolina. Johnson is graduating with a bachelor's degree in December and is a freelance writer in her free time.