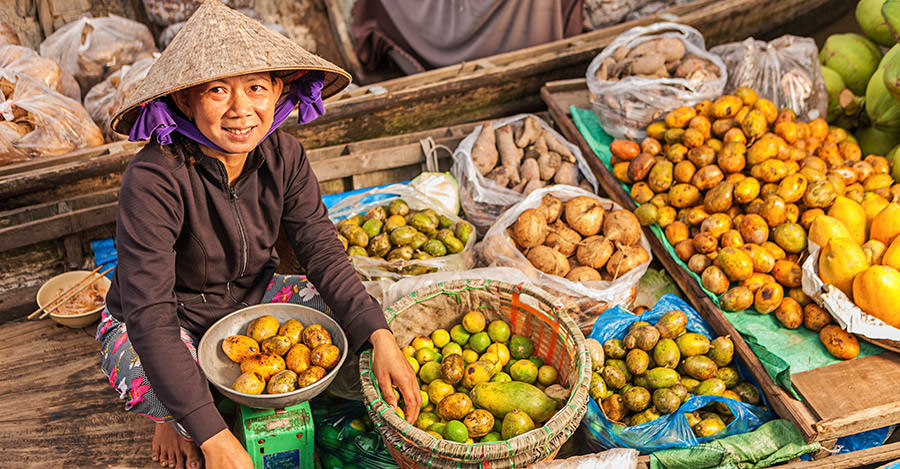 Vietnam is extraordinarily rich in culture and natural beauty. The landscape, way of life, architecture and cuisine vary immensely across the country, although it only spans 329,569 square kilometers–roughly the same size as Germany.
With so much to experience and the low cost of living, it's quickly becoming a popular destination for adventure seekers, backpackers and casual travelers alike. The low cost of domestic flights (as low as $60CAD) gives travelers the flexibility to see a whole lot in a relatively short amount of time. Oftentimes, the best way to uncover hidden gems and insider travel tips is through word of mouth–by chatting with the locals and fellow backpackers. If you're planning your next trip to Vietnam, don't miss these incredible top 5 places to explore.
1. Hoi An: The Magical, Paper Lantern Beach Town
Relax on the white sandy beaches, feast on delicious fresh seafood, or drive 20km along the coast to Da Nang and hike up the Marble Mountains–a cluster of hills made of marble and limestone. Nestled atop, you'll find buddhist sanctuaries and pagodas.
At night is when the magic unfolds. Visit the Old Town in Hoi An shortly after sunset to be mesmerized by the thousands of colourful paper lanterns that illuminate the night sky. Make a wish and release your own candlelit lantern into the riverside.
The Old Town is filled with Japanese merchant houses, Chinese temples and ancient tea warehouses alongside trendy boutiques, and lively restaurants serving up mouth-watering dishes. You can stop by a tailor shop to order a custom-made suit for a fraction of what you'd typically pay.
2. Sapa: Get Lost in the Countryside's Luscious, Vibrant Rice Fields
From the city of Hanoi, home to one of Vietnam's hub international airports, you can take a train northwest to the remote town of Sapa. In the nearby villages, you'll find the serene terraced rice fields so often depicted on postcards and travel websites. Take a leisurely stroll through the paddy fields and observe the farmers harvesting the grain.
The people of Vietnam are peaceful, generous and take pride in their country and culture. In Sapa, this is especially evident. Often, they will invite you to learn about their beautiful handicrafts such as hand-woven textiles. You're more than welcome to explore the different villages around Sapa and discover the hill tribe ethnic minorities. Sapa is home to many tribes, such as the Black Hmong, Red Dzao, Tai, Thai, and Phù Lá.
Be ready to encounter a variety of wildlife roaming freely, from mountain goats and water buffaloes to piglets and chickens. It's common to see children riding atop the water buffaloes. When you wave, their faces light up with delight. They love to say, "hello" and practice their English. Before heading off to your next adventure, be sure to sample the steamed bamboo, garlic stir-fried water spinach, and lemongrass with honey tea.
3. Dong Hoi: See the Spectacular Limestone Formation in the Thiên Đường Cave
Although not quite easy to get to, this gem is worth the trip. The Thiên Đường Cave (Paradise Cave) is located in Phong Nha-Kẻ Bàng National Park, a UNESCO World Heritage Site. It was discovered by a local man in 2005, and was opened and deemed safe for tourism in 2010. Tourists can explore 1km out of its impressive 31km in length, and are often awed by the beautiful stalactites and stalagmites.
4. Halong Bay: Coast Along the Emerald Waters and Sky-high Limestone Islands
In a short two-day trip, the very best of Halong Bay can be experienced through guided tours aboard professionally-run boats. Some offer all-inclusive packages featuring canoeing, swimming along secluded beaches, cooking classes, and more. However, being surrounded by the beautiful emerald water and the towering limestone islands, topped with rainforests, is what makes the trip worth it.
Pay attention to the routes offered by different guided tours and consider selecting one that offers alternate routes away from the crowds, such as Treasure Junk Boat from Handspan Travel Indochina.
5. Ho Chi Minh City: Immerse in the Hustle and Bustle of the Country's Largest City
Ho Chi Minh City (commonly known as Saigon) is recognized for the pivotal role it played in the Vietnam War, as well as its French colonial architecture, cultural diversity, countless food stalls, rich history, museums, shopping, and organized chaos. If anything, visit Ho Chi Minh to be hypnotized by the thousands of motorcyclists weaving in and out of traffic during rush hour like a uniform sea of fish.
Typically, Vietnamese people eat pho for breakfast, which is a broth-based soup with rice noodles and herbs, primarily served with either chicken or beef. Visit the food stalls shortly after sunrise to experience this famous dish like the locals do.
Prior to traveling to Vietnam, be sure to book an appointment with your Passport Health Travel Medicine Specialist in order to take the necessary health and safety precautions. The Public Health Agency of Canada recommends visiting a travel clinic to receive the following immunizations:
The recommendations will vary depending on the particular location you plan to visit and your needs. Learn more about these vaccinations and Vietnam by visiting our vaccination and Vietnam pages.
If you are planning a trip to Vietnam or any other destination, don't forget to visit your local Passport Health. Our nurses will provide you with the expert care you need to stay safe on your journey. To schedule an appointment at your local Passport Health clinic, or book online today.
Going to Vietnam? What are you going to explore? Already been? What was your favourite place? Let us know in the comments below, on Facebook or via Twitter.
---
Reprinting or republication of this post on websites is authorized by prominently displaying the following sentence, including the hyperlink to Passport Health, at the beginning or end of the post.
"Top 5 Places to Explore in Vietnam is republished with permission of Passport Health."
Simply copy and paste this code: