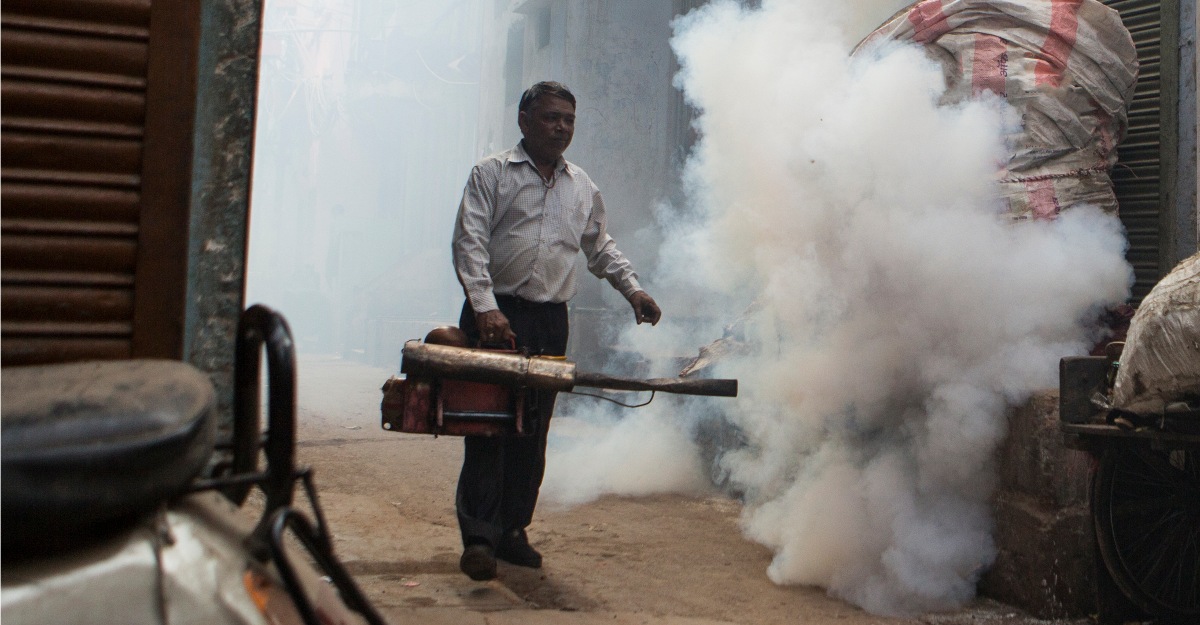 You've probably heard a lot about climate change affecting global aspects such as glaciers and agriculture. Thanks to recent studies, we now that it also impacts disease rates.
A new study due to be published in January 2019 suggests that as average temperatures in India continue to increase, so too will the country's risk for further chikungunya cases.
With no cure or vaccine to fight chikungunya, researchers fear the threat that the potentially fatal illness could pose.
Chikungunya is a mosquito-borne disease. The disease primarily spreads via the Aedes albopictus or Asian tiger mosquito species. The viral disease causes symptoms ranging from minor to severe. Death as a result of infection is not common, but it is a possibility, as is lasting, disabling joint pain.
The illness is only spread by mosquitoes, which are active during the warmer months. With that knowledge, we've known for some time that higher temperatures would likely allow for greater transmission.
But, the recent Ministry of Environment, Forest and Climate (MoEFCC) study reveals that the apparent ideal temperature range for chikungunya is 20-34 degrees Celsius, roughly 68-93 degrees Fahrenheit.
"At those temperatures, the Aedes aegypti and Ae. albopictus species of mosquito, the main carriers, showed higher biting rate, low extrinsic incubation period, low mortality rate, and higher reproduction rate," said study lead author Srinivasa Rao Mutheneni. Mutheneni is currently a scientist at the Indian Institute of Chemical Technology (CSIR).
Essentially, in the 20-34 degrees Celsius range mosquitoes bite more. The insects also died less and took less time to spread chikungunya after acquiring the virus.
To conduct the study, scientists analyzed datasets recorded in a 68-year-period from 1948 to 2016.
As Mongabay describes, findings showed that chikungunya cases were recorded more often during the 1982-2016 period in southern, northern and western parts of India. During this time, mean temperatures showed a general increase in south India in comparison with previous years.
The average temperature during the period was 29 degrees Celsius.
Unsurprisingly, India's monsoons also contributed to the rise in cases.
Mosquitoes need water for ideal breeding conditions, often gravitating toward standing water. The rainfall worked with the hotter weather to provide a better opportunity for mosquito reproduction. As they reproduced at a higher rate, chikungunya transmission also increased.
To combat this growing risk, study authors encourage authorities to keep a constant watch on temperatures.
Currently, chikungunya doesn't garner the same worldwide headlines as similar viruses. Zika, malaria and yellow fever all earn regular attention with dangerous outbreaks.
But, chikungunya still poses a serious threat. The virus currently has no treatment or prevenative vaccines. A vaccination is currently in the works and was recently approved for fast-track status, which is a positive sign.
Even without a vaccine, travelers can still take measures to prevent chikungunya.
Consider visiting a local Passport Health clinic for advice and supplies. If you are visiting a region with a chikungunya risk, use insect repellent and wear protective clothing. Try to stay in facilities with air conditioning or window/door screens when possible. If staying outside, mosquito nets can greatly reduce mosquito bites.
Did you know rising temperatures could affect mosquito-borne diseases? Do know anyone who's had a bout with chikungunya? Let us know in the comments below, or via Facebook and Twitter.
Written for Passport Health by Katherine Meikle. Katherine is a freelance writer and proud first-generation British-American living in Florida, where she was born and raised. She has a passion for travel and a love of writing, which go hand-in-hand.