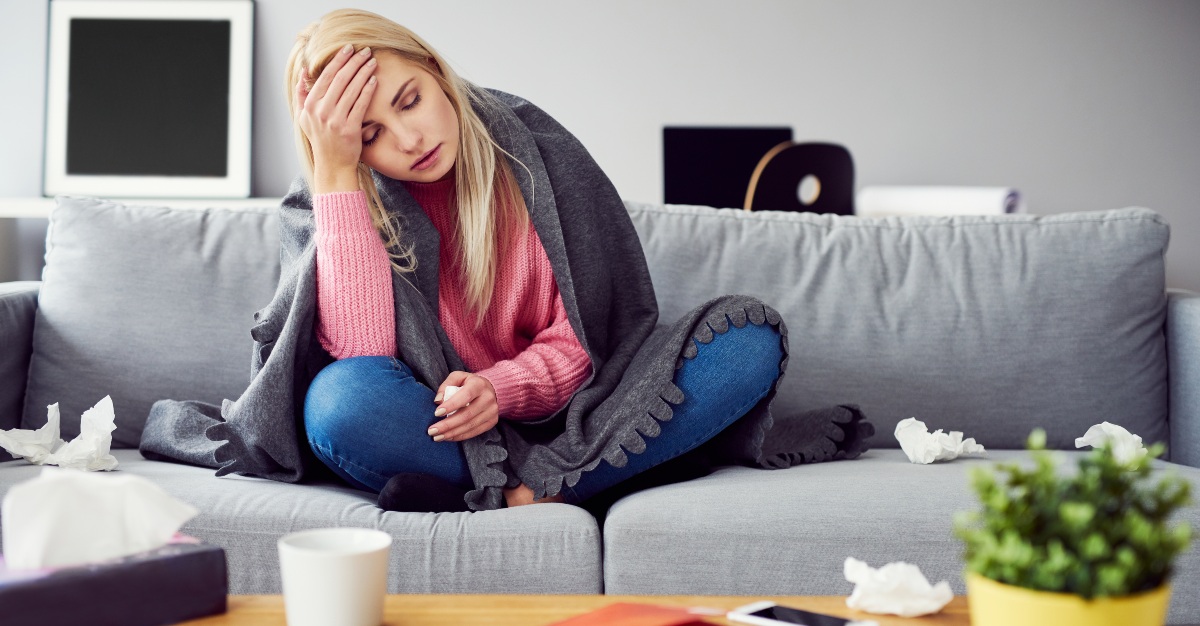 There's much more to pneumonia than meets the eye (or in this case, lung).
Millions of people in the United States come down with atypical pneumonia every year. That doesn't mean they all have the same experiences with the infection. Each bout with atypical pneumonia may be vastly different depending on the type of bacteria they are infected with.
There are four common types of atypical pneumonia and today we're here to help you understand them all.
What is Atypical Pneumonia?
Atypical pneumonia may also be called walking pneumonia. The CDC describes it much like any other pneumonia as a lung infection caused by bacteria. It differs is with symptoms that present differently and a response "to different antibiotics than the typical bacteria that cause pneumonia." If infected with atypical pneumonia, the infection may also look different on an X-ray.
For further information on the disease itself, learn more for our recent coverage.
The Four Main Types of Walking Pneumonia
Mycoplasma pneumoniae Infection
Mycoplasma pneumoniae infection is by far the most common type of walking pneumonia. The infection causes an estimated two million cases in the U.S. every year.
Mycoplasma pneumoniae bacteria spread from person to person through coughing or sneezing. As a result, outbreaks will most often occur in schools, colleges, hospitals, nursing homes, military barracks and other crowded locations. Mycoplasma pneumoniae bacteria is often naturally resistant to certain antibiotics like penicillin. To treat the infection, doctors must instead use other types such as macrolides.
Infection from Mycoplasma pneumoniae can lead to or worsen a range of illnesses including chest cold, pneumonia, encephalitis, kidney problems, skin disorders, hemolytic anemia and asthma. Experts believe that approximately 1 in 10 people who become ill as a result of infection will actually get pneumonia. Signs of infection will typically get worse over a month.
Legionnaires' Disease
Legionnaires' Disease is the most severe type of walking pneumonia. This infection will be fatal for approximately one in 10 patients. Legionnaires' Disease affected over 6,000 people in 2016. Certain groups of people, such as seniors and current or former smokers, pose extra risk for the infection. People dealing with a chronic illness or weakened immune systems will also have an increased risk.
The infection most commonly occurs through exposure to water contaminated with Legionella bacteria. It can often spread by breathing in mist from a fresh water environment where the bacteria naturally live. While most people who encounter the bacteria will not get sick, it's good to be aware of the dangers it can pose.
Signs will typically show 2-10 days after exposure to the bacteria. Symptoms of Legionnaires' Disease include cough, headaches, muscle aches, shortness of breath and fever. Infection with the bacteria could lead to Legionnaires' disease or Pontiac fever. Pontiac fever is considerably milder and often lasts less than a week.
Chlamydia pneumoniae Infection
Chlamydia pneumonaie bacteria cause respiratory tract infections such as pneumonia through person-to-person contact. As with Mycoplasma pneumoniae infection, you are more likely to become infected with Chlamydia pneumoniae bacteria in crowded settings. The bacteria often spread in schools, college dormitories, hospitals, prisons, nursing homes, and other similar locations. Older adults are at a greater risk for severe disease according to the CDC.
Currently, there's no national surveillance system in place to track Chlamydia pneumoniae infection. Without such a system, no real count exists for infection rates in the United States. But, outbreaks have occurred in the past. In 2013, a correctional facility in Texas experienced an outbreak. The same happened among U.S. Air Force Academy cadets in Colorado in 2015.
Symptoms will usually show 3-4 weeks after exposure to the bacteria, though some patients will display no symptoms. Signs of Chlamydia pneumoniae infection may resemble a cold. An infected person may have a stuffy or runny nose, low fever, sore throat, hoarseness or losing your voice entirely. They may also have a cough that slowly worsens over time, along with headache and fatigue.
Psittacosis
First considered a human disease by a doctor in Europe in 1879, psittacosis typically infects birds. But, humans aren't completely safe from this infection. Psittacosis can also affect people as a form of atypical pneumonia.
Due to the avian connection, those most at risk will have some regular contact with birds. Bird owners, aviary and pet shop employees, veterinarians and poultry workers catch the infection at a higher rate. There have generally been fewer than 10 cases a year in the U.S. since 2010.
Psittacosis is caused by Chlamydia psittaci bacteria, previously known as Chlamydophila psittaci. Infection is usually mild, with symptoms including fever and chills, muscle aches, headache and dry cough. Signs will usually take 5-14 days to develop. Death from psittacosis is rare, but possible.
To diagnose which type of walking pneumonia you have (and whether you actually do have pneumonia), your doctor may use diagnostic methods. That may require a chest X-ray as well as lab, blood and urine tests. Treatment should include antibiotics.
To help prevent the spread of pneumonia and similar illnesses, consider getting the pneumococcal vaccination. The annual flu shot can also reduce your chances of pneumonia. You also should take particular precautions to avoid germs in certain areas during flu season. Consider steps like cleaning your phone regularly and using sanitizer after going through airport security.
Have you or someone you know ever had walking pneumonia? Did you know about all the bacteria that could cause atypical pneumonia? Let us know in the comments below, or via Facebook and Twitter.
Written for Passport Health by Katherine Meikle. Katherine is a research writer and proud first-generation British-American living in Florida, where she was born and raised. She has a passion for travel and a love of writing, which go hand-in-hand.