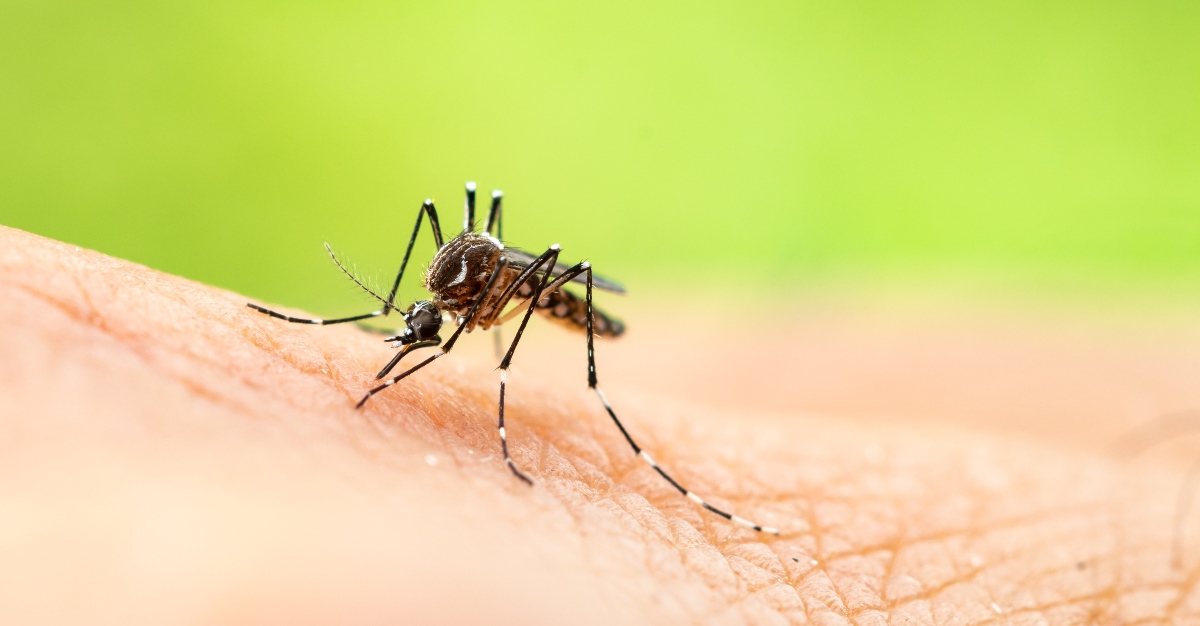 It's a simple fact of life that mosquitoes bite humans, though the reasoning behind this isn't always clear. We've always considered egg production to be the key factor in the past, but studies show there's more to mosquito bites than people think.
What Makes Mosquitoes Bite People?
As many people may know, it is only female mosquitoes who bite. This is typically to get protein needed for the formation of their eggs. Because these mosquitoes can often lay over 100 eggs at a time, they understandably need a lot of protein.
Although, a study published in 2018 suggests that female mosquitoes may also choose to ingest blood simply to have a drink. Scientific American shares that dehydrated mosquitoes are reportedly more aggressive. These mosquitoes land more often on hosts and feed on them more than those with easy access to water.
Initially, finding this started out as an accident. A lab worker dropped a container full of water-deprived mosquitoes and realized he was attacked by them much more so than usual.
After this incident, senior author of the study and biologist at the University of Cincinnati Joshua Benoit described a multitude of testing conditions used to develop the theory. He explained that hundreds of insects were exposed to different temperatures and humidity levels. The insects were also given varying access to water and nectar.
Following the setup of these unique conditions, the groups were studied to see how often the subjects bit a test host, which was made using plastic, artificial sweat and chicken blood. Three mosquito species were used, including those which carry either Zika, yellow fever or West Nile fever.
In the end, the mosquitoes which were deprived of water bit the most, which was consistent with the earlier assumption. But, what does this finding mean on a greater scale?
First, it simply showed that mosquitoes have another reason to bite. Much like other animals, they need some kind of sustenance, with diet pills possibly keeping mosquitoes from biting.
Beyond that, the research shows that dryer conditions may actually be responsible for greater disease spread, since dehydrated mosquitoes bite more (and thus have a greater chance of passing on diseases). While this correlation makes sense, it could disrupt an extremely prevalent assumption in the world of science.
It's long been thought that wetter conditions bred mosquito-borne illness. After a tropical storm or the rainy season, mosquito-borne diseases can spike. But, this new evidence tells a much different story about the dangers that can come from mosquitoes.
What Diseases can Mosquito Bites Spread?
While most mosquito bites are typically harmless, they unfortunately can do more than feed the insect.
Mosquitoes are extremely effective at spreading a wide range of diseases. Some of those include yellow fever and Japanese encephalitis. While these diseases have vaccines, they still pose a dangerous threat around the world.
The insects also spread malaria, Zika, chikungunya, the West Nile virus, Dengue fever and many more. Not only do these illnesses cause deadly outbreaks around the world, there's no vaccine to prevent them.
All these infections can cause a variety of symptoms such as fever, headaches, muscle pain, rashes, joint pain and confusion.
If you are concerned about the appearance of a mosquito bite, please review our guide to bad bug bites.
How Can Mosquito Bites be Prevented?
Knowing why mosquitoes bite probably won't help you to stop them from doing it. The CDC recommends three particular steps to prevent mosquito bites:
When possible, cover up your body using long-sleeved shirts and long pants
Use Environmental Protection Agency (EPA) registered insect repellants, which are both safe and effective for everyone including women who are pregnant or breastfeeding
Keep mosquitoes outside using coverings for your windows, doors and potentially even bed when applicable
Were you aware that mosquitoes have several reasons for biting humans? Did our article help you understand exactly why mosquitoes bite? Let us know in the comments below, or via Facebook and Twitter.
Written for Passport Health by Katherine Meikle. Katherine is a research writer and proud first-generation British-American living in Florida, where she was born and raised. She has a passion for travel and a love of writing, which go hand-in-hand.